This article is part of our DFS NFL series.
RotoWire has partnered with Pick8 Football for the NFL season!
Do you have have 2 minutes to WIN $1 million? Pick8 Football knows that time is money and that's why we have have partnered with them to offer this exciting new game. You have done all of the research for your fantasy team, reward yourself for all that work and enter to win $1 million FREE!
Check out the great promotions being offered when you sign up.
$5 credit on signup
WEEKLY PROMO CODE to get 1 FREE Ticket to play Pick8 (available to all registered users)
One DAILY FREE TICKET to play Pick8 every day you log in. (1 ticket per day, while promotion lasts)
Referral program: Invite a friend and you get 5 FREE Tickets and your friend gets 3 FREE Tickets to play Pick8.
FREE PROMO CODE for WEEK 6: GO49ERS
THE PICK8 CONTEST – HOW IT WORKS
Pick8 requires you to select who you think the BEST POSSIBLE player/team would be in a given week with NO salary restrictions, based on the following categories:
What's the Prize and How Do I WIN it?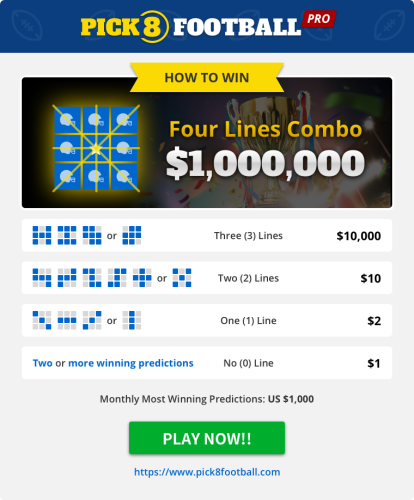 Pick8 will also give out $1,000 to the person with the most correct predictions made in the month. Invite your friends and earn more FREE tickets!
Go to Pick8 now for your chance to win One Million Dollars! You have already done the research for your other fantasy football contests and it is FREE!
Before diving into Week 6, let's take a look at last week's winners in every category.
WEEK 5 RESULTS
QB Passing Yards - Dak Prescott
DeShaun Watson wasn't too far behind here, and I expected him to be the top dog when I looked at the stats, but Prescott squeaked it out in Week 5.
QB Completed Passes - Matt Ryan
We nailed this prediction last week. The likelihood of one quarterback hitting both of these stats might still be a popular route, but we went contrarian and succeeded here.
RB Rushing Yards - Christian McCaffrey
I thought McCaffrey would have a slightly harder time in Week 5, but I still used him in a couple of entries. Dalvin Cook came in 3rd, which was on of our selections.
RB Receiving Yards - Dalvin Cook
Cook has found himself close in both of these categories this season, and he finally hit one.
WR Receiving Yards - Amari Cooper
Interesting QB/WR correlation on this slate. I doubt anyone would have predicted a bounce-back for either guy, but it was definitely a better call than Will Fuller, who almost took this category and would have ruined many entries.
WR Receptions - Will Fuller
Lo and behold, that's exactly what Fuller did in the WR receptions category. He's a perfect example of a left-field candidate that can wreck you when you go for favorites.
FG Made - Zane Gonzalez
We gave you the right call here as well.
Defense Points Allowed - Eagles
We got this one correct as well, and my alternate pick (Pats) came in second!
Week 6 Targets
QB Passing Yards
Aaron Rodgers, GB vs. DET
Even if Davante Adams (toe) stays sidelined, I think Rodgers is surrounded by a host of weapons that can help him get things done in this category. The Lions are near the basement in passing defense, yielding an average of 280 yards per game.
Patrick Mahomes, KC vs. HOU
Definitely a statistically safe choice, Mahomes should consistently be considered in both QB categories. Houston had an uptick in points thanks to a Pick 6 last week, but Matt Ryan was able to pick apart their secondary with relative ease. If Sammy Watkins makes a return, I like Mahomes' chances.
QB Passes Completed
You always have to consider the passing yards candidates, but here are a couple of alternate choices.
Philip Rivers, SD vs. PIT
Rivers ranks third with 233 completions, and with the addition of Melvin Gordon, the Chargers should be able to utilize the run enough to open up the passing game. The Steelers are in the middle of the pack against the pass but do a little worse against opposing receivers.
Kyler Murray, ARI vs. ATL
Say what you will about Murray, but he's among the top of the league in completions and has David Johnson to use as a security blanket to pad those totals. He may not air it out as much as Ryan this week, but I'll rely on the numbers to make this a contrarian selection.
RB Rushing Yards
Chris Carson, SEA at CLE
Carson compiled 118 rushing yards against the Rams last week, and I expect more of the same against Cleveland on Sunday. His resurgence has provided a huge spark to Russell Wilson and the Seahawks, and they're facing a Cleveland defense that has given up an average of 151 rushing yards per game.
Kenyan Drake, MIA vs. WAS
If Miami has a prayer of winning a game, this might be the one. The Redskins are allowing an average of 144 rushing yards per game, but there's no guarantee we'll get anything from Drake. He's yet to break 50 yards in a game, let alone 100. However, one breakout run could change that. A true contrarian pick that's a betrayal of his numbers, but sometimes you have to assume some risk.
RB Receiving Yards
Dalvin Cook, MIN vs. PHI
I like Cook again this week here against the Eagles. While Phily's defense is tough, they do have a weakness against opposing running backs who catch the ball. Cook has 21 catches for 200 yards so far this season.
Aaron Jones, GB vs. DET
Many might expect some regression for Jones after he was overworked last week, but he almost took this title last week. If Adams is out, Jones could once again pick up the slack. He lined up in the flat several times last week. Even with Adams in the lineup, Jones' targets make him a reasonable option here.
WR Receiving Yards
Michael Thomas, NO at JAX
Teddy Bridgewater is surprising many in relief of Drew Brees, and Thomas is easily still the favorite target. The Jags are allowing almost 250 yards per game through the air, and I think Thomas is a great candidate n both receiver categories.
Tyler Boyd, CIN at BAL
This could be a great situation for Boyd, who finished eighth in this category last week. Although I didn't include Dalton in my projections, he could be a decent tandem flier with Boyd against a defense that's allowing 280 yards per game in the air. I like Boyd in the receptions category as well.
WR Receptions
Cooper Kupp, LAR vs. SF
Call me stubborn, but I am going to keep on Kupp until he hits this category. Sometimes you just have to stick with the best guy and hope he hits on a week where you end up putting a couple of bingos together. The 49ers are tough against the pass, but I think Jared Goff can manage to get a number of short throws into Kupp's hands.
I could give you another endorsement, but I'm especially high on both Boyd and Thomas in this category as well. I think their potential is definitely worth repeating.
Field Goals Made
Wil Lutz, NO vs. JAX
I'll move off Gonzalez this week, but I'll still hold on to Lutz as a high-percentage play.
Defense Points Allowed
COWBOYS at Jets
The Eagles came through for me against the Jets, and I don't think Sam Darnold's return is going to tip the scales that much for New York in the short term. He'll be rusty and likely ineffective, and we should see Dallas come through here in a blowout.
CHARGERS vs. Steelers
The Chargers are an underrated defense, and Mason Rudolph is prone to making his share of mistakes. Pittsburgh was able to put up 23 points against the Ravens, but the cross-country match and offensive question marks make the Chargers an excellent contrarian play.
The author(s) of this article may play in daily fantasy contests including – but not limited to – games that they have provided recommendations or advice on in this article. In the course of playing in these games using their personal accounts, it's possible that they will use players in their lineups or other strategies that differ from the recommendations they have provided above. The recommendations in this article do not necessarily reflect the views of RotoWire.