This article is part of our FanDuel Sportsbook series.
The Week 10 Tickets struggled for a variety of reasons, one of which was the re-emergence of Ronald Jones in the Buccaneers backfield that basically ruined the potential of Leonard Fournette reaching 41 rushing yards. Meanwhile, Aaron Jones put up a dud in a surprisingly close game between the Packers and Jaguars, and Jarvis Landry couldn't get much going in the Cleveland wind. And while Jared Goff went over his 289.5 passing yards prop with 302, he did it while Cooper Kupp finished under 70.5 (50) and Robert Woods under 62.6 (33), as Josh Reynolds led the team with 94 receiving yards and Tyler Higbee added 60 in the Rams' 23-16 win.
We'll look to bounce back yet again in Week 11, one that has some lower totals than we've seen over the course of the season, though there are still plenty of opportunities.
Chiefs moneyline and Josh Jacobs over 65.5 rushing yards (+174)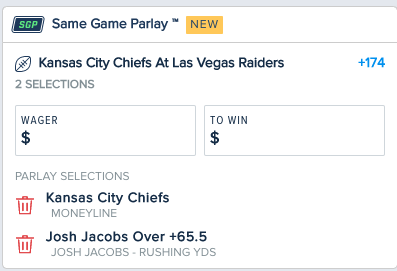 We'll start off slowly by taking the Chiefs to win instead of having to cover the 8.0-point spread, but we'll expect the Raiders to use Jacobs enough to break through the 65.5-yard mark after he had 77 on 23 carries in the first meeting between these team in Week 5 at Kansas City. Jacobs has only two games this season below 65 rushing yards (he had one right at 65 that would lose this over 65.5-yard bet), but his usage is strong enough to think the Raiders will rely on him to keep the Chiefs offense off the field. There are various Chiefs props you can add to extend the odds, but with how much Patrick Mahomes can spread the ball around, it seems safer to let those be. Then again, if you want to add Mahomes over 298.5 passing yards, a figure he's broken five times this season, including 340 against the Raiders, you'll get +433 for that.
Denzel Mims over 46.5 receiving yards, Keenan Allen over 80.5 receiving yards and Chargers moneyline (+381)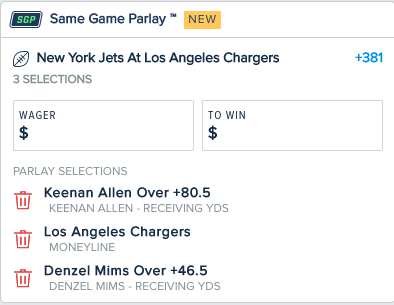 I considered this one without Mims, which would move the odds down to +140, but adding a Mims run-back (to use a DFS term) to increase our odds seems more in line with the kind of longer-shot bets I tend to focus on. Only four teams have allowed more receiving yards to wide receivers than the Jets this season, and their best cornerback, Brian Poole, usually guards the slot, where Allen usually plays. However, Poole is out with a shoulder injury, which helped propel Allen to be our highest projected wide receiver for receiving yards in Week 11, plus an obvious upgrade in this week's Corner Report. If you'd rather stick with just the Chargers and use Mike Williams over 52.5 receiving yards instead of Mims, that three-leg same-game parlay pays +415.
Vikings moneyline, Dalvin Cook anytime touchdown, Justin Jefferson over 58.5 receiving yards, Amari Cooper over 59.5 receiving yards (+591)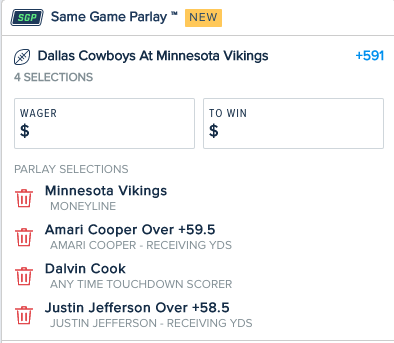 The Vikings are 7.0-point home favorites against the Cowboys, who have allowed the eighth-highest yards per target this season while also giving up more than 170 receiving yards to wideouts in all but three games this season. Meanwhile, the Vikings have allowed a higher YPT while also allowing more than 170 in all but three games. I considered the rushing prop for Cook, but 101.5 is pretty high, even for RotoWire's highest-projected rusher this week. Instead, we'll focus on Jefferson, who has five games this season with more than 58.5 receiving yards, including four games with more than 100, one of which was last week when he caught eight of 10 targets for 135 yards. Teammate Adam Thielen's prop of 59.5 receiving yards also feels low, which you can add to the above bet for a ridiculous +1515, or it moves to +666 if he replaces Cooper or +605 if you want Cooper and Thielen along with Cook and the moneyline. There are a lot of ways to play this one, including taking Cook out, but the props feel low on the Vikings given their opponent.
New Orleans moneyline, Taysom Hill over 169.5 passing yards and Taysom Hill anytime touchdown (+490)
If you're someone who believes that Sean Payton knows exactly what he's doing by starting Taysom Hill over Jameis Winston in place of the injured Drew Brees, boy do I have some options for you! Despite the decision to start Hill, the Saints remain 3.5-point home favorites, though the game total has moved from a high of 51.5 down to to 49.0. A lot of Hill's production is expected to come on the ground, but you still have to be able to throw the ball in the NFL, so we'll try to take advantage of both situations in an expected Saints win. There is little to go by with Hill's passing success, though he did complete 13-of-17 passes for 100 yards while adding 35 rushing yards in the Saints' final pre-season game in 2019, a game started by Teddy Bridgewater, though this bet is surely more of a leap of faith with Payton than anything else. Then again, only the Seahawks have allowed more passing yards this season than the Falcons, who have allowed the most passing touchdowns and third-most rushing touchdowns to quarterbacks. It's also worth noting the anytime touchdown bet has to be a rushing or receiving score to hit.