This article is part of our NFL Observations series.
Beat Chris Liss 2, a $200K-grand prize, 12-team PPR contest, took place this afternoon. For the third time in four drafts, I drew the fifth pick.
Here are the results: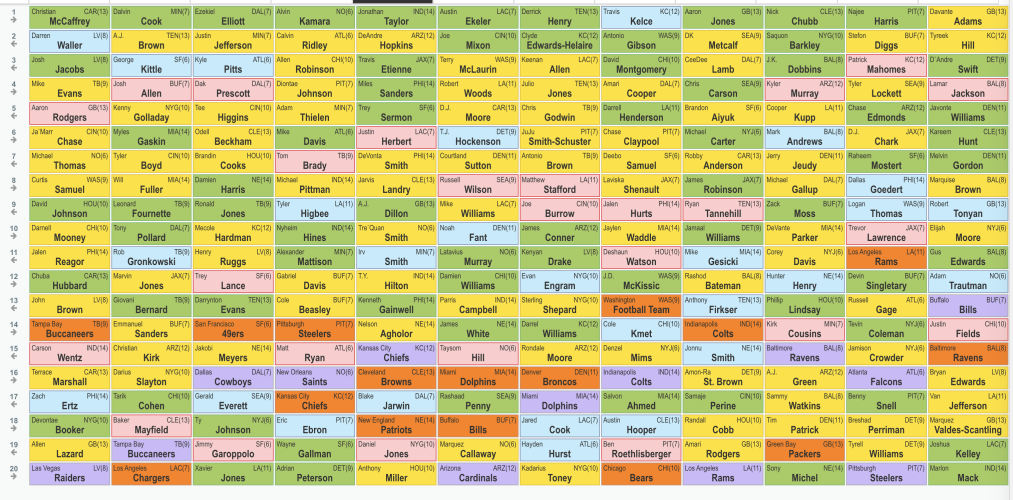 To enlarge image, click here.
1.5 Jonathan Taylor – I was pretty sure Taylor would be my pick with my top four guys off the board. Other options were Davante Adams or Nick Chubb, but give me the second-year stud back who catches passes and runs behind an elite offensive line, even if he has to share more carries than I'd like. Nyheim Hines was around last year too, and Taylor had a monster second half.
2.8 DeAndre Hopkins – For the second time at this pick it came down to Hopkins or Calvin Ridley, and I went Hopkins. Justin Jefferson and AJ Brown were also viable choices.
3.8 Travis Etienne – I speculated on the SXM show that Dalton Del Don (Team 3) would take him if I didn't, so I pounced once Terry McLaurin was gone. DDD confirmed in the draft room that was indeed the case. I have no idea how much work Etienne will get, but it's the kind of pick that can win you a league. Put differently, would anyone be surprised to see Etienne at 1.1 on everyone's 2022 board?
4.5 Miles Sanders – I considered Cooper Kupp, but Sanders was the last back left (with one exception) I could see returning first-round value. I knew I'd be thin at WR, but I was okay with that.
5.8 Trey Sermon – I needed a WR, and with two picks to go, I queued up D.J. Moore and Chris Godwin, vowing to take whichever was left. Both went right before me, so I took the other back I could see having first-round value, though Sermon's floor is quite low. I also knew DDD would take him if I didn't, and the troll value bumped him up half a round.
6.5 Justin Herbert – By now I had an unbalanced team, but I decided to roll with it. Herbert was the top QB on my board and now has a much improved offensive line and a lead back who is more of a receiver than a runner. The pick cost me DJ Chark and Deebo Samuel, but I was okay with that.
7.8 DeVonta Smith – The No. 10 overall pick should be the Eagles top wideout. Let's hope at 6-1, 170 he's stout enough to handle the rigors of the NFL.
8.5 Jarvis Landry – I was happy to get him here. I expect plenty of targets and catches in a narrow tree. Poor man's Keenan Allen.
9.8 AJ Dillon – I got sniped by one pick on Mike Williams, so I decided to deprive DDD of yet another back I know he likes. I can only start three of my five, but between Sanders, Sermon, Etienne and Dillon, at least one or two will not pan out.
10.5 Tre'Quan Smith – He's the only game in town for half the year in New Orleans with Michael Thomas out, and he showed some playmaking ability last year.
11.8 Irv Smith – I passed on Rob Gronkowski who I have everywhere because I thought he might come back to me (he didn't), but I also like Smith, who showed up in great shape. In Year 3, he could easily break out on a decent passing team with a narrow tree.
12.5 T.Y. Hilton – He's only 31, and at his size probably has another good year left. Carson Wentz is no Andrew Luck, but Hilton could be his top target.
13.8 Kenneth Gainwell – Miles Sanders' backup was a great pass catcher in college. I never take my handcuff unless he's also the top guy on my board anyway.
14.5 Nelson Agholor – The Patriots signed him to a two-year, $22 million deal, so I expect him to be their top target. And he was actually good in Oakland last year.
15.8 Harrison Butker – Elite kicker on a high scoring team in a kicker-friendly format.
16.5 Browns Defense – With Myles Garrett and Jadeveon Clowney, this team could push for the league lead in sacks.
17.8 Blake Jarwin – He looks healthy in camp and should play in one of the league's best offenses.
18.5 Patriots Defense – They play the Dolphins Week 1, while my top defense, the Browns, face the Chiefs.
19.8 Daniel Jones – He has the arm, the legs and the weapons. All he has to do is get rid of the ball.
20.5 Anthony Miller – He just arrived in Houston and could be the No. 2 WR after Brandin Cooks.
Roster By Position
QB: Justin Herbert
RB: Jonathan Taylor/Travis Etienne
WR: DeAndre Hopkins/Devonta Smith/Jarvis Landry
TE: Irv Smith
FLX: Miles Sanders
D: Browns
Bench: Trey Sermon/AJ Dillon/Tre'Quan Smith/T.Y. Hilton/Kenneth Gainwell/Nelson Agholor/Blake Jarwin/Patriots Defense/Daniel Jones/Anthony Miller