This article is part of our Collette Calls series.
2020 was unique in so many ways, and maybe none more so than we nearly saw more wins being assigned to relief pitchers than starting pitchers. Things normalized the final few weeks, but for the first four to five weeks, relievers had the lead. By season's end, it was a 52/48 split at a time the league had never seen fewer than 60 percent of wins going to starting pitchers. This season has seen a resumption of the trend prior to 2020 with 58 percent of wins going to starting pitchers: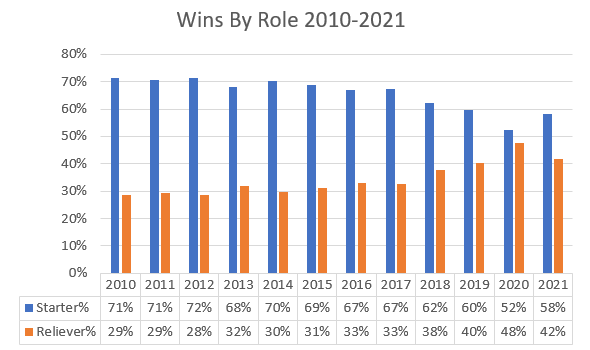 We may have become a bit spoiled in fantasy baseball by the vulture win last season given how many went to relievers as managers piecemealed pitching staffs together. The injury bug has stuck around in 2021 as we are still seeing the second-highest percentage of wins going to relievers, though the number is more in line with the rate we began to see in 2017 as The Opener* made its debut in the sport. What began out of necessity when Tampa Bay saw four starting pitchers on the big league staff become injured, along with three Triple-A pitchers, has now become a more common strategy. Some teams currently implement a Johnny Bullpen day due to injury while others could not find six effective healthy pitchers and decided an eight-man bullpen could do a heavy lift one time through a rotation each cycle.
Each season, we have relief pitchers who were either end-game material, reserve material or even undrafted sneak