This article is part of our NFL Draft series.
Welcome to my first mock of draft season. This mock gives my best guess as to how the draft will go based on current information rather than my own rankings. So, while I wouldn't pick Hakeem Butler ahead of A.J. Brown, that scenario seems plausible at this stage. I'll look to roll out at least one more mock before things get kicked off on April 25.
Round 1, Pick 1:

Arizona Cardinals
The Pick: Kyler Murray, Quarterback, Oklahoma
This obviously assumes that the Josh Rosen era will be a thing of the past by the time the Cardinals go to the podium on April 25, but the wind seems to be blowing strongly in that direction. With new coach Kliff Kingsbury in the fold, the Cardinals will be comfortable letting him get his guy to start off his tenure.
With Murray (5-10, 207), the Cardinals are getting a quarterback with the skills to thrive in today's NFL regardless of the Old Man Yelling At Cloud take that he is undersized. Anyone who has him being a "system quarterback" can be slapped upside the head before being pointed to Baker Mayfield's rookie numbers. Murray can make every single throw and he does it with pinpoint accuracy and the best ball placement of any quarterback in this class, bar none. In addition to being polished as a passer, Murray is a phenomenal athlete who can not only rack up rushing yards when he wants to, he can also extend plays and thrive when he gets out of structure.
Everything is pointing to Murray going 1st overall and it's hard to argue against it at this stage.
Round 1, Pick 2:

San Francisco 49ers
The Pick: Nick Bosa, EDGE, Ohio State
For whatever reason, the 49ers haven't gotten much flack for having the same luck drafting edge players that the Lions had in drafting receivers in the early-to-mid 2000s. Between Arik Armstead and Solomon Thomas, let's just say there's a reason why the 49ers brought in Dee Ford this offseason, and there's a reason why no one would bat a lash if they went after Bosa at No.2.
It's cliche, but Bosa really does look like a carbon copy of his older Pro-Bowl brother, Joey. Like Joey, Nick is an excellent athlete with tremendous film to back it up. Nick is able to bend around the edge and his hand-fighting technique, like Joey's, is extremely effective. His production doesn't quite match Joey's peak in college (13.5 sacks in 2014), but Nick was on track for a huge 2018 before going down with a core muscle injury.
The 49ers need help at receiver and in the secondary, but no player in this draft at either of those spots is worth taking at No. 2 overall. This makes San Francisco a team to watch as a trade-back candidate, but for now, I lean with them going after Bosa to have as a bookend opposite Ford.
Round 1, Pick 3:

New York Jets
The Pick: Josh Allen, EDGE, Kentucky
The Jets were middle of the pack (18th) in sacks in 2018 with 39 as a team. Addressing the edge seems to be the obvious move for this team, and Allen is the best pass-rushing outside linebacker in the class. Allen could've been a late first-rounder had he declared after his junior season, but his 2018 campaign catapulted him into Top-5 consideration as he racked up 17.0 sacks and 21.5 tackles for loss.
At 6-foot-5 and 262 pounds with top-notch athleticism, Allen is a disruptive force off the edge that has developed pass-rush moves that'll translate to the next level. He won't be much help in run defense, but if he's a bankable double-digit sack player, the Jets won't mind at all.
Round 1, Pick 4:

Oakland Raiders
The Pick: Quinnen Williams, Interior Defensive Lineman, Alabama
Defensive line isn't a glaring need for the Raiders with the likes of P.J. Hall and Maurice Hurst flashing as rookies and Johnathan Hankins anchoring the other spot in the middle. But Williams is arguably the best defensive player in the draft, and you can never have too much depth in the trenches.
He's a game-wrecker in the middle of the line that explodes off the ball and brings devastating play strength. Whether it's stopping the run or generating a pass rush from the interior, Williams can do it. The Raiders, who have two more first-rounders in this draft, would be happy to get things started with a dominant interior player.
Round 1, Pick 5:

Tampa Bay Buccaneers
The Pick: Devin White, MLB, LSU
This may be the most no-brainer pick in this entire mock. White is right up there with Roquan Smith as the best middle linebacker prospect in recent years. He is a true sideline-to-sideline player with 4.42 speed and he hits like a bank safe filled with cement.
The Buccaneers are the perfect landing spot for White's talents. They let Kwon Alexander walk this offseason, leaving a spot open next to Lavonte David in the linebacking corps. White will be an impact starter from Day 1 that can make impacts against the run and in coverage.
Round 1, Pick 6:

New York Giants
The Pick: Dwayne Haskins, QB, Ohio State
The Giants rebuild is on but it's hard to trust that the current brain trust will get it right. Having two first-round picks is a nice start, though, and using one of those to get Eli Manning's heir apparent might be the way to go.
In Haskins, the Giants would be getting a strong-armed and accurate player with impressive decision-making skills. He may be short on experience, having just one year under his belt as a starter, but he's a far more polished prospect than, say, Mitchell Trubisky was coming out two years ago.
His footwork can be erratic, and he got away with things at Ohio State that he won't in the NFL (the throws off the back foot are a concern), but there is so much to work with when it comes to Haskins. His physical tools – frame and arm strength – coupled with his natural accuracy and ball placement make him a legitimate Top-10 prospect in this class with franchise quarterback traits.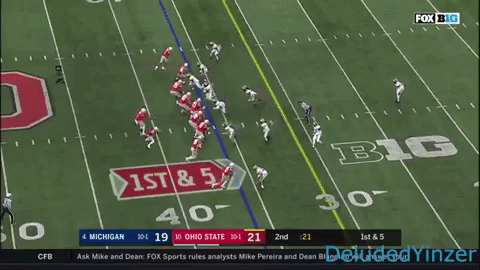 Round 1, Pick 7:

Denver Broncos (from Jacksonville Jaguars for Pick 1.10 and 3.7 (71st overall))
The Pick: Drew Lock, QB, Missouri
The Jaguars have several needs but none of the players available at No. 7 are the cleanest fits, so why not shop the pick, get some extra draft capital and get your guy a few picks later?
As for Denver, it almost feels like it's bidding against itself for Lock's services at this point, and yet you can never bet against John Elway the GM doing something head scratching. To be clear, Lock is a fine NFL prospect; he's got a great arm and is plenty experienced as a four-year starter at Missouri. Lock also has the "prototypical size" most teams look for at 6-foot-3 3/4 and 228 pounds (although we never talk about how his hand size – 8th percentile – comes in under the normal NFL threshold for quarterbacks, do we?).
The aforementioned experience factor cuts both ways, though. Lock has a massive sample against quality opponents from the SEC and beyond, and the numbers aren't promising. Over his last two seasons, Lock has played six games against ranked opponents (197 pass attempts). He completed 113 of them (57.3 percent) with a 6.3 YPA to go with 10 touchdowns and five interceptions. Against SEC competition in 2018, Lock completed 58.8 percent of his passes with a pedestrian 6.7 YPA to go with 10 touchdowns and seven picks. Against non-SEC foes? 8.9 YPA, 18 touchdowns, one pick. Lock's production looks great on the surface, but a deeper look reveals that he padded his stats against bad teams. Thus, pointing to production as one of Lock's selling points doesn't really pass the smell test.
Even with my doubts regarding Lock, I have to account for the current quarterback climate. Quarterbacks, right or wrong, get pushed up the board, and Lock seems to be Elway's type. Whether it happens at 7 or at Denver's original pick (10), I see Lock landing with the Broncos.
Round 1, Pick 8:

Detroit Lions
The Pick: Montez Sweat, EDGE, Mississippi State
The Lions could go a number of ways with this pick, but the candidates to help fill the void at corner or tight end aren't quite worthy of the eighth overall pick. Sweat, however, definitely works here.
Sweat entered the pre-draft process as a late-first-round type of prospect who vaulted up to Top-10 status with an unbelievable combine highlighted by a 4.41 40-yard dash at 6-foot-6 and 260 pounds. That's moving. His jumps and agility drills were top-notch as well, as you can see by the spider chart below (shout out MockDraftable).
Sweat isn't just a workout warrior, though. The athleticism he showed in Indy shows up on tape, and he used that athleticism en route to back-to-back seasons with double-digit sacks, including 11.5 as a senior. Sweat uses his strong first step to get an immediate advantage off the ball, and his length and strength create issues for opposing linemen. He isn't just a pass rusher, either; Sweat is not afraid to stick his nose in there in the run game.
Detroit added Trey Flowers to help alleviate the impact of Ezekiel Ansah's departure, but the edge still needs some help, and Sweat would be an immediate help in that regard. Of course, this is all under the assumption that Detroit's medical staff clears Sweat after he was found to have a pre-existing heart condition during his combine physical. The fact that he was still able to work out is an encouraging sign, however.
Round 1, Pick 9:

Buffalo Bills
The Pick: Ed Oliver, Interior Defensive Line, Houston
Oliver is one of the more interesting test cases in recent memory. Figuring out how all the pieces to his puzzle fit in terms of his NFL viability is a challenge. One piece says that his size will be a detriment on the interior. And before you reflexively yell "BUT AARON DONALD" at me, remember that he is the exception, not the rule.
| Player | Year | Age | Draft | Tm | Lg | Ht | Wt | GS | Sk | TFL |
| --- | --- | --- | --- | --- | --- | --- | --- | --- | --- | --- |
| La'Roi Glover | 2000 | 26 | 5-166 | NOR | NFL | 6-2 | 285 | 16 | 17 | 18 |
| Roderick Coleman | 2004 | 28 | 5-153 | ATL | NFL | 6-2 | 285 | 13 | 11.5 | 14 |
| Roderick Coleman | 2002 | 26 | 5-153 | OAK | NFL | 6-2 | 285 | 2 | 11 | 13 |
| La'Roi Glover | 1999 | 25 | 5-166 | NOR | NFL | 6-2 | 285 | 16 | 8.5 | 13 |
| Roderick Coleman | 2000 | 24 | 5-153 | OAK | NFL | 6-2 | 285 | 1 | 6 | 11 |
| Jim Flanigan | 1999 | 28 | 3-74 | CHI | NFL | 6-2 | 290 | 16 | 6 | 10 |
| Jim Flanigan | 2000 | 29 | 3-74 | CHI | NFL | 6-2 | 290 | 14 | 4 | 10 |
| La'Roi Glover | 2001 | 27 | 5-166 | NOR | NFL | 6-2 | 285 | 16 | 8 | 10 |
| La'Roi Glover | 2002 | 28 | 5-166 | DAL | NFL | 6-2 | 285 | 16 | 6.5 | 10 |
| La'Roi Glover | 2004 | 30 | 5-166 | DAL | NFL | 6-2 | 285 | 16 | 7 | 10 |
| Ellis Johnson | 1999 | 26 | 1-15 | IND | NFL | 6-2 | 288 | 16 | 7.5 | 10 |
| Roderick Coleman | 2005 | 29 | 5-153 | ATL | NFL | 6-2 | 285 | 16 | 10.5 | 9 |
| La'Roi Glover | 2006 | 32 | 5-166 | STL | NFL | 6-2 | 285 | 16 | 5.5 | 9 |
| La'Roi Glover | 2007 | 33 | 5-166 | STL | NFL | 6-2 | 285 | 16 | 6 | 9 |
| James Jones | 2000 | 31 | 3-57 | DET | NFL | 6-2 | 290 | 16 | 3 | 9 |
| James Jones | 1999 | 30 | 3-57 | DET | NFL | 6-2 | 290 | 16 | 7 | 9 |
| John Randle* | 2002 | 35 | | SEA | NFL | 6-1 | 290 | 12 | 7 | 9 |
| Clifton Ryan | 2009 | 25 | 5-154 | STL | NFL | 6-2 | 290 | 15 | 1 | 9 |
| Jeff Zgonina | 2001 | 31 | 7-185 | STL | NFL | 6-2 | 285 | 13 | 0 | 9 |
| Roderick Coleman | 2001 | 25 | 5-153 | OAK | NFL | 6-2 | 285 | 6 | 6 | 8 |
| Roderick Coleman | 2003 | 27 | 5-153 | OAK | NFL | 6-2 | 285 | 12 | 5.5 | 8 |
| La'Roi Glover | 2003 | 29 | 5-166 | DAL | NFL | 6-2 | 285 | 16 | 5 | 8 |
| Ellis Johnson | 2002 | 29 | 1-15 | ATL | NFL | 6-2 | 288 | 2 | 7 | 8 |
| Ellis Johnson | 2003 | 30 | 1-15 | ATL | NFL | 6-2 | 288 | 3 | 8 | 8 |
| Jeff Zgonina | 2004 | 34 | 7-185 | MIA | NFL | 6-2 | 285 | 14 | 5 | 8 |
| Roderick Coleman | 2006 | 30 | 5-153 | ATL | NFL | 6-2 | 285 | 15 | 6 | 7 |
| Kindal Moorehead | 2004 | 26 | 5-145 | CAR | NFL | 6-2 | 285 | 12 | 2 | 7 |
| John Randle* | 2001 | 34 | | SEA | NFL | 6-1 | 290 | 14 | 11 | 7 |
| James Reed | 2005 | 28 | 7-206 | NYJ | NFL | 6-0 | 286 | 15 | 2 | 7 |
| Jeff Zgonina | 2002 | 32 | 7-185 | STL | NFL | 6-2 | 285 | 16 | 4 | 7 |

Above is a list of interior lineman 6-foot-2 or less and between 285-290 pounds, sorted by tackles for loss since 1999. As we can see, a La'Roi Glover or John Randle type of ceiling is in play here, but it's also important to see where the bulk of these players were drafted. Players with Oliver's frame rarely go in the first round.
Of course, the other piece of the puzzle is what Oliver put on tape and what he did in his testing. Oliver was a dervish from the first moment he stepped on campus at Houston as the only five-star recruit to ever commit to a Group of Five program. Oliver finished third in the nation in tackles for loss as a freshman with 22.5 and would've had at least 16.5 TFLs in each of his three seasons had he not suffered an injury as a junior. Athletically, Oliver is special too. He had Top-15 percentile scores in his jumps at the combine and he put on a show at his pro day, turning in a 4.77-second 40-yard dash and a 4.13 short shuttle time that was better than Le'Veon Bell at his combine, per The Draft Wire.
So, the question is, will Oliver's ability and athleticism be enough to beat the odds? I'm willing to say yes, and Buffalo is a strong landing spot after losing Kyle Williams to retirement. And, luckily for Oliver, no one will try to take his coat up there.

Round 1, Pick 10:

Jacksonville Jaguars
The Pick: D.K. Metcalf, WR, Mississippi
Obviously, quarterback play was a major factor in Jacksonville's regression last season. But to say that the Jaguars would feel comfortable going into camp with Dede Westbrook, Keelan Cole, and a Marqise Lee coming off an ACL as their starting receiving corps would be to assume the worst about that front office's intellect.
The Jaguars need a playmaker on the outside, a true No.1 out wide, and Metcalf can be just that. While the aforementioned trio all check in at 6-foot-1 or less and 200 pounds or less, Metcalf checks in at 6-foot-3 and a chiseled 228 pounds. The hype was reaching a fever pitch after Metcalf's incredible 40-yard dash and jumps at the combine, but questions poured in after his bottom-percentile agility scores that were worse than Tom Brady's. Metcalf improved upon those numbers a bit at his pro day, but it's still fair to wonder whether he'll ever have the full route tree at his disposal.
What Metcalf can do is what makes him worthy of a Top-10 selection. As you can see below, Metcalf can separate off the line, get up field in a hurry and kill teams deep. I'm not sure there's another receiver in this class who would make Alabama's Saivion Smith look that bad.
Metcalf might not be the Randy Moss level prospect some thought he might be before the agility testing, but if he's a Dez Bryant, that's more than enough to justify a pick this high if you're the Jaguars.
Round 1, Pick 11:

Washington Redskins (via trade. Washington gives picks 1.15 and 3.12 (76th overall) to Cincinnati for pick 1.11)
The Pick: Hakeem Butler, Wide Receiver, Iowa State
The Redskins need help at receiver and Metcalf coming off the board at 10 will prompt a trade up to make sure they still get a top receiver.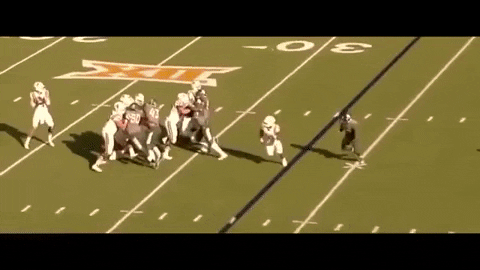 Butler the player almost doesn't make sense. Look at the chart below. A player that big with that level of speed and burst is mostly unprecedented.

The film is also encouraging; Butler can make plays deep down the field and is clearly a handful after the catch. Despite his size, Butler is capable of working the short and intermediate parts of the passing game and has the potential to develop into a complete receiver. The drops are a frustrating part of his makeup, and it's tough to know if he'll ever fix them, however.
As for Washington, the Redskins cannot afford to go into the season with Paul Richardson and Josh Doctson as their top two. Doctson has brief flashes of brilliance but they are punctuated by long stretches of injury-laden stretches of nothingness. In short, Washington can't count on him.
Butler would represent a much-needed upgrade to an otherwise uninspiring Washington receiving corps.
Round 1, Pick 12:

Green Bay Packers
The Pick: T.J. Hockenson, TE, Iowa
A solid but unspectacular combine won't cost Hockenson much as he still projects to go inside the Top 15. Hockenson is a bit of a luxury pick considering some of Green Bay's deficiencies elsewhere, but this is a player who not only fills a need in his own right, but also has instant-impact written all over him.
Hockenson is uniquely polished for a tight end, which is a position that's notorious for having a major learning curve at the next level. His blocking is NFL-ready, and Hockenson is a true threat in the passing game. He caught 49 of 66 targets (74 percent) for 760 yards (11.5 YPT) and six scores. And it's important to contextualize that production; he was competing with a player who was presumed to be the superior tight end prospect coming into the year, Noah Fant. Hockenson's YPT was second only to Alabama's Irv Smith among tight ends with at least 40 targets.
If the 2019 version of Jimmy Graham is your argument against going after Hockenson at 12, I don't know what to tell you.
Round 1, Pick 13:

Miami Dolphins
The Pick: Rashan Gary
Gary is a versatile defensive lineman with the ability to play multiple spots along the front. He's not a pure edge rusher and the lack of production during his time at Michigan will give some evaluators pause, but the tools are all there.
Gary will be comfortable fitting into Miami's four-man front and can play end in that type of system. His player comparisons on MockDraftable paint an interesting picture as to what Gary can become at the next level. I'm a fan of the Adalius Thomas comp, personally, as Gary can handle the standard defensive line tasks, but his athleticism allows defensive coordinators to get creative with his role. Landing Gary would be a boon for new head coach Brian Flores and company.
Round 1, Pick 14:

Atlanta Falcons
The Pick: Brian Burns, EDGE, Florida State
The draft capital the Falcons have spent on the edge in recent years might make this look like an odd pick. However, having an elite pass rush is basically a prerequisite of any title contender, and the Falcons haven't had it the last two seasons even with Vic Beasley and Takk McKinley in the fold. Bringing in Burns would, at the very least, bring more speed and athleticism to Atlanta's edge.
Burns is a classic quick-twitch athlete (4.53 40-yard dash), and his frame and smarts have led to him developing a wide array of pass-rush moves.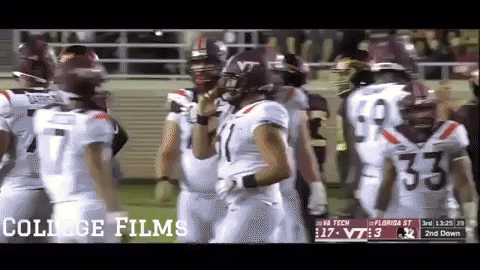 He has long arms (95th percentile for an EDGE) that he uses to get separation when fighting off blocks, and his ability to bend might be the best in the class. Burns is on the light side at 249 pounds, so he might not be cut out of an every-down role right away. Still, Burns has enough to be an impact player whenever he's deployed, and the Falcons' pass-rush would be improved with him in the fold.
Round 1 Pick 15:

Cincinnati Bengals
Devin Bush, Linebacker, Michigan
The Bengals would sprint to the podium here if Bush is still available. Bush is one of the smartest and most instinctive middle linebacker prospects in recent memory, which helps make up for a lack of ideal size for the position at 5-foot-11 and 234 pounds.
That size didn't stop him from racking up 181 tackles over the past two seasons, and as you can see below, Bush can get after the passer, too.
Offensive line would be a consideration for the Bengals here as well, but after trading for Cordy Glenn last offseason and re-upping with Bobby Hart, it's tough to envision seeing them not taking Bush if he's on the board here.
Round 1, Pick 16:

Carolina Panthers
The Pick: Andre Dillard, Offensive Tackle, Washington State
Protecting Cam Newton over the course of his career has been one of Carolina's constant struggles. A 2017 second-rounder, Taylor Moton looks like a long-term solution at left tackle, but there's still room for improvement along the line, and Dillard represents a perfect blend of value and fit.
To borrow some Mike Mayock parlance, Dillard is a dancing bear at 6-foot-5, 315 pounds that is light on his feet and has standout athleticism.
What's also good about Dillard is that coming from Washington State, he has a ton of experience in pass blocking situations (Washington State throws it a lot, if you didn't know).
Mike Renner from Pro Football Focus has a good illustration of this below.
So Dillard is not only experienced, he's good in pass pro. This helps him edge out some of the other tackles in this class who may theoretically have a higher ceiling, but haven't quite lived up to it.
Round 1, Pick 17:

New York Giants
The Pick: A.J. Brown, Wide Receiver, Mississippi
You may have heard that Odell Beckham Jr. is gone. That's bad. Luckily, A.J. Brown can help.
I think Brown is, at the very least, the safest receiver in this class. His collegiate production speaks for itself; he caught 160 of 218 targets (73.3 percent) for 2,572 (11.8 YPT) and 17 touchdowns over his last two seasons. There were questions as to whether Brown could play outside receiver after mostly dominating out of the slot as a sophomore. Well, after D.K. Metcalf went down with an injury during the Arkansas game in Week 7, Brown moved outside and dominated against SEC competition. He caught 41 of 63 targets for 734 yards and two scores in that span despite facing tougher matchups and drawing more attention from opposing defenses.
TL;DR A.J. Brown can stick on the outside in the NFL.
The Giants signed Golden Tate and still have guys like Sterling Shepard and Evan Engram (big slot hybrid) to flood the middle, but they still need a field stretcher. Brown can fill that role, and at the very least, he has a high floor.
Round 1, Pick 18:

Minnesota Vikings
The Pick: Jonah Williams, Offensive Line, Alabama
Whether the Vikings view him as a tackle or a guard, Williams is nonetheless a solid pick for Minnesota here. The roster is strong, top-to-bottom, but the line has been an issue for years despite varying levels of commitment in trying to fix it. We saw last year that the line was improved and that Kirk Cousins can operate under pressure (seventh in QBR under pressure, per Matthew Coller of SKOR in Minnesota), but the unit still needs work.
Williams entered the year as a Top-5 consideration before some flaws showed up on film. His combine measurables were also underwhelming for a tackle prospect.
Still, despite some of the physical limitations and occasional lapses on film, Williams is a talented and cerebral lineman that can start out inside or at tackle and help the Vikings right away.
Round 1, Pick 19:

Tennessee Titans
The Pick: N'Keal Harry, Wide Receiver, Arizona State
The Titans were the toughest team to mock in this exercise. A look at Mike Clay's unit grades, and there's no glaring weakness on the roster (depending on your view of Marcus Mariota. That's a different article though.)
The Titans did spend a Top-10 pick on a receiver two years ago and opened their checkbooks in free agency to bring in slot ace Adam Humphries. Even with Corey Davis and Humphries in tow, the Titans could use a boost at the other outsider receiver spot. Harry would fill that need in a big way.
The Arizona State product has some of the best hands in the class as evidenced by the tweet below from Sports Info Solutions
What makes that more impressive is that Harry wasn't fed a ton of easy receptions on short routes, either. Harry had a complete route tree with plenty of receptions deep down the field, showing impressive body control along the way. He could immediately step in and be a reliable outside target for Mariota. Having a complete receiving corps would open the offense and force defenses to play straight up rather than loading up against the run.
Round 1, Pick 20:

Pittsburgh Steelers
The Pick: Noah Fant, TE, Iowa
Admittedly, corner is definitely a consideration here and arguably more of a pressing need. And yes, Vance McDonald is a viable NFL tight end but isn't transcendent to the point where the Steelers should feel like they're completely set there, especially after Jesse James' departure.
Enter Fant, an athletic specimen who would instantly give Pittsburgh one of the most dangerous tight end pairings in all of football. Pittsburgh's offense is going to look different without Antonio Brown and this obviously doesn't solve the question as to how Pittsburgh will replace that outside production. Shifting the offense to attack the seams more with Fant and McDonald, along with Juju Smith-Schuster being an assassin in the slot, would be an interesting new spin on the Steelers' offense, though.
Fant lacks polish but has traits you can dream on as a playmaker. His 40-yard dash, 3-cone and jumps all ranked in the top five percentile among all tight ends at the combine dating back to 1999. And before you point out that Mike Gesicki also had a ridiculous combine too, please remember that Fant had comparable production and had a breakout season at the age of 19 when he turned 11 of his 30 receptions into touchdowns.
It will take time for Fant to develop into a complete tight end, but the things he can do as a route runner will get him on the field and make him a factor early in his NFL career.
Round 1, Pick 21:

Seattle Seahawks
The Pick: Nasir Adderley, Safety, Delaware
The first small-school product off the board, Adderley has been a name firmly in the first-round conversation since we turned our attention to the draft. Adderley isn't Earl Thomas, but he's a player with strong ball skills and a physical nature that can work in the back end of Seattle's defense.
Adderley (5-11, 206) unfortunately doesn't have combine numbers to stand on and a hamstring pull cut his pro day short. The film and the numbers show an athletic player with a knack for finding the ball in coverage . Adderley also plays with a physical streak and isn't afraid to lay the wood, even on bigger players. He has a cornerback background from his earlier days, which has helped give him advanced coverage ability for an incoming rookie safety.
Seattle could address cornerback with this pick, too, but safety is shallower in my estimation, and Adderley is worthy of a first-round selection here.
Round 1, Pick 22:

Baltimore Ravens
The Pick: Garrett Bradbury, Interior Offensive Line, North Carolina State
Baltimore is being talked about as a likely candidate to trade out of the first round. However, if the Ravens end up hanging onto this pick, look for them to address the interior.
Marshal Yanda isn't going to be around forever and Matt Skura, for all his improvements in 2018, isn't exactly a cornerstone at left guard. Nor is Alex Lewis. Furthermore, Bradbury has the versatility to play either guard or center. According to Pro Football Focus, Bradbury played 845 snaps at left guard as a sophomore and over 900 snaps in each of his last two seasons at NC State.
On the field, Bradbury is regarded as a technician who rarely gets beaten thanks to his IQ and foot quickness.
In going after Bradbury, the Ravens would be getting a Day 1 starter at either center or left guard with the potential to be Yanda's replacement down the line.
Round 1, Pick 23:

Houston Texans
The Pick: Erik McCoy, Guard, Texas A&M
Houston's line is a mess, more of a mess than the Matt Kalil signing alone can fix. The Texans roster is mostly set everywhere else, but until they can have Deshaun Watson drop back without having to run for his life every snap, they won't go far.
Going the McCoy route here isn't the sexy pick, but it makes the most sense. McCoy is squat with short arms, so it's fair to assume he won't have the versatility to kick out to tackle if needed, but when it comes to guard play, he'll stick at the next level.
Round 1, Pick 24:

Oakland Raiders
The Pick: Greedy Williams, Cornerback, LSU
The first corner off the board, Williams is a tall and rangy athlete with the size and speed that the Raiders need in the AFC West opposite Gareon Conley. Williams possesses good ball skills despite having just two interceptions last season – he had six in 2017 – and he's sticky in coverage. The knock on Williams is a lack of physicality and willingness to stick his nose in there in the run game. I'd trust Gruden to coach that out of him, though, and the athleticism and coverage skills make Williams a strong pick here.
Round 1, Pick 25:

Philadelphia Eagles
The Pick: DeAndre Baker, Cornerback, Georgia
If you watched any of Philadelphia's playoff run last year, it always felt like the secondary was letting down what was an otherwise excellent roster. Cre'Von LeBlanc made his case for more playing time down the stretch and Ronald Darby is a good player when healthy, but that isn't enough. And that's while still acknowledging that Jalen Mills can make something of himself.
Getting Baker would instill toughness and technique on the back end for the Eagles. During his time at Georgia, Baker didn't allow a touchdown over his final two seasons and he won the Jim Thorpe Award, which is presented to the nation's top defensive back, in 2018. His measurables aren't off the charts by any means – he ran a 4.52 40-yard dash and broad jumped just 118 inches – but he wins with technique and is a willing tackler as well.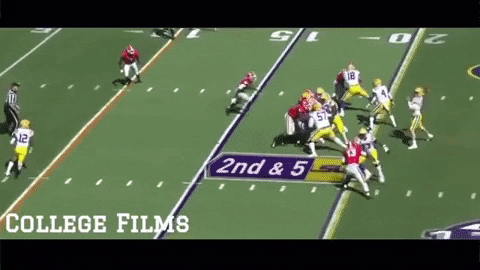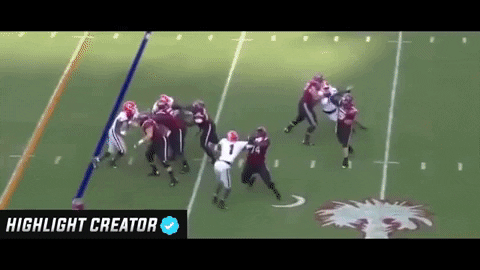 Baker is the best corner on the board at this stage and would fill a need for the Eagles.
Round 1, Pick 26:

Indianapolis Colts
The Pick: Jerry Tillery, Interior Defensive Line, Notre Dame
Indianapolis can finally focus on something other than offensive line and start getting its defensive line in order. Tillery is a perfect fit here as a versatile interior lineman who can generate pressure up the middle and help in the run game.
Below is a clip of Tillery dog-walking his man and collapsing the pocket before finishing the play on quarterback K.J. Costello. In fact, Tillery's entire game film against Stanford is worth a watch.
Tillery's physical tools are also impressive. As you can see below, Tillery is tall with long levers, and he uses that blend of length and strength to drive opposing linemen back on their heels and find the ballcarrier. Tillery has been getting the right amount of buzz since the combine, and it should culminate in him landing in the late first round.
Round 1, Pick 27:

Oakland Raiders
The Pick: Marquise Brown, Wide Receiver, Oklahoma
Oakland retooled its receiver corps this offseason. I'm well aware. Antonio Brown and Tyrell Williams are locked in, and the J.J. Nelson signing brings a field-stretching component to the offense. But do we really see the Raiders firing off three first-round picks all on the defensive side of the ball?
I don't, even with a new brain trust in power. Going after Brown would be an interesting choice to be fair, especially when the tight end position looks as bleak as it does without Jared Cook. But Brown is arguably a top-three receiver in this class, and the health concerns that seemed to be tanking his draft stock are disappearing.
Brown is an absolute game breaker. The DeSean Jackson comp fits like a glove. It doesn't matter that you're undersized when you're as fast and shifty as someone like Brown. Even screens that should be blown up in the backfield can go for six with this guy.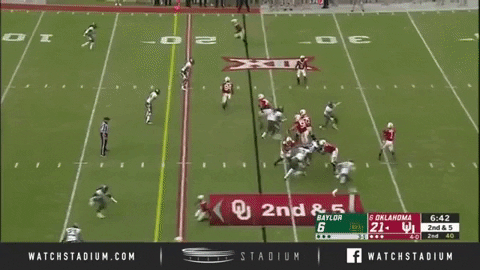 And look at the tracking and body control along the sideline here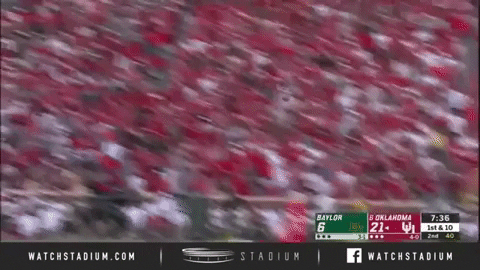 I understand that Brown might seem to be a roster redundancy to Nelson. I just think that Brown has the potential to be DeSean Jackson, and that's not something you pass on, especially if you've addressed other needs with your first two picks.
Round 1, Pick 28:

Los Angeles Chargers
The Pick: Jawaan Taylor, Offensive Tackle, Florida
The Chargers are so close to being a Super Bowl team, but that window isn't going to be open forever and that offensive line needs some serious work. Taylor represents a nice value here. Analysts are rather divided on Taylor, with some having him as a Top-10 pick and others having him in this range. I'm in the latter camp, but there's enough in Taylor's profile to suggest that he'll stick as an NFL starter.
Taylor is 6-foot-5 and 312 with a big wingspan (84 3/4 inches), similar to Laremy Tunsil's frame but with longer arms. The Mike Renner tweet from earlier shows that he's still a work in progress in pass protection, and the film seems to back that up. Still, Taylor is fluid with good play strength and powerful hands that can shock oncoming rushers.
Sam Tevi isn't a permanent solution at right tackle, and Russell Okung isn't going to play forever. Nabbing a Day 1 starter along the offensive line would be a shrewd move for the Chargers.
Round 1, Pick 29:

Kansas City Chiefs
The Pick: Rock Ya-Sin, Cornerback, Temple
You watched the AFC Championship Game. You know the Chiefs need help in the secondary.
Addressing corner here seems almost inevitable, and the Chiefs should have several options here, with the likes of Byron Murphy and Amani Oruwariye also available. Murphy would've been my pick in February, but a rather disastrous combine has me thinking he's ticketed for a Day 2 selection.
Ya-Sin is a physical corner who won't give up the free releases that killed the Chiefs in January. There are some legitimate questions about his agility, but Ya-Sin helps his cause in hiding that deficiency with strong technique. If the board falls this way, Ya-Sin will be the best corner on the board, and it'd be surprising for the Chiefs to go in a different direction.
Round 1, Pick 30:

Green Bay Packers
The Pick: Jonathan Abram, Safety, Mississippi State
Green Bay went on a spending spree in free agency, shoring up the edges and getting some secondary help. Strong Safety remains a question, and two years into Josh Jones' career, it's unclear if he'll be the answer.
Abram is billed as one of the hardest hitting defensive backs in this class, and the film and numbers back that up. He led a talented Mississippi State defense in tackles with 99 from the strong safety spot, showing a willingness to help in the run game. Abram isn't a finished product in terms of coverage ability but he has the tools to unlock that trait with the right coaching.
Round 1, Pick 31:

Los Angeles Rams
The Pick: Christian Wilkins, Interior Defensive Line, Clemson
The Rams will need a succession plan at corner with Aqib Talib getting up there in age and Marcus Peters hitting free agency after this season. Still, interior defensive line is a more immediate need with Ndamukong Suh gone. Yes, Aaron Donald alone can make any replacement level defensive lineman look good through the attention he draws, but getting a player like Wilkins in there would maintain the type of dominant interior duo that helped the Rams make a Super Bowl run.
Wilkins is a space-eater at 6-foot-3 and 315 pounds, but he's light on his feet and has a knack for finding the ballcarrier. He can also shed blockers and close in to finish plays better than you might expect. Wilkins is versatile, having lined up at several spots along Clemson's front during his collegiate career. Wade Phillips would have some fun coming up with different ways to deploy Wilkins if he lasts this long in the first round.
Round 1, Pick 32:

New England Patriots
The Pick: Jace Sternberger, Tight End, Texas A&M
There's no way around it; the Patriots need an infusion of talent in the passing game with Rob Gronkowski retired and Chris Hogan now on the Panthers. Whether it's receiver or tight end, look for the Patriots to prioritize getting a skill-position player with their first-round selection (provided they don't trade out of it).
So while you may not be surprised by the Patriots going tight end here, you may be surprised that it's not Irv Smith Jr. out of Alabama. While I am a fan of Smith's and could see him landing here, I give the lean to Sternberger. Smith is rather small for a tight end, and while he has some long speed (4.63 40-yard dash), the rest of his testing paints him as an average athlete at best.
Sternberger, meanwhile, isn't necessarily an elite athlete, either, but his size (6-4, 251) is more in line with what the Patriots might want from a tight end. His production was also rare for a college tight end, racking up 47 receptions for 804 yards (10.2 YPT) and 10 touchdowns, making him the lone tight end with double-digit touchdowns in 2018. So while the athletic testing may not pop, Sternberger's on-field ability speaks for itself. If Hayden Hurst can get drafted in the first round, so can Sternberger. And Sternberger is the superior prospect that would fill a major need in New England's offense.