This article is part of our Rounding Third series.
There weren't too many big bids in most of my leagues, yet there's a rising number of needs to be met due to injuries and players losing their full-time roles with their respective teams.
AL Tout Wars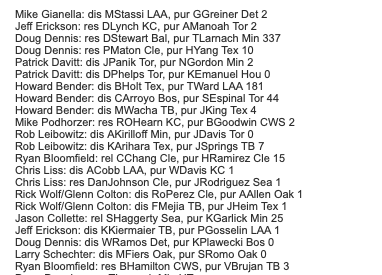 Here's where there were two big bids. Doug Dennis won the big bidding war on Trevor Larnach of the Twins, who is both a prospect and someone with a clear path to playing time with both Byron Buxton and Alex Kirilloff on the IL. Doug went above and beyond the rest of the league - there were 10 teams bidding on Larnach, but the second place bid was $142.
You can also check out the discussion that Chris Liss and I had about Larnach on SiriusXM.
The other big winning bid was Howard Bender winning the services of Taylor Ward for $181. Ward is playing more after getting called up last Wednesday and the ensuing benching of Albert Pujols that led to Pujols getting designated for assignment. Ward has some ability to hit for power and ran well in the minors, so this could be a real score for Howard. I bid $37 for Ward, which is more than a nominal bid and yet not that aggressive, with the thought that Jo Adell and possibly Brandon Marsh are on their way to join the big club later this season. Instead I got my fifth place consolation prize in Phil Gosselin for $1. I'm essentially holding out until Jarred Kelenic gets the call, perhaps as early as Thursday.
The other bids I want to highlight are Ryan Bloomfield's addition of Vidal Brujan of the Rays, who is playing center field for their Triple-A affiliate in Durham, and my addition of Alek Manoah of the Blue Jays. In Tout Wars, we're allowed to add any AL minor leaguer for at least $1, so long as we keep the player active (as with any other free agent added that FAAB period) for a week. Brujan was a really nice add by Ryan - he's off to a great start at Durham, and Kevin Kiermaier is already on his second IL trip for the Rays - we might see Brujan at the big club even before Wander Franco. Manoah got an aggressive assignment to Triple-A for the Jays, and given their weaknesses in the rotation, he might spend half the season in the big leagues. In a deep AL-only league, it's sometimes ok to sacrifice one spot for a week for the upside gamble on talent later - to avoid the $300+ bidding that we saw on Larnach.
NFBC Main I
In two parts: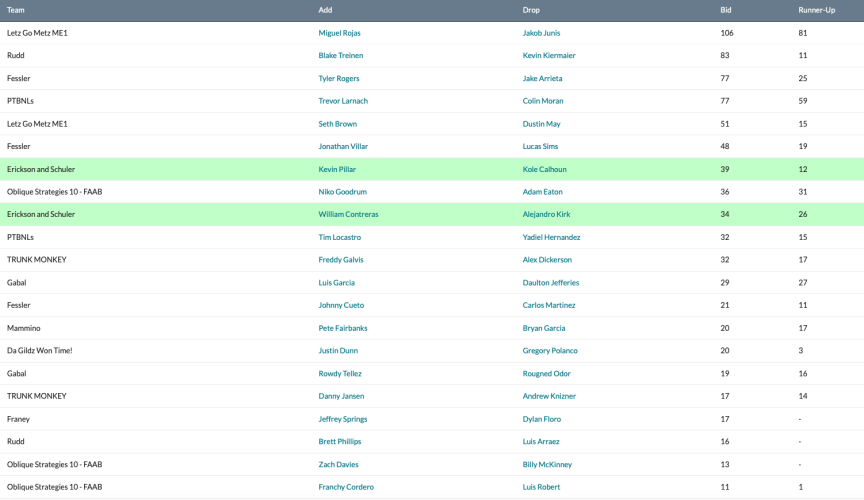 Tim Schuler and I needed another outfielder with Jason Heyward, Brandon Nimmo and Kole Calhoun all banged up - Heyward isn't on the IL, but he's day-to-day and only has five games this week anyhow. Pillar matches up well with Nimmo - once Nimmo comes back we can swap the two players as needed. Meanwhile, sadly we had to cut Alejandro Kirk, who is likely out two months, and were able to get William Contreras of the Braves to replace him. We opted for Contreras over Danny Jansen and Jorge Alfaro, with a little bit of second thoughts.
Part two:

We picked up Perez in another league this week, and he has two starts, plus Team Franey (which also includes industry colleague Jeff Zimmerman) is one of our top rivals in this league, so I'm a little concerned.
Main Event II
Again, in two parts: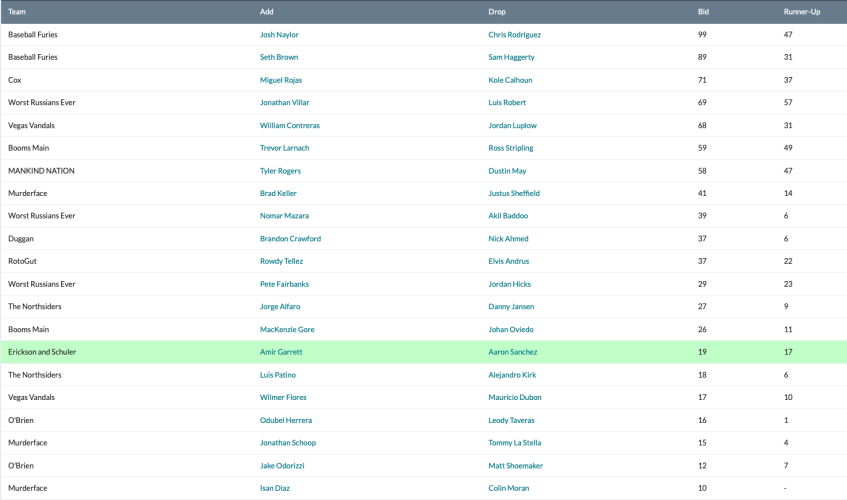 and

We only have one shaky closer in this league (Jake McGee), so nearly every week we need to speculate some on saves. I have a little trepidation about using Amir Garrett this week given the four-game series in Coors, but I do think he has a reasonable chance at reclaiming the closing job eventually. Four of his last five outings have been solid, the other being where Corey Seager golfed a homer against him on what appeared to be a pretty good pitch a couple of weeks ago. Meanwhile, Tyrone Taylor was a consolation prize after getting outbid on Larnach. He's playing a lot and hitting high in the order when he does play, while Christian Yelich doesn't appear to be close to returning to action.
RotoWire OC1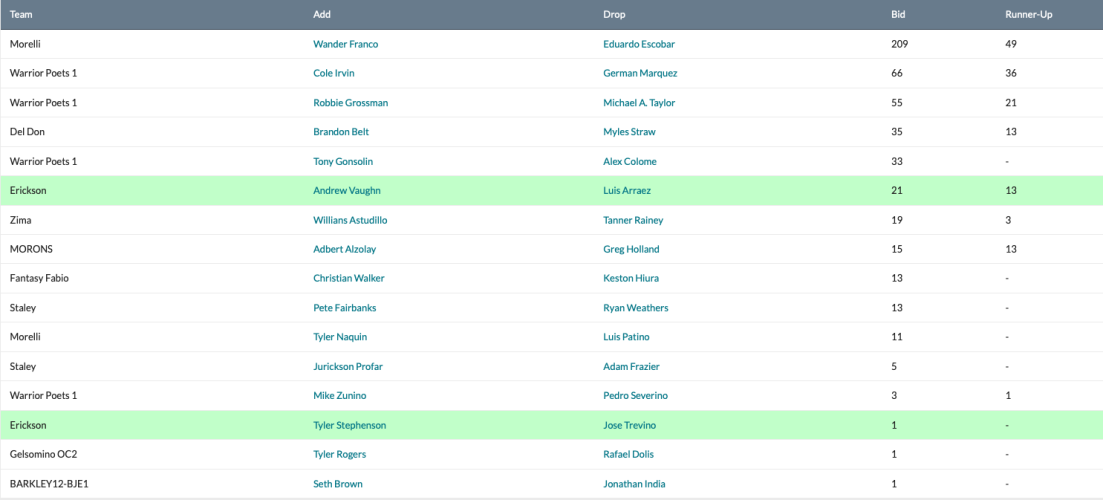 I decided to take the chance that the power is coming for Vaughn now that he *should play on a regular basis for the White Sox, with both Luis Robert and Eloy Jimenez out. I know I shouldn't underestimate the ability of manager Tony La Russa to mess with Vaughn's playing time, but I think that this is a good buy-low. Plus, this team needs help - my hitting really stinks, and I need to take a few chances.
RotoWire OC2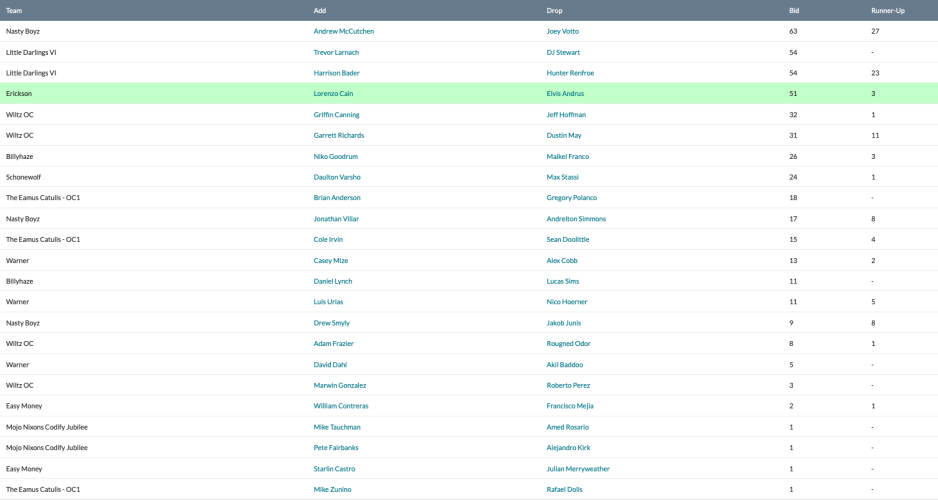 Click here for a larger image.
I needed an outfielder with some plausible upside, and it turns out that I overpaid for Lorenzo Cain - but such is the life in the 12-team OC's.
TGFBI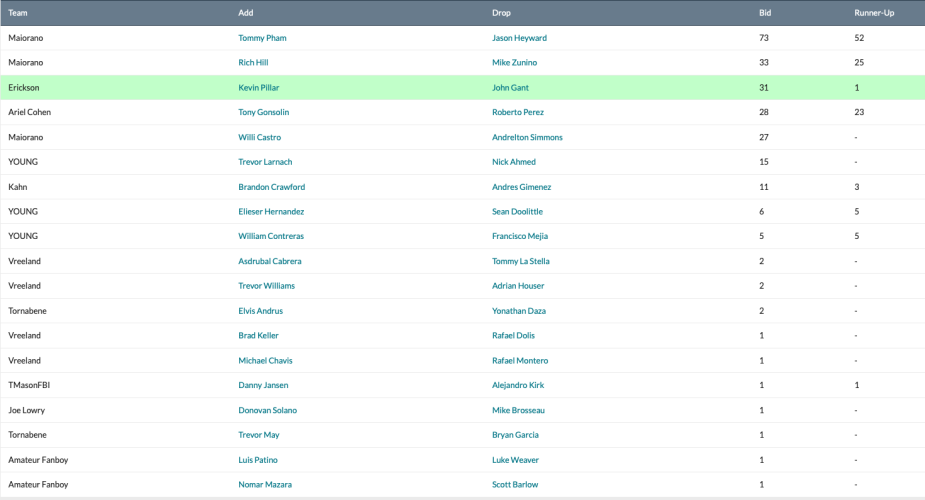 Bah ... I should have put Larnach ahead of Pillar. It's interesting to see that the bidding in TGFBI hasn't really tracked along with the NFBC Main Event, despite the matching league structure. I think some of that might be because we drafted here in a slow draft beginning in February, rather than a live draft in mid-to-late March. The player pool drafted was different, and thus our bidding needs and available players were also a lot different in early April.
LABR Mixed Draft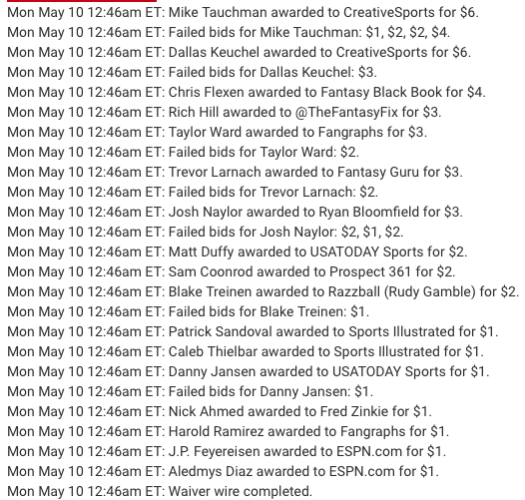 I stayed out of the bidding this week - in part because I was so aggressive earlier in the season in FAAB, and because I just got Johnny Cueto and Christian Walker off the IL and needed room to activate them. Let's not revisit my trade for Joey Votto in this league, please.