This article is part of our Rounding Third series.
Please forgive the absence of this article the last two weeks while I was on vacation. We're back at it again this week, albeit during a pretty tame bidding week.
AL Tout Wars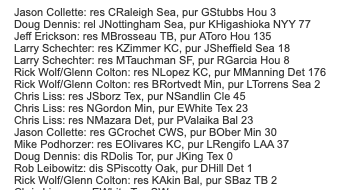 I keep playing whack-a-mole trying to fill empty hitting slots on this roster, but haven't found that difference-maker like I did with Dylan Moore last year, or as Chris Liss did with Adolis Garcia earlier in the season. I'm hoping that maybe Abraham Toro can fit that bill while Alex Bregman is out for the Astros. Toro has crushed at Triple-A before only to falter in the big leagues, but I think some of that can be credited to choppy playing time when he did get the call. Bregman's injury doesn't appear to be a short-term one, and the Astros are already down Aledmys Diaz, plus they play a full seven games both this week and next, against Baltimore (twice), Detroit, and Cleveland (minus Shane Bieber and Zach Plesac). Hence I was reasonably aggressive with this bid.
I didn't jump in aggressively on the Matt Manning sweepstakes, and I'm wondering a little bit whether that might be a mistake. I'm a little gun-shy due to his minor league results this season and because of the experiences had by Daniel Lynch, Alek Manoah and Jackson Kowar so far this season. At least it's better to get those young pitchers on the cheap, like Rick & Glenn did with Shane Baz. Jason Collette got an