This article is part of our Rounding Third series.
I did two AL-only auction/"salary cap drafts" yesterday, AL Tout Wars and "Amici," my long-standing AL-only 4x4 league that was the core of this website, first called RotoNews and now RotoWire. ToutWars is a 5x5 league, but we use OBP instead of BA, and players only needed to play five games (normally 15 in a full season) to qualify at a position. You can read Chris Liss's review of his team here.
I'm going to steal Liss's format for this one, starting with including the full draft grid: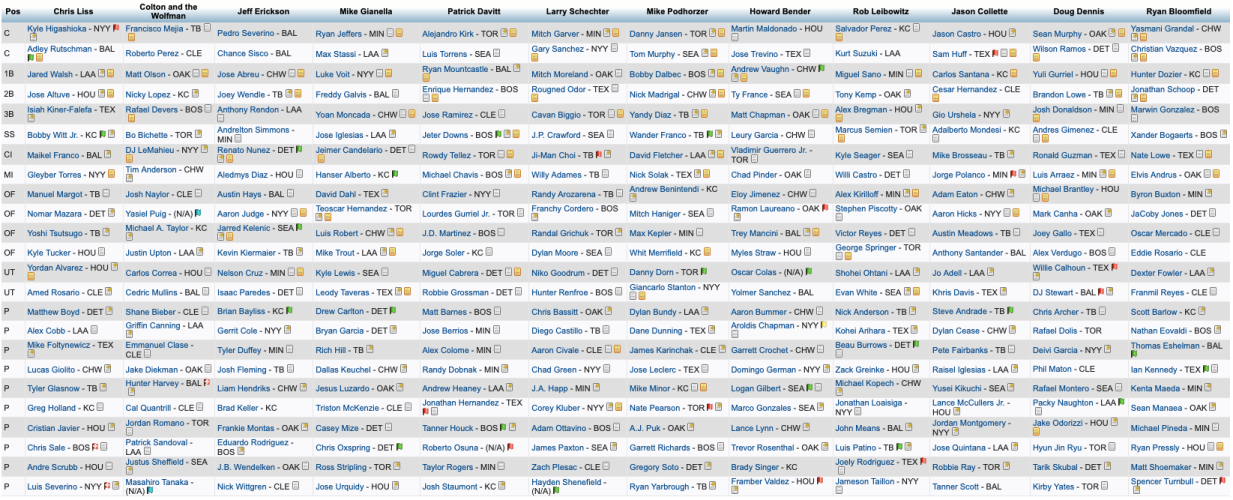 To enlarge image, click here.

To enlarge image, click here.
My picks, in order of acquisition (with nomination order in parenthesis):
$23 - Liam Hendriks, RP, CWS (6) - I love Hendriks this season - you get an extra bump in strikeouts with him, and you know that Tony La Russa is going to manage him like a traditional closer. He was third closer nominated, after Aroldis Chapman ($21) and Jose Leclerc ($11 - I brought him up early just to ensure we didn't see many single-digit closers).
$40 - Gerrit Cole, SP, NYY (8) - The elite aces always go too cheap according to my values, but I rarely pay the freight for them. I decided that if it stopped at $40, I'd grab Cole, or $35 with Shane Bieber, who went after Cole for ... $35.
$35 - Anthony Rendon, 3B, LAA (25) - Rendon is great in an OBP format, though of course he's not going to provide much speed for me. I decided pretty early that if there's a category I'd be light in, it would be speed, as it was all priced up early on.
$26 - Jose Abreu, 1B, CWS (32) - I keep rostering Abreu at what I perceive to be reasonable prices. Two first base comparable prices - Vlad Guerrero Jr. went for $32 and Matt Olson went immediately after Abreu for $26.
$2 - Nick Wittgren, RP, CLE (35) - Doug Dennis kept nominating closers-in-waiting for $1, and Wittgren was the first. It was an easy decision to go to $2 - Cleveland has suggested that James Karinchak might not be the exclusive closer, and even if he is, Wittgren is a solid enough pitcher to earn more than $2 without saves in an AL-only format.
$30 - Aaron Judge, OF, NYY (40) - When I posted my roster on Twitter at the first break I had nine players, and more than one reader responded that they liked everything but Judge. That was funny, because I thought that Judge was one of my better values. He's huge in an OBP league! Yes, I get the risk involved with him, but I don't think a highly competitive league like Tout Wars is won by cautious decisions.
$24 - Nelson Cruz, DH, MIN (64) - Insert your joke about me always drafting Cruz, because it's true - I do always end up with him. One added benefit about Tout Wars is that we're only required to roster four outfielders, not five, and with the residual we can either have an extra UT or an extra pitcher. That of course benefits all the DH values.
$13 - Frankie Montas, SP, OAK (73) - At first I had a little buyer's remorse with Montas, because I had spent aggressively earlier, and was hoping to instead add two starters at $10, but later I got a pair of starters at reasonable prices to make the roster fit. He went for more than Jordan Montgomery at $10 and Nathan Eovaldi and $11 (two targets), but less than teammates Jesus Luzardo and Chris Bassitt (both $17).
$13 - Jarred Kelenic, OF, SEA (92) - I believe that Kelenic will be up by the end of April, beginning of May at the latest, even with the Triple-A season delayed. He's already back playing in spring training games now, so the Mariners can't even use that as a reason to delay his promotion.
$9 - Eduardo Rodriguez, SP, BOS (135) - I waited over 40 players and nearly an hour to roster my next player, and only jumped in because E-Rod was stalling pretty quickly after my $5 nomination of him, and I had him valued about $4-5 higher. While I wanted to budget mostly toward hitting late, when you see a big bargain in front of you, don't let it go by - there aren't that many of them out there.
$5 - Brad Keller, SP, KCR (163) - Keller changed his pitch mix to go with his fastball and slider over 80 percent of the time last season with great results. He was a couple of bucks cheaper than preferred targets Domingo German and Yusei Kikuchi. Maybe I would have been better off going $8 on one of those two pitchers, but ... there's no guarantee the bidding would have stopped there.
$4 - Josh Fleming, SP/RP, TB (171) - I'm not sure what role Fleming will have yet, but I'm convinced (a) he can pitch, and (b) the Rays will find a way to optimize him. How about having Rich Hill start and go four innings, with Fleming pitching innings 5-7?
$7 - Austin Hays, OF, BAL (181) - This one is risky - Cedric Mullins could end up platooning with Hays, but I don't think so. Hays is clearly the better hitter.
$7 - Joey Wendle, 2B/SS/3B (184) - Given that I knew I'd be scrambling up the middle, Wendle was an important target with his position flexibility and speed. He's a frequent flyer on my rosters this season.
$7 - Andrelton Simmons, SS (191) - Simmons gets regular playing time in a good lineup, albeit towards the bottom of the order. That still has value in a mono league in terms of getting some counting stats.
$3 - Kevin Kiermaier, OF (199) - Eh, I don't love him, but I think with his speed I can squeeze $5 of value out of him.
$4 - Pedro Severino, Cleanup Hitter, C, BAL (205) - Severino was the first player out of the chute after the second break, and I thought there was a distinct difference between him and the remaining catchers in the pool. I don't like what it did to my endgame flexibility though.
$3 - Renato Nunez, 1B, DET (207) - If I didn't like what Severino did to my budget, I really didn't like what Nunez did, but I thought that his skills were worth the extra buck. And then I looked at his most recent update that suggested he might not make the Tigers roster. I was down to dollar days after this acquisition.
$1 - Chance Sisco, C, BAL (231) - Take your time promoting Adley Rutschman, O's. Seriously, you know how much that extra year matters? They've weirdly never given Sisco much of an ... opportunity. But he has power and takes plenty of walks.
$1 - Aledmys Diaz, 2B, HOU (252) - I was looking for MI's in all the wrong places, getting upset that I got outbid on Hanser Alberto for crying out loud. But Diaz should play enough and maybe even gain eligibility in other positions as he's done in the past.
$1 - Isaac Paredes, 3B, DET (262) - When presented with an opportunity to lock down corner infield spots for the Tigers, one must pounce on it.
$1 - Tyler Duffey, RP, MIN (271) - Duffey is just a solid pitcher, and I could backdoor some wins out of him on a good team.
$1 - J.B. Wendelken, RP, OAK (279) - I'm old enough to remember when Wendelken was a candidate to close for the A's, plus I wanted to have a stranglehold on all variants of Wendle/Wendels in the draft.
Reserves
Rio Ruiz - Ruiz looks like he won't start after the Orioles signed Maikel Franco, but he's CI insurance in case Nunez gets cut and doesn't catch on.
Jake Cave - Kiermaier injury insurance, plus he could play a lot early on if the Twins send Alex Kiriloff down. Plus he'll be there for Byron Buxton's next injury.
Jose Marmolejos - I just wanted another bat that would likely make the Opening Day roster, plus he's a little bit of insurance for Kelenic.
Luis Garcia - Garcia should be involved heavily early on for the Astros as Jake Odorizzi ramps up his activity.
Roster By Position:
That's a 162/98 hitter/pitcher split - more heavily weighted towards pitching (38%) than I'm used to doing in this league, and second only to Howard Bender.