This article is part of our Best Ball Strategy series.
Fantasy football has gone the way of Christmas music and holiday decorations, seeping out of its preordained season to infect nearly every month of the calendar. Some might call it too much of a good thing, but I won't be among them. Lights on strings still look nice in February, and fantasy-football drafts are still fun when the season is seven months away.
Last week, I completed my first draft for 2021 — a 12-player, 18-round contest for $3 on Underdog Fantasy, awarding $20 to first place, $9 to second and $3 to third. It's not a format where I feel obliged to stack players from the same team, but I do think it's a decent tiebreaker, considering 62.5 percent of the prize pool goes to first place.
Anyway, here's the final draft board, followed by my explanation for each pick:
Pick Analysis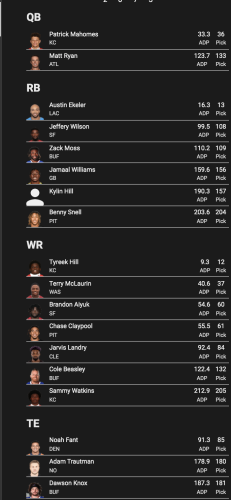 WR Tyreek Hill (No. 12)

RB Austin Ekeler (No. 13)
I was surprised to see Hill available and didn't hesitate to draft him. After that, it was between Ekeler, Cam Akers and DeAndre Hopkins. I went with my gut, which tells me Ekeler eventually will come through with a season like Christian McCaffrey's 2018 (219/1,098/7 rushing, 107/867/6 receiving).
Who I should've drafted: I'm happy with these picks.
Who I hoped would fall: Jonathan Taylor (No. 9) would be the dream scenario, while Hill was the more realistic possibility.

QB Patrick Mahomes (No. 36)

WR Terry McLaurin (No. 37)
I also considered rookie RB Travis Etienne, who lasted another 10 picks before he was swept up at No. 47 overall. Najee Harris went 34th, and Javonte Williams went 55th. After that, there wasn't another rookie RB drafted until Kenneth Gainwell at No. 91.
For what it's worth, I would've taken Etienne over Mahomes on a full-PPR site, had the same choice been available. It's fantasy taboo to be the first person to draft a QB — and not for no reason — but I'm fine with the pick when it happens at the 3/4 turn instead of Round 2 or early Round 3.
Who I should've drafted: Maybe Etienne, but I'm ok with the picks I made.
Who I hoped would fall: David Montgomery (No. 33), Keenan Allen (No. 32)

WR Brandon Aiyuk (No. 60)

WR Chase Claypool (No. 61)
Both guys had impressive rookie seasons, but Claypool tailed off over the last couple months, and Aiyuk might only be Option C in the San Francisco passing game if the team can ever manage to keep both George Kittle and Deebo Samuel healthy. Can't say I love my picks here, but I also didn't really like the RB options in this range — Chris Carson, Melvin Gordon, Myles Gaskin, Raheem Mostert, Leonard Fournette, Ronald Jones, Kenyan Drake, Kenneth Gainwell.
All of those backs comes with huge role uncertainty at the moment, and I figured I'd be able to find similar propositions with some off-brand RBs a few rounds later (TBD). The other options here were A) Tyler Boyd, if I wanted to play it safe; OR B) Courtland Sutton and Odell Beckham, if I wanted to shoot for the moon. Aiyuk and Claypool felt like the middle ground in terms of risk/reward.
Who I should've drafted: I'm ok with my picks given the options available, but they were kind of disappointing after it briefly appeared Mark Andrews or Tyler Lockett might fall to me.
Who I hoped would fall: Andrews (No. 58), Lockett (No. 56)

WR Jarvis Landry (No. 84)

TE Noah Fant (No. 85)
I'm thrilled with the value on Landry, who struggled to find his footing after major hip surgery last offseason, but then closed out the year with 46 catches and five TDs in his last seven games (including playoffs). His 2.11 yards per route in 2020 placed 15th out of the 79 WRs with 50 or more targets, repeating his rank from 2019 (2.04, 15th), per PFF.
Landry will have to compete with Beckham again for targets, but the Browns could throw more passes in 2021 after Baker Mayfield played the best football of his young career in December and January. We're probably underrating the Cleveland passing game if we rely on Mayfield's 2020 stats (3,563, 26 TDs, 8 INTs), as he had three consecutive games impacted by ugly weather (true story) and another where his top four WRs and starting LT all were on the COVID-19 list.
Anyway, I celebrated my Landry pick by making a mistake, pivoting to TE after the drafter in the 11 spot sniped Leonard Fournette. I should've pivoted to fellow Super Bowl champ Ronald Jones, who outplayed Fournette in the regular season and could now land right back in the lead role if Playoff Lenny signs elsewhere as a free agent.
Even if Fournette were to stick around in Tampa, Jones would still have a path to 150-200 carries and 30-40 targets, which could be enough to make him a better pick than Fant. The Broncos' young tight end doesn't lack for talent, but his QB situation still looks shaky, and the target volume could disappoint if Sutton and Jerry Jeudy both stay healthy.
Who I should've drafted: RoJo & Landry
Who I hoped would fall: RBs Myles Gaskin (No. 69), Melvin Gordon (No. 79), Leonard Fournette (No. 83)

RB Jeff Wilson (No. 108)

RB Zack Moss (No. 109)
At this point I'd kind of backed myself into a corner with a glaring need at one position (RB). I like both these guys outside the Top 100, but the NFL Draft could bring tough news, plus Raheem Mostert and Devin Singletary are still around (most likely).
Who I should've drafted: Maybe Chuba Hubbard, who went one pick after Moss.
Who I hoped would fall: RBs Damien Harris (No. 105), Chase Edmonds (No. 106)

WR Cole Beasley (No. 132)

QB Matt Ryan (No. 133)
Beasley averaged 5.5 catches for 64.5 yards per game in 2020, and Ryan threw for 4,581 yards. Neither is an exciting pick, but this solidifies my QB and WR spots to allow for a 2-6-7-3 roster build. I briefly considered drafting my fourth RB here, but it was hard to find any significant difference between the available options, so I figured I'd wait for my next turn and pick whoever was left.
Who I should've drafted: I'm fine with the picks. I also considered taking Austin Hooper instead of Ryan, but early ADP data suggested the tight end might make it back to me 24 picks later, whereas Beasley and Ryan almost definitely would be gone.
Who I hoped would fall: RB Gus Edwards (No. 130), TEs Irv Smith (No. 117), Tyler Higbee (No. 120) Hunter Henry (No. 122).

RB Jamaal Williams (No. 156)

RB Kylin Hill (No. 157)
I felt a little better about my RBs after I was able to get these two at the 13/14 turn. Hill is a potential Day 2 draft pick with receiving chops, while Williams is a well-rounded player who is set to hit free agency at the same time as his backfield mate. The Packers might re-sign Jones OR Williams, but they're unlikely to keep BOTH players after drafting AJ Dillon in the second round last year. Be it in Green Bay or elsewhere, Williams' receiving and blocking skills make him the ideal complement to a big bruiser.
Who I should've drafted: Maybe TE Rob Gronkowski, who went 166th overall. Or Cole Kmet, who went 162nd. I didn't feel great about having Fant as my only TE through 14 rounds, but I nonetheless stuck with my gut on Williams and Hill.
Who I hoped would fall: TEs Austin Hooper (No. 153) and Hayden Hurst (No. 154)

TE Adam Trautman (No. 180)

TE Dawson Knox (No. 181)
This felt like the last two TEs with any semblance of upside, unless you're still holding out hope for an O.J. Howard trade and late breakout. After these two picks, the others tight ends taken were Dalton Schultz, Chris Herndon, Dan Arnold, Howard and Gerald Everett... yuck.
Who I should've drafted: QB Taysom Hill, WR Preston Williams and RB La'Mical Perine were at the top of my list among remaining players, and I'd draft them over Trautman/Knox in a lot of situations. But this specific roster needed TE help.
Who I hoped would fall: RB Phillip Lindsay (No. 178)

RB Benny Snell (No. 204)

WR Sammy Watkins (No. 205)
Snell could luck into a starting job, or at least be the thumper in a committee. Watkins probably doesn't have much ceiling at this point, but he still figures to land a starting job. TBD if that's in KC or elsewhere.
Who I should've drafted: Everyone kinda stinks at this point.
Who I hoped would fall: WR James Washington (No. 198)
Closing Thoughts
A 30-second pick timer is great in July or August when I'm confident in my draft strategy and rankings. The quick clock is more of a challenge in February, but I nonetheless prefer it to a 60- or 90-second timer, especially at low buy-ins where the time investment far outweighs the financial investment.
It was fun doing my first draft of the year without any pre-rankings uploaded to the site, but it's probably smarter to get those done before jumping into fast drafts at a higher buy-in.
I like having two Chiefs and three Bills, heavily investing in top-five offenses.
This is a decent squad for best ball, but I wouldn't like it in a traditional fantasy league with lineup-setting and transactions. I'd definitely be in danger of starting a bum in the RB2 spot while a couple good receivers (Landry, Beasley) lingered on my bench. That imbalance between the RB and WR positions is less of a problem in best ball, though it does put a lot of pressure on Ekeler staying healthy.
3 QBs + 5 RBs + 7 WRs + 3 TEs is what I consider a "standard" roster build for this format, if there is such a thing. Once I drafted Mahomes, a two-QB build made more sense. I'd prefer 2-5-8-3, in theory, but an early run on RBs meant there were better players available at WR in Rounds 4-8 (as is often the case).
RBs accounted for 21 of 36 picks through three rounds (eight in Round 1, six in Round 2, seven in Round 3).
WRs accounted for 11 of the first 36 picks (three in Round 1, four in Round 2, four in Round 3).
WRs accounted for 24 of 36 picks in Rounds 4-6 (eight in each round).
My team was one of four to draft three straight WRs in Rounds 4-6. The difference? I drafted only one RB in Rounds 1-3, while the other three teams secured multiple running backs.
Know that you aren't alone if you think my team stinks. I showed the squad to a friend, and he basically told me I would've been better off flushing three dollars down the toilet (thanks, Ira). HOWEVER, I do have to disagree. Mahomes, Hill and McLaurin will make it rain all year long, and Ekeler will become west-coast McCaffrey ( a.k.a. WCCMC).