This article is part of our Collette Calls series.
It's time, once again, to put myself out there and make 60 predictions for the new season. The premise for this annual article series remains the same: the prediction has to be somewhat grounded in reality but at the same time viewed as unlikely when you first read it. So, you will not find me predicting Ryan Yarbrough to win the Cy Young, but you may see me making calls predicting a breakout for Corbin Burnes as I did in this series just last year. Conversely, you will find some big misses such as me laying out the case why Shane Bieber would not finish the season as a top-20 starting pitcher.
When you play in the margins with predictions, you are going to lose more than you will win. The last three seasons, I've hit on 21 to 24 of the 60 predictions I've made with some rather big hits (Renato Nunez, Blake Snell, Lance Lynn, Jose Abreu) and many more misses. Just last year, this series helped identify the upside of taking a chance on A.J. Pollock, Andrew McCutchen, Asdrubal Cabrera, Ian Happ, Marcell Ozuna, Trent Grisham, Chris Bassitt, the aforementioned Burnes, Tony Gonsolin, and Justus Sheffield.
While I strive for higher rates of accuracy, you will not see me lower the credentials for predictions to increase the chances of the prediction coming true. My goal is not to go 60 for 60 on these; it is to get you thinking differently about each one of these players. Statistical predictions in player capsules or writeups are, at best, within the range of accuracy 70 percent of the time. My purpose is to get you thinking about what could potentially happen in the other 30 percent of the pie.
The small sample of 2020 compounded with all of the related factors in prepping for and playing through a season during a pandemic loom large in the statistics, which is why you'll see a focus on timelines rather than solely focusing on the previous season.
Any ADP mentioned in this piece is from NFBC from 41 drafts over the last 60 days.
Houston
Yuli Gurriel (ADP 258; high 217, low 382) finishes the season as a top-20 first baseman. The current owner of the 20th spot on the first base ADP is the recently traded Josh Bell, but his ADP is 76 points better than Gurriel's. This prediction is not to slight Bell, with whom I am still very much on board, but to show the upside of waiting to grab Gurriel. He is a bit of a unicorn at first base with his very high contact approach to hitting and distaste for accepting walks. He simply puts many balls into play by not accepting walks and resisting strikeouts, which puts him at the risk of the Luck Dragons:
The easy analysis would be to point at Gurriel's .235 BABIP last year, which was nearly 70 points below his career average, and say he will rebound. He may very well rebound with that metric, but that is not why I am intrigued by him. I'm also not writing off his 2020 struggles to Trashcan-gate because that would be too easy. Instead, let us look at where he struggled last season: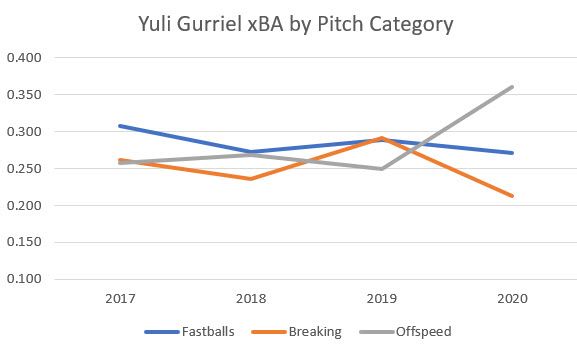 The variance for Gurriel last season was noticeable with breaking balls as he struggled to hit them safely into play for the first time in recent history. The hand injury in September certainly did him zero favors as well. The tinfoil hats among us will point to this as slam dunk evidence in Trashcan-gate, but notice his xBA against breaking balls was within the same range as recently as 2018. That is what year-to-year variance can look like and why it is important to look over a larger body of work. Nothing in his below-the-surface skills points to a guy getting ready to fall off a cliff. In fact, they show he is very much the same guy.
2020 recency bias appears to be pulling down his current ADP given nobody in the top 35 at first base other than the recovering C.J. Cron has been drafted any lower than 382. Houston still has a talented lineup, and the potential for Gurriel to resume hitting for a high average and driving in runners is still there given he is projected to hit fifth or sixth. The 2019 homer total is not coming back, but as he showed in 2017 and 2018, he does not need homers to drive in runs.
Lance McCullers Jr (ADP 125; high 106, low 150) finishes top 3 for AL Cy Young. This prediction was used for Kenta Maeda last year, and if it weren't for that meddling Bieber kid, I would have gotten away with it. If you have read this column long enough, or heard me talk on a podcast, you know my practice of waiting two full years on pitchers who recover from Tommy John surgery before buying back in. In fact, in this very portion of this series last year, I outlined why I did not like McCullers in 2020 for that same reason while building the Chris Bassitt hype train. McCullers had his surgery Nov. 6, 2018, and I am very excited about what he could do in 2021.
Last season, he added a cutter to his repertoire to give him something else for lefties to think about. He did not use it that often, but it did give lefties another pitch to think about so they did not just look to barrel up sinkers on the outer half of the plate. His overall numbers took a beating with his first three starts out of the gate as he allowed 14 earned runs and three home runs in his first 13.2 innings. McCullers went on to hold the league to a .179 average with a 2.18 ERA and a 0.94 WHIP along with a 20.0 K-BB% while allowing two home runs in 41.1 innings. The most recent memory we have of him is him losing the final game of the ALCS, but even in that appearance he struck out seven hitters in 3.2 innings. A likely return to a normal unbalanced AL West schedule is also attractive, with the friendlier pitcher run environments of the AL West.
Simply put, this was a guy the marketplace was extremely excited about before his elbow gave out late in 2018. He quietly showed signs of the rebound last year, and has the tools to take a significant step forward this season now that his surgery is fully in the rear view mirror and he has regained full command of his repertoire. He is also heading into his final year before free agency and looking to state his case why he deserves a big pay day. He is the 47th pitcher off the board in current drafts, meaning he is being viewed as a top-40 starting pitcher, but I believe the marketplace is undervaluing his potential.
Los Angeles
Justin Upton (ADP 341; high 283, low 428) finishes as a top-60 outfielder. Upton is currently 91st on the outfield ADP list, while Austin Hays is 60th at 220. By any measure, Upton's 2019 was terrible and the start to 2020 was not much better. Upton began 2019 with an acute turf toe injury and ended it with an injured knee. 2020 got off to the slowest of starts, and when you combine 2019 with the first month of 2020, Upton had a .190/.282/.369 batting line with a 32 percent strikeout rate in 323 plate appearances. Those numbers came on the heels of three consecutive 30-homer seasons with a high level of run production. Upton, by his own admission, struggled to get ready for summer camp after the hard offseason work to prepare for spring training only to have it shut down by COVID.
Upton made some changes to his swing during the shortened season, and the results really do speak for themselves as he closed the season with a .276/.364/.575 batting line and reduced his strikeout rate to 18 percent. He was 56 percent better than the league average the final month of the season, but unless you had him on your roster, you likely missed it: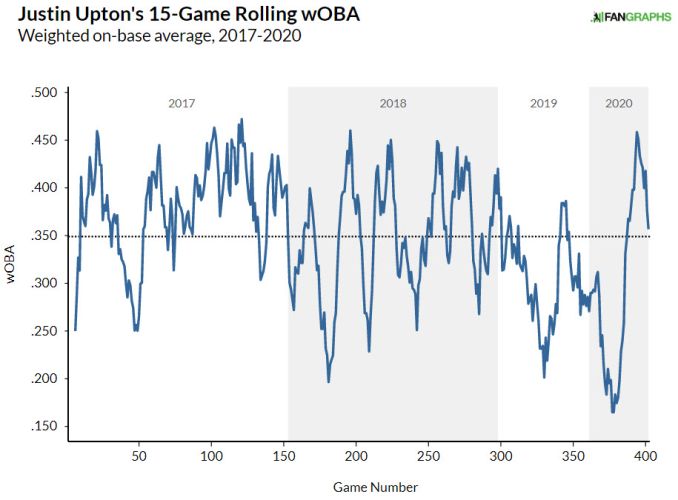 Given the foot, knee and layoff issues, it is easy to see why Upton struggled. He has been prone to peaks and valleys, but this 33-year-old is still one better ball-strikers in the game when his body is right. Ideally, Upton would DH, but that cannot happen in Los Angeles with Shohei Ohtani and Albert Pujols both in the fold and taking up time at the spot in the batting order. Upton is slotted to hit in the heart of the lineup, cleaning up whatever Mike Trout and Anthony Rendon leave for him. Upton's value likely climbs as we get closer to spring training, but OF91 is criminally underrating his potential upside.
Jaime Barria (ADP 558; high of 506, low of 640) finishes as a top-175 pitcher. He is currently the 232nd pitcher off the board in drafts as an arm in the back end of the Angels' rotation with the ability to function as a swing man. He does not have any one outstanding pitch or skill, but here is why I am intrigued: he is a contact suppressor. Barria led baseball last season in year over year improvement of barrel rate, improving from nearly 11 percent in 2019 to little more than 3 percent last season. He finished in the 94th percentile of limiting barrels.
Barria throws four pitches: a sinker, a four-sam fastball, a changeup and a slider, and throws all four to both righties and lefties. Topping out at 92 mph, he is not going to blow anything by hitters, but has to keep them guessing and keep them off-balance to be successful. His slider was particularly effective last year as he leveraged it more than any of his other pitches and had terrific numbers from the pitch. Barria had a similar pitch frequency in 2019, but did not get the same results off his slider as he saw last year. The slider is his best pitch, and he is not afraid to feature it to set up his other pitches.
Barria intrigues me much like a Ryan Yarbrough type where he pounds the zone, works all around it while avoiding the heart of the plate, and keeping hitters off-balance for success. The Angels have a better overall team and bullpen this year, which should allow Barria to get better offensive support and bullpen help if he sticks in the back of the rotation. The lack of pure stuff absolutely presents risks, but StatCast shows the pitchers he is similar to based on velocity and movement include Masahiro Tanaka (ADP 274) and Jake Odorizzi (ADP 310), and neither of those pitchers currently has a team.
Oakland
Chad Pinder (ADP 520; high 328, low 599) finishes as a top-300 player. Pinder enters the season with eligibility at second and third base, yet is currently projected as the Opening Day shortstop while Oakland continues to court a free-agent shortstop. Pinder as an everyday shorstop would be something given he has all of six games at the position the last three seasons, but that does not temper my excitement for him heading into this season.
Pinder had one of those odd years where his strengths and weaknesses switched sides of the ledger. The righty has made a decent career of hitting lefties very well, but did the exact opposite of that in 2020. Conversely, he hit righties well for the first time. Both of these things occurred in the small sample-size arena, but neither are why I like him this year. For that, I turn to the excellent analysis of FanGraphs' Alex Chamberlain who recently wrote about the near immediate usefulness of max exit velocity:
In terms of major takeaways, I think max EV's utility comes not from its absolute relationship with power and contact quality (which is weaker than other metrics) but, instead, from how quickly we can use it in-season in place of other superior metrics that are not yet reliable.
Guess who had the highest year over year gain in max exit velocity from 2019 to 2020? Yep, Chad Pinder, and by quite a bit. Not to mention, Pinder is coming off his best year of average exit velocity his overall hard-hit percentage was better than the likes of Wil Myers, DJ LeMahieu and Franmil Reyes in 2020. I am not advocating taking Pinder over those players, but given how low his ADP is and the uncertainty of the Oakland depth chart, he has a lot of upside. He could end up hitting higher in the lineup against lefties and likely will pick up another position or two within the season. He has a golden opportunity in Oakland to grab playing time vacated by Marcus Semien and never give it back.
A.J. Puk (ADP 408; high 316, low 583) finishes as a top-125 pitcher. Puk is currently the 154th pitcher by ADP, and it is understandable given he has thrown all of 11.1 major-league innings the last two seasons while dealing with major injuries. Puk had Tommy John surgery in spring 2018, and his 2020 season ended with shoulder debridement surgery after attempting to avoid surgery all year recovering from shoulder troubles.
Pre-surgeries, scouts graded all four of Puk's pitches at 50 or higher on the 20-80 scale. Now that he has a clean bill of health on his elbow and all offseason reports about his throwing this winter while recovering the from the shoulder surgery have been positive, we should once again be intrigued. There are not too many lefty starters who can throw with his velocity while mixing in the other pitches, which is why it is so tough to play the waiting game with Puk. Pitchers with his upside are grabbed quickly after one good start or even a hot appearance in the Cactus League. The risk is massive given the injury history and we have not seen him pitch since F.U.N. was a thing, but the reward could be a lot of fun given his current market value.
Mariners
Ty France (ADP 301; high 210, low 410) finishes as a top-200 player. France has a few things going for him. He has raw power, good hitting skills and plenty of opportunity in Seattle. France put up a 104 wRC+ in two seasons at the big-league level between San Diego and Seattle, with a decent .265/.326/.431batting line during inconsistent playing time. His 2019 minor league numbers were ridiculous, just as they were for anyone hitting in El Paso, which makes Coors Field look like a pitcher's park.
France absolutely feasted on fastballs last year, hitting .342 and slugging .506 off them, and had similar success with breaking balls showing his progress as a hitter given he did not handle either particularly well in 2019. His defensive skills are lagging behind, hence why you see him projected as a starting DH for Opening Day. However, the club is likely to trade the aging Kyle Seager this year given he is in the final year of his guaranteed deal before a club option kicks in, and moving Seager opens the hot corner for France. France enters draft day eligible at second base only, but is unlikely to see much if any playing time there this year. He has an everyday spot in the lineup to lose, but I am betting that his power potential prevents that from happening.
Yusei Kikuchi (ADP 342; high 232, low 460) finishes as a top-100 pitcher. Kikuchi is currently the 132nd pitcher off the board in drafts, which understandable given the pitcher has amassed a 5.39 ERA and 1.47 WHIP in 208.2 major-league innings. Fantasy owners focused on that would miss the progress the lefty made last year, such as lowering his opponent batting average 67 points from his rookie season. Not only did he add a cutter last season, he made it his primary pitch, and it was a really good pitch for him. The new look helped him dramatically lower his home-run rate from a ghastly 2.0 per 9 in 2019 down to 0.6 per 9 in 2020. It also helped him surge his strikeout rate from a low 16 percent to more than 24 percent last season. Lastly, he found some new velocity with better mechanics as his average four-seamer went from 92.5 up to 95.0 last season, which pushed the whiffiness of the pitch from 16 to 25 percent.
The downside was the new pitch also led to him struggling more with walks, and his 10 percent walk rate was the reason his WHIP was so high even with a low opponent batting average. His worst outings with walks came in three games where he walked four Houston hitters, four Dodger hitters and six Padres, apparently deciding to pitch around trouble rather than pitching through it with those lineups. He had five other outings with one or fewer walks, so this "wildness" appears to be more strategy than lack of skill. The return to a normalized AL West schedule and pitching run environments should help him continue the progress he made last year and a third-year breakout for this overlooked pitcher appears to be there for the taking.
Rangers
Nate Lowe (ADP 345; high 185, low 464) is not a top-400 player. "OMG, #FREENATELOWE or #NATELOWEISFREED!" were fun hashtags for some in 2020 who wanted to see what the big first baseman could do with regular playing time. The Rays gave him time in left field and even tried him out at third base, but he struggled to find playing time all season and was not even with the team throughout the playoffs. Lowe has hit throughout his minor league career, but the .251/.322/.447 line in the big leagues in 245 plate appearances has not met expectations. He has been above average in his overall production, but there are some flaws to his game that I believe will be fully exploited in full-time duty.
One particular flaw is he is very passive in his plate appearances. The MLB average for swing rates has been 47 percent in his time in the big leagues, yet Lowe swings just 44 percent of the time. Lowe often takes first-pitch strikes and will take called strikes to end plate appearances rather than swing at pitches near the edges of the zone. The larger problem is pitchers have already figured out that once they get ahead, they can pump gas to finish the at-bat, particularly fastballs up. The league threw Lowe fastballs 71 percent of the time in 2020, and he hit .122 off them with a 32 percent strikeout rate.
Any success Lowe had in 2020 came against breaking pitches and offspeed pitches. Lowe comes into 2021 with exactly one more hit off pitches 95-plus mph than you or I have against major league pitching. Don't believe me? Look it up! Lowe is hitting .220 for his career against pitches in or near the upper third of the strike zone, and the opposition is quick to challenge him there in two-strike counts knowing his long swing struggles to catch up to those pitches.
It is my belief the reason Tampa Bay never gave Lowe consistent playing time is it was trying to hide these flaws and set him up for success against pitchers with lesser velocities or who preferred to work down in the zone where he is a good hitter. If these flaws are to change, something needs to change mechanically, and does such an adjustment alter his power? Or, does regular playing time suit him well and allow him to get his timing down and become Joey Gallo lite? Either way, I expect 2021 to be a struggling season for the Mark Teixeira doppleganger.
Jonathan Hernandez (ADP 457; high 271, low 657) finishes as a top-125 pitcher. Hernandez is currently part of the bridge to get the ball to Jose Leclerc, but he is in a very nice position. For one, Leclerc is not a lockdown closer and Texas has shown a quick hook with him when things are not right. Even if Leclerc holds the job for longer, Texas is talking about using Hernandez for multiple innings, which should increase his value for both strikeouts and potential wins.
Hernandez throws hard, but it is his non-fastballs that really do the damage as his slider and changeup were downright unhittable in 2020. Hernandez has limited batters to a .213 average in his major-league career while striking out one of every four hitters he has faced. Ideally, we want late-inning relievers to have the closer role so they can get the saves and push up the value, but Hernandez is going to have value late in a multi-inning role and that value immediately multiplies should Leclerc have another hiccup in the late innings. Hernandez could take that job and never give it back making him a steal as the 180th pitcher off the board.