This article is part of our Rounding Third series.
On Wednesday night I drafted the first of my RotoWire Online Championship "Beat Jeff Erickson" leagues. It was my first 12-team draft of this draft season - all of the others have been 15-team leagues, and the difference between them is startling - you can feel it as early as the third or fourth round. After slogging through a couple of 50-round, 15-team drafts, a 12-team/30-round draft seems easy. Here's the full draft grid from the draft - I was Team 9: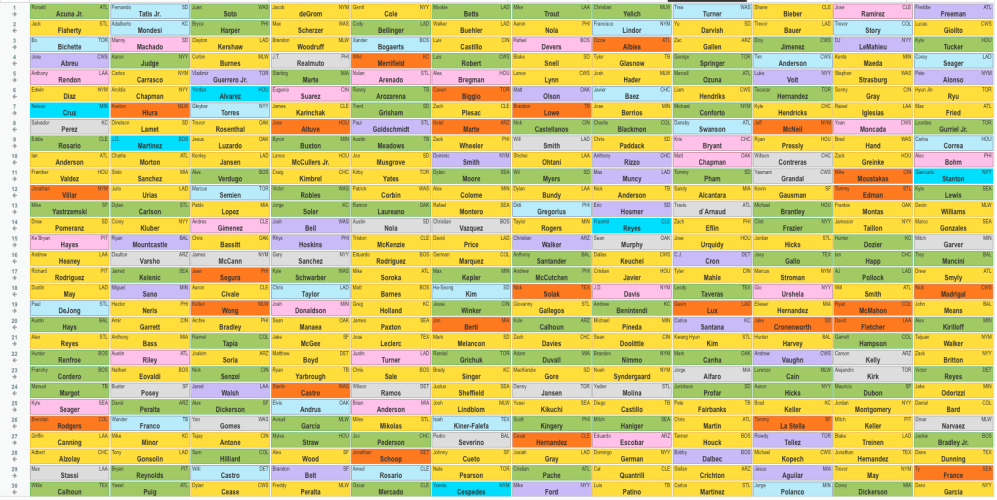 Instead of going pick-by-pick as I typically do in these draft reviews, I wanted to share a couple of observations about this draft and issues that cropped up during the draft.
Typically I don't take the first or second closer in a snake draft - I've done it, but only fairly infrequently. But I did take Liam Hendriks in this draft, even though I was prepared to wait awhile for a closer. But (a) at 64 he fell nearly to his max pick (65) in the OC, and (b) I already had two ace SP's in Yu Darvish and Zac Gallen, so I liked the team build of adding a closer here. Though I don't love the Tony La Russa hiring by the White Sox, I think it bodes well for Hendriks, given how TLR has managed closers in the past.
But the above tweet that I made during the draft was less a strategy tip than a flippant remark, an observation how it felt. But it's true - I had my closer that I had zero doubts about, and each successive closer drafted in the next five-to-six rounds felt great. That of course ignores the opportunity cost of the pick, namely Cavan Biggio, Nelson Cruz, Gleyber Torres or Trent Grisham, all who went before my next pick. But after taking Hendriks, I fully bought into the notion of only taking late gambles for the second closer slot, taking the "saves come into the league" mantra to heart, emphasizing that it's a 12-team league. Not only that, but I like my late RP gambles - Pete Fairbanks, Chris Martin and Stefan Crichton.
Apologies to the podcast listeners and my co-host Fred Zinkie, I misspoke - er didn't realize I was lying when I lied - when I said that I wouldn't take C.J. Cron as his new ADP, that I'd still be behind the crowd. I obviously had a change of heart, and not only did I not shy away from his ADP, I set a new "Min Pick" in the Online Championship for him.
First basement were running a little dry at this point, and I didn't see too many difference makers at the position. Moreover, after drafting three pitchers in the first six rounds, I was trying to catch up in power. Cron checked both of those boxes. I backed him up with two 1B-eligible hitters in Carlos Santana and Bobby Dalbec, in case Cron isn't fully recovered or otherwise fails to win the Rockies' first base job. If you have a known weakness or 'gamble' at a position, you should make sure that you're not on an island with that player. Either draft another player from the same eligibility at his companion position (CR for either 1B or 3B; MI for 2B or SS) or use your UT slot with an eligible player from the weak/risky positional player. Specifically here, I drafted Carlos Santana as my UT and Bobby Dalbec as a reserve hitter.
The Kevin Mather comments and ensuing fallout could end up helping Jared Kelenic get promoted sooner rather than later. Backlash is a funny thing. If Kelenic avoids flopping this spring, he might get the Opening Day call or at least the Kris Bryant three-week treatment. I suspect that his ADP will skyrocket between now and Opening Day. At pick 17.2 (194), today's pick was his new MIN pick in the Online Championship. As was pointed out on Twitter, I lose some of the right to complain about missing Kelenic because I took Cron at his MIN the round before. What goes around, comes around.
MY TEAM (Round number in parenthesis)
C - Travis d'Arnaud (15), Jorge Alfaro (23)
1B/3B/CR - Cron (16), Kris Bryant (9), Matt Chapman (10)
2B/SS/MI - Gavin Lux (19), Trea Turner (1), Dansby Swanson (8)
OF - George Springer (4), Marcell Ozuna (5), Michael Conforto (7), Tommy Pham (11), Leody Taveras (18)
UT - Carlos Santana (20)
SP - Yu Darvish (2), Zac Gallen (3), Sandy Alcantara (12), Zach Eflin (14), Jose Urquidy (15), Tyler Mahle (17), Kwang Hyun Kim (21)
RP - Liam Hendriks (6), Pete Fairbanks (25)
Bench - Mark Canha (22), Jurickson Profar (24), Chris Martin (26), Tanner Houck (27), Bobby Dalbec (28), Stefan Crichton (29), Carlos Martinez (30).
It's funny, for a while my team was light on speed despite taking Trea Turner in the first round. It wasn't necessarily by design, though it's also true that I did focus on getting power from my net few early bats, particularly with Springer/Ozuna/Conforto. I might be a little too reliant on getting my speed from three players (Turner/Pham/Taveras), though I have the consolation of a bigger free agent pool to address any shortcomings.