This article is part of our Best Ball Strategy series.
There are at least four different sites that have 2021 NFL best-ball contests up and running, but Drafters.com is the only one I know of with a tournament offering in mid-February. It's a $5.55 entry with a $30,000 prize pool, including $6k for first place and $2.5k for second.
The tourney consists of 600 10-team drafts, each lasting 20 rounds with a 40-second pick timer. After that, prizes are based on cumulative scoring Weeks 1-16, stretching from $6k for first place to $10 for 1,000th place.
Assuming the tournament fills, 16.7 percent of teams finish in the money, with more than one-third of the prize pool going to the top four spots. It's a top-heavy prize structure — the type where stacking and other forms of risk-taking often make sense.
In the interest of fairness, the tournament will close right before the 2021 NFL Draft begins Apr. 29. Teams that draft now won't have as much info on trades and free agents as teams that draft in April, but that can actually be an advantage if we're a step ahead of our draft opponents.
There will always be some offseason moves that surprise everyone, but we can still find an edge if we're aware of each team's cap situation, draft picks, free agents, etc. For that reason, I created a 2021 Offseason Guide a couple weeks back, looking at the top free agents and potential cap casualties (among other things) for each team. Plus, RotoWire has a 2021 Free Agent Grid, maintained by Mario Puig throughout the offseason.
Anyway, I recently wrote a recap of my first completed best-ball draft of the year — a traditional 12-team league with prizes for first through third place. I paired Tyreek Hill with Patrick Mahomes in that draft, but my strategy was still far less aggressive than what we'll see below in the Drafters tournament (Team No. 3 with Kamara):
Note: this isn't sponsored content; I'm just discussing it because it's what I've been playing in my free time.
Pick Analysis
1.3

RB Alvin Kamara
If dink-and-dunk expert Drew Brees was coming back for another season, I'd have Kamara well ahead of Derrick Henry as my No. 3 pick. Brees' presumed retirement makes it close, but I still have Kamara above the reigning OPOY for full-PPR leagues.
2.8

TE Darren Waller
I always want a premium TE in best ball, and in this case I certainly paid a premium (the 18th overall pick) to acquire one. The other considerations here were Michael Thomas and Antonio Gibson, though I'd also have been fine with DK Metcalf, Justin Jefferson or Calvin Ridley.
3.3

WR Michael Thomas
Sean Payton chose Taysom Hill over Jameis Winston a few months ago, but it's probably close enough to be a camp battle if both guys are with the Saints come August. While Winston obviously has his flaws, he also has a track record of helping receivers put up big numbers. An offense with Winston at the helm likely would throw at least 35 times per game — and possibly much more — whereas Hill's presence would point toward more designed runs and scrambles.
I highlighted Hill in my recent Breakout Watch article, but cautioned that Winston would be the better pick for best-ball tournament teams that are already relying on Kamara and/or Thomas. Naturally, I had a chance to deploy the strategy less than 24 hours lately, and couldn't resist when Thomas was available Round 3. For what it's worth, Jefferson and Gibson are the other guys I considered drafting here.
4.8

RB David Montgomery
I'll happily pick Monty at 38th overall after seeing what he did down the stretch last season. Tarik Cohen (torn ACL) figures to take a chunk of the receiving work, but Montgomery locked himself in as the lead runner and a central part of the offense.
5.3

WR Chris Godwin
Stranger things have happened, but I'll be really surprised if the Bucs let Godwin slip away this offseason. On the other hand, secondary weapons Antonio Brown and Leonard Fournette could be deemed expendable, potentially thinning out the crowd competing for touches and targets in Tampa Bay. Year Two with Brady should work out better for both Godwin and Mike Evans.
6.8

WR Tyler Lockett
Lockett seems to be going about a half-round later than he did last year, despite coming through with a career-best fantasy season in 2020. Sure, his production was heavily tilted toward the first half of the year, but it's not like we're talking about a one-hit wonder. Lockett now has three straight seasons with at least 965 yards and eight touchdowns.
7.3 WR Ja'Marr Chase
I tend to avoid rookie pass catchers, but this dude is an absolute beast, and very likely a top-10 pick. Figured I'd take a shot on him in this tournament, though I prefer Tyler Boyd (who was still available) in formats where I'm more conscious of downside/floor.
8.8

QB Russell Wilson
DK Metcalf is now a top-20 pick, while Wilson and Lockett are in the same range as last year. I understand, to some extent, but it does feel like one guy is getting the benefit of the doubt, while the other two are being penalized for inconsistency. The Wilson-Lockett stack is a nice bargain right now.
9.3

RB Leonard Fournette
Speaking of bargains... I'm happy to get a decent RB3 in Round 9. I have no clue what Fournette's future holds, but there's at least some possibility of a workhorse role, be it in Tampa Bay or elsewhere. All he needs is one team to overpay him for the strong playoff showing.
10.8

WR Jarvis Landry
I went with Chase over Boyd three rounds earlier, but that doesn't mean I'm totally avoiding high-floor, modest-ceiling WRs. Remember that Landry had hip surgery last offseason and struggled early in the year. He came on strong in December, as did QB Baker Mayfield.
11.3

RB Chase Edmonds
Depending on what happens in free agency and the draft, Edmonds could be a top-50 pick a couple months from now. He might also see his value drop if the Cardinals swap out Kenyan Drake for an upgrade, but I can't imagine the drop would be too much lower than 103rd overall. The price (103rd overall) was right to invest in Edmonds' role volatility.
12.8

WR Mike Williams
There are two ways Williams can get a value boost this offseason. The first would be leaving for a new team where he has a better shot to see more than five or six targets per game. The second would be staying in LA but seeing his role expand under a new coaching staff... perhaps with a boost if TE Hunter Henry (free agent) leaves.
Williams technically is under contract for 2021, but it's a fifth-year option guaranteed for injury only, so the Chargers can release him if they don't want to pay the $15.8 million salary. An extension would allow Williams to stay in Los Angeles with a lower cap hit for 2021.
13.3

QB Baker Mayfield
I mentioned Mayfield in my recent Breakout Watch article, noting his improvement throughout the 2020 campaign as well as the bad luck that limited his statistical output. Matt Ryan arguably would've been a better pick here, but I went with Mayfield since I already had Landry from the Browns.
14.8

TE Zach Ertz
Ertz looked washed up in 2020, but he's only 30 years old and is just two season removed from a 916-yard campaign, so don't be surprised if he finds his way to targets in 2021. Just don't expect it to happen in Philadelphia, as the Eagles can free up $8.25 million in cap space if they designate Ertz as a post-June 1 release. Most Philly beat writers expect Ertz to be traded or released this offseason.
15.3

QB Jameis Winston
This is much earlier than I'd normally draft Winston, but I didn't want to risk messing up the Saints stack. Of course, we don't even know if he'll be on the Saints next year, nor do we know that he'll beat out Taysom Hill for the starting job if he does stick around.
16.8

RB Jamaal Williams
Williams is a mediocre runner, a reliable receiver and an excellent pass blocker. In other words, he's a good NFL running back, but not the kind anyone gets excited about. Maybe he ends up working in tandem with AJ Dillon, or maybe he finds a new team. Either way, Williams isn't likely to be on the same team as Aaron Jones, as both are scheduled for unrestricted free agency.
17.3

TE Adam Trautman
Other options here included Nelson Agholor, Phillip Lindsay, Tarik Cohen (if I didn't have Monty), Jakobi Meyers or Kylin Hill. Figured I'd get one of them next time around, maybe even two. So why not go all-in on the Saints stack, even if 163rd overall seems a bit early for Trautman?
18.8

RB Kylin Hill
My choice here was between Hill & Jakobi Meyers, though I liked my odds to get both. I went RB over WR once I noticed that the two opponents between me and my next pick both had drafted seven receivers, i.e., they were more likely to snipe Hill than Meyers.
19.3

WR Jakobi Meyers
I was right about the other two teams not drafting wide receivers, so Meyers was an easy pick at this point. Even if he never gets another shot to be a team's No. 1 receiver, it says a lot that he managed a 72.8 percent catch rate and 9.0 YPT in such a miserable passing game last season. It's at least clear Meyers belongs in the NFL, which is more than we can say for any of the other New England wideouts who aren't in their mid-30s.
20.8

WR Rashard Higgins
Higgins is scheduled for free agency, so he won't necessarily be part of thee Mayfield-Landry stack. The 26-year-old put up 572 yards on 53 targets in 2018, and 599 yards on 52 targets in 2020.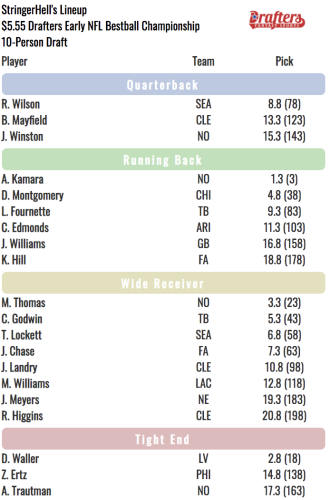 Closing Thoughts
In my mind, 3-6-8-3 is the "standard" allotment for a 20-round draft with no kickers or D/ST. However, I was the only team to finish with this build. In fact, there were nine different builds between the 10 teams, with 3-6-9-2 being the only repeat (Teams 5 & 8).
Laviska Shenault is fun and all, but Jalen Reagor was a better prospect out of college, and Michael Pittman was better as a rookie. It's weird to see Shenault so far ahead of those guys in ADP, even coming off the board ahead of teammate DJ Chark sometimes.
Here's the second tourney team I drafted ... one where I didn't really end up stacking, in part because I was multi-tasking rather than fully focusing on the draft. One of my favorite things about a $5.55 price point is that I don't have to feel guilty about bathroom breaks!