This article is part of our NFL Observations series.
With the month of August and initial NFL cut-downs in the rear-view mirror, the first day of September marked my entry into the fray in the 2021 NFFC Primetime Online draft.
As Week 1 approaches, NFFC will continue to host drafts through Saturday, Sept. 11, offering multiple formats and other high stakes leagues, including:
and:
Our friends over at NFFC have relayed that it's been a record year for both contests, with the Primetime slated to top 700 teams with a $200,000 grand prize and the RotoWire Online Championship set to go over 3,600 teams with a $200,000 grand prize.
There are still openings available every day for both contests, but please note that spots are limited!
Now on to the league that I drafted in Wednesday. I like the nucleus of my squad, and after I took Dalvin Cook second overall, I tried to go with the flow. In this case, the flow led to me landing Patrick Mahomes with my second-round pick. That wasn't really the plan, as I had Darren Waller (who I thought I'd snag) DeAndre Hopkins and Justin Jefferson in my queue, but when that trio went right before my pick, I pivoted to Mahomes, rather than sort through the pile of wideouts and running backs I had rated in a similar range.
Overall, I'm satisfied with my starting lineup and understand that I will have to go flex-by-committee, but one thing that I'll have to deal with straight away is a lack of depth at running back. While things broke fine for me in other areas, I tended to be a step behind in the backup RB game, and in hindsight wish I'd been more aggressive in my approach there. As it is, a number of backs I had lined up were scooped up right before my turn. Among them, not landing one or both of Alexander Mattison and Chuba Hubbard stung, but the managers in these leagues are a savvy bunch, so the patient approach that may work in other formats was a risky one here.
In any case, I'll be adding another RB or two in the upcoming first edition of my league's FAAB and as the season rolls along I plan to be very proactive in bidding for any players at the position that emerge as lineup options.
Below is the full draft board, followed by some round-by-round commentary about my picks: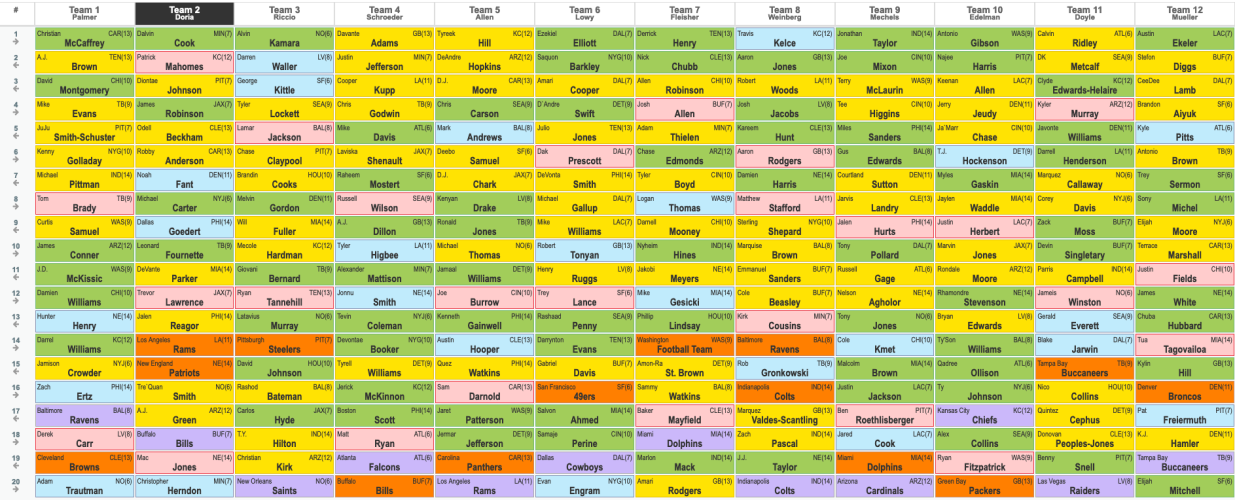 1 - RB Dalvin Cook, MIN: This is a PPR format, so Alvin Kamara was a consideration here, but I'm happy to have the Vikings' lead back as the cornerstone of my team.
2 - QB Patrick Mahomes, KC: As mentioned earlier, I had my sights set on Darren Waller and a couple of wideouts here, but when they disappeared I elected to take Mahomes in Round 2. I usually shy away from QBs this early, but make an exception when it comes to K.C.'s superstar signal-caller.
3 - WR Diontae Johnson, PIT: Tampa Bay's top two wideouts were options here, but Johnson was the receiver I like best at this stage, and I covered that base, figuring that James Robinson would be available on the turn-around.
4 - RB James Robinson, JAX: He was, and I went with a player who should maintain high volume in Jacksonville's offense, with first-rounder Travis Etienne out for the season.
5 - WR Odell Beckham, CLE: There's always some risk taking a player coming off a serious injury — in this case a torn ACL — but it's still the Beckham and Jarvis Landry show in Cleveland once OBJ shakes off the rust. I like his chances of justifying this pick.
6 - WR Robby Anderson, CAR: T.J. Hockenson and Gus Edwards were possibilities for me in this slot, but the chance to secure a WR3 coming off a 95-catch season led to this choice, and a decision to go with a TE timeshare.
7 - TE Noah Fant, DEN: I like the upside the 2019 first-rounder brings to the table and he should be a favorite target for Teddy Bridgewater and/or Drew Lock all season long.
8 - RB Michael Carter, NYJ: It was a toss-up between swing for the fences with a talented rookie, or going with a known commodity in a timeshare (Melvin Gordon). Carter was the call, and while it's a decision that could pay off in the long run, with the way the rest of the draft played out for me, it's a decidedly high-risk/high-reward scenario in a large-field tournament context.
9 - TE Dallas Goedert, PHI: Here's the second half of my TE committee. Zach Ertz is still around, but I expect Goedert to see his share of targets in this Jalen Hurts-led offense.
10 - RB Leonard Fournette, TB: I wanted Zack Moss or James Conner in this spot and strongly considered Alexander Mattison here, which is actually who I should have taken, but Fournette is at least a player who'll get carries every week. Not my favorite pick, given that he's part of a committee in an offense with some passing chops, but I hope he can be a decent bye-week plug-in, at a minimum.
11 - WR DeVante Parker, MIA: Parker is a player who I've rostered during some of his down seasons and stayed away from in others. Here's to this being one of the seasons that he's good!
12 - QB Trevor Lawrence, JAX: I have a starting QB that won't be out of my lineup unless he's hurt or on bye, so I figured I'd take a chance with the No. 1 overall pick in the 2021 NFL Draft. He's one of the rare rookie QBs who could actually pay off, more so because I don't need to use him right away.
13 - WR Jalen Reagor, PHI: The 2020 first-rounder could be a post-hype breakout type, considering that he and rookie DeVonta Smith are so firmly perched atop Philadelphia's WR depth chart.
14 - Rams D: After losing out on Chuba Hubbard leading up to this, I decided to start the run on Team D/ST.
15 - Patriots D: I doubled down after Ty'Son Williams went, while also considering David Johnson. Houston's backfield scares me, but as things panned out, I probably should have gone with Johnson, even at this stage of his career.
16 - WR Tre'Quan Smith, NO: With Michael Thomas on PUP, someone has to catch Jameis Winston's passes. Marquez Callaway has all the sleeper buzz right now, but Smith has a chance for some volume in this offense.
17 - WR A.J. Green, ARZ: I was about ready to celebrate my astute addition of Carlos Hyde, but after he went with the pick before mine, I decided to go Back to the Future and roll the dice on a possible, but not probable, revival of Green's fantasy utility.
18 - Bills Team Kicker: Round 18 is usually where I take my kicker in this format, knowing that my last two picks are usually used on speculative plays that I often need to drop once FAAB gets rolling.
19 - QB Mac Jones, NE: A "just in case something happens to one of my QB's while I figure out which depth RB's to secure" pick. I like the Patriots' newly-anointed starter, but I may not be able to stash him long enough to benefit, given my backfield needs.
20 - Chris Herndon, MIN: The Vikings' newest tight end has an opportunity to fill the void created by Irv Smith's injury and has potential in his new situation, but unless something happens to Fant or Goedert before Week 1, Herndon will presumably be the player I drop to add another running back.
Good luck, one and all, in all your drafts/contests!