This article is part of our MLB Observations series.
I drafted the second Beat Chris Liss league Saturday night, a standard 12-team format with a $25K overall prize.
I drew the second pick.
Here are the results: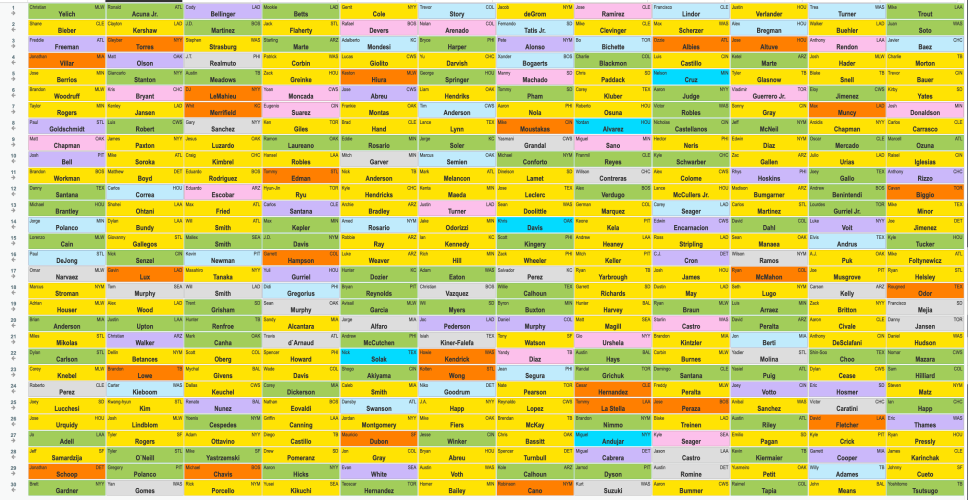 To enlarge image, click here.
1.2 Ronald Acuna – I was honestly hoping for Christian Yelich because the batting average is so valuable, but I was fine with Acuna, and it's great to get your steals right away.
2.11 Clayton Kershaw – He was my top pitcher left on the board, and I wanted a share of him this year.
3.2 Gleyber Torres – I actually didn't love my choices here, so I went with a young, proven player in a good lineup who qualifies at two positions. I'm not a Stephen Strasburg guy – at least not in the early third – and I thought I'd get a pitcher I liked in the fourth.
4.11 Matt Olson – This might have been a mistake. I really wanted Yu Darvish, Lucas Giolito, Xander Bogaerts or even J.T. Realmuto, but all four went in the five picks before me. That left me with pitchers I didn't love at the price, so I pivoted and filled up at what's arguably the most scarce position besides catcher. But it was really a cop-out pick, and I needed the pitching more than the hitting.
5.2 Giancarlo Stanton – Another likely mistake. I felt I should take Tyler Glasnow, but it's unclear if he'll have a full workload to start the year, and I thought he might make it back. I knew Blake Snell wouldn't make it back, and I probably should have just picked him. Now I had too much power and not enough batting average or pitching.
6.11 Kris Bryant – Corey Kluber was gone, and I didn't pull the trigger on my next highest pitcher, Sonny Gray, in whom I already have a share, and who I thought might make it back to me. But mostly I thought this was a great value on Bryant who qualifies at third and outfield and will lead off for the Cubs. But now my team was very hitting heavy.
7.2 Kenley Jansen – While I needed starting pitching, closers were also flying off the board, and I decided to jump into the pool with arguably the best one here. I figured I could piece together the starters with quantity in the middle rounds.
8.11 Luis Robert – Aaron Nola, Sonny Gray and Lance Lynn (who I was targeting) all went, and I realized that despite all my hitting, I was light on speed outside of Acuna, so I went Robert, who had the most upside of any hitter left.
9.2 James Paxton – I needed a second starter, and though I don't even like Paxton, my preferences had already made my pitching too thin, so I had to set them aside and take the highest available one.
10.11 Mike Soroka – Everyone I talk to seems to think he's overvalued, and his team even said it might limit him early, but he was a good prospect who delivered big time as a rookie, and he's on a good team.
11.2 Matthew Boyd – He's on a bad team, but I just needed the strikeouts here.
12.11 Carlos Correa – He's been a flat tire, but this is a good price, and I needed a shortstop. He's still only 25 too.
13.2 Shohei Ohtani – This was an error. The clock was winding down, and on my laptop (I'm away from my home setup), I couldn't find Archie Bradley in my queue, and I assumed he had been drafted. So I took Ohtani for the strikeouts and overall upside. But I the closer pool was getting awfully thin.
14.11 Dylan Bundy – I missed him in my first two drafts, and I was determined to get him here. I actually had him on all three of the March teams that were cancelled. I also needed the strikeouts and pitching depth.
15.2 Giovanny Gallegos – This was a desperation pick, but I'm actually happy with it. I'm not sure why he's on the IL temporarily, but he's got a good chance to close on a good team, and he was cheaper than a lot of garbage closers on bad ones. Still, he's far from a sure thing.
16.11 Nick Senzel – Another player in whom I was heavily invested before the season, yet shut out on in my first two drafts this summer. He was the No. 2 overall amateur pick a few years ago, stole 14 bases while injured in a partial season last year and is virtually guaranteed playing time with the NL getting the DH. My draft was back on track, if still light on pitching and saves.
17.2 Gavin Lux – A monster prospect who will have to earn at-bats in a crowded lineup, but the DH helps him too.
18.11 Tom Murphy – Just when my draft was back on track, I screwed it up again. I like Murphy just fine as a mid-level catcher, but I was set to take Will Smith (Dodgers catcher), got snaked on the prior pick and then wasn't sold on any of my choices. Honestly, I probably should have taken Byron Buxton, but I couldn't bring myself to hope he'll get healthy, so I passed on him.
19.2 Alex Wood – It looks like he's starting for the Dodgers, his velocity was up this spring, and he was great a couple years ago.
20.11 Justin Upton – I needed an everyday fifth OF, and he fits the bill.
21.2 Christian Walker – I needed a CI, and he was by far the highest ADP player left who fit that description.
22.11 Dellin Betances – His velocity is down early, but that happened a couple times on the Yankees, and he was fine. Edwin Diaz is a mess, and I needed to speculate on saves.
23.2 Brandon Lowe – By far the highest ADP hitter on my board and should hit in the middle of the Rays lineup.
24.11 Carter Kieboom – He's the one player I have in all three NFBC leagues this year. A big prospect in a good park with the full-time job.
25.2 Kwang-Hyun Kim – He had a good outing the other day and is a nice hedge for Gallegos because the most likely way Gallegos loses the closer role is if Carlos Martinez beats him out, leaving Kim as the No. 5 starter.
26.11 Josh Lindblom – He's locked into a rotation slot after dominating in the KBO.
27.2 Tyler Rogers – He's got a chance to unseat Tony Watson for saves in San Francisco.
28.11 Tyler O'Neill – He has massive power, top shelf sprint speed and a starting job. I'm surprised he's around this late.
29.2 Gregory Polanco – He's got COVID, but if he's back in a week or so, I could have some cheap power and speed here.
30.11 Yan Gomes – I needed a second catcher, and he's the starter in a good park.
Roster By Position
1B: Matt Olson
2B: Gleyber Torres
3B: Kris Bryant
SS: Carlos Correa
CI: Christian Walker
MI: Gavin Lux
OF: Ronald Acuna/Giancarlo Stanton/Luis Robert/Nick Senzel/Justin Upton
U: Brandon Lowe
SP: Clayton Kershaw/James Paxton/Mike Soroka/Matthew Boyd/Shohei Ohtani/Dylan Bundy/Alex Wood
RP: Kenley Jansen/Giovanny Gallegos
Bench Hitting: Carter Kieboom/Tyler O'Neill/Gregory Polanco
Bench Pitching: Dellin Betances/Kwang-Hyun Kim/Josh Lindblom/Tyler Rogers