This article is part of our Football Draft Kit series.
The $200K grand prize, 12-team PPR contest, otherwise known as the NFFC RotoWire Online Championship took place Monday. Scoring rules are fairly standard in this format, though passing touchdowns reward six points instead of the typical four. For the first time since I started competing in this format three years ago, the NFFC kindly upped the ante to a "Beat Joe Bartel" version, where fellow users who somehow accomplish the impossible task of finishing ahead of me in the standings will get a RotoWire subscription on top of bragging rights.
Here are the results: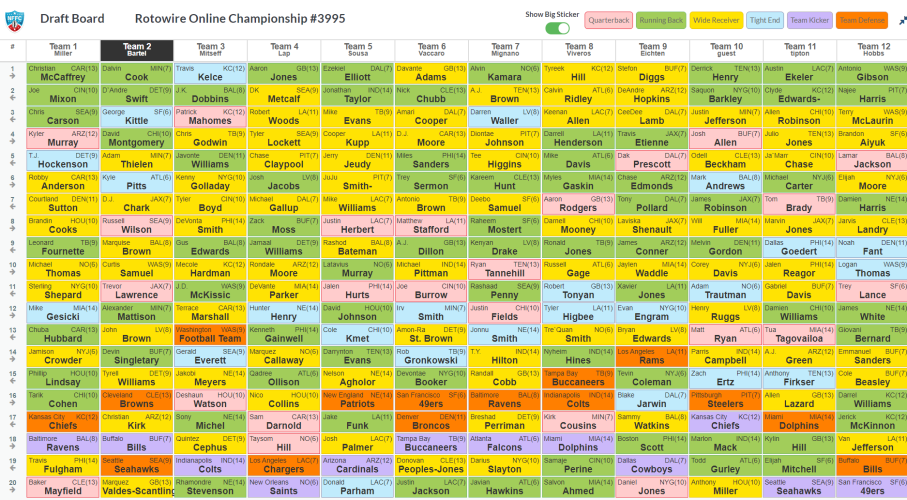 1.2 - Dalvin Cook
There's not much to discuss with this selection. Cook at No. 2 is pretty boilerplate at this point in fantasy draft season, as is backing him up with Alexander Mattison later in the draft. But instead of hemming and hawing over my pick, I'd rather direct your attention to a couple of stunning selections later in the first. I don't know what was more shocking: seeing Travis Kelce go right after at No. 3, Aaron Jones following that at No. 4 or the combo of Alvin Kamara and Derrick Henry slipping to seventh and 10th overall, respectively.
I see the upside scenario with Aaron Jones. The first four weeks last year, the Packers' running back was essentially a top-two fantasy back, and with Aaron Rodgers returning for presumably one last season, theoretically the 26-year-old can continue to produce at the same level. Jones always seems to be injured (and of course