This article is part of our DraftKings NFL series.
Most of the league's high-scoring teams are either playing in primetime or on bye this week, leaving us with a DFS main slate where none of the games has an over/under above 51.5. This likely means stack ownership will be spread out a little more than usual, as there isn't an obvious shootout for everyone to target.
As always, I'm happy to discuss strategy in the comments below, or on twitter (@JerryDonabedian).
Note: All prices listed come from DraftKings, but most of the logic can be applied to other sites across the DFS industry. Discussion is limited to players from the "main slate" of games kicking off at 1:00, 4:05 and 4:25 p.m. ET on Sunday. The strategy below is meant for large-field tournaments, where payouts typically are limited to ~20 percent of lineups, with the vast majority concentrated at the very top.
The Games
| | | | | |
| --- | --- | --- | --- | --- |
| Over/Under | Road Team | Road Implied Total | Home Team | Home Implied Total |
| 51.5 | Atlanta Falcons | 23.75 | New Orleans Saints | 27.75 |
| 51 | Green Bay Packers | 24.75 | Indianapolis Colts | 26.25 |
| 49.5 | Tennessee Titans | 22 | Baltimore Ravens | 27.5 |
| 49 | New England Patriots | 25.25 | Houston Texans | 23.75 |
| 47.5 | Philadelphia Eagles | 22.25 | Cleveland Browns | 25.25 |
| 47.5 | Dallas Cowboys | 20.25 | Minnesota Vikings | 27.25 |
| 47 | Cincinnati Bengals | 23 | Washington FT | 24 |
| 47 | Detroit Lions | 23.5 | Carolina Panthers | 23.5 |
| 46 | Pittsburgh Steelers | 28 | Jacksonville Jaguars | 18 |
| 46 | New York Jets | 18.25 | Los Angeles Chargers | 27.75 |
| 45 | Miami Dolphins | 24.25 | Denver Broncos | 20.75 |
(Bold for over/unders of 52+ and implied totals of 26+)
Point-Per-Dollar Value
These are the players with the best projections relative to their DK salaries — good plays both for cash games and large-field tournaments. While we don't want our tourney lineups to look like cash-game lineups top to bottom, there's nothing wrong with using a few "chalk" picks. These players, along with a couple passing-game stacks, tend to form the core that remains fairly consistent throughout my lineups.
Strong winds in Cleveland last Sunday contributed to Cooks losing his four-game streak with nine or more targets and 60 or more yards. Even then, he caught six passes for 39 yards on a team-high eight targets, seeing more opportunities than Will Fuller for a fourth time in five games since Bill O'Brien was fired. Cooks has handled 28 percent target share and 33 percent air-yard share in that stretch, compared to 22 and 31 percent, respectively, for Fuller.
The matchup may not be ideal, but Washington's defense isn't good enough to cancel out the obvious value of paying only $5,600 for a wide receiver who's averaging 16.8 DK points and 8.4 targets per game. Boyd scored double-digit points in each of his last four games, and he already has two performances of 25-plus this season.
Other Cash-Game Options
QB Justin Herbert

vs. NYJ ($6,800)
QB Deshaun Watson

vs. NE ($6,500)
QB Joe Burrow

at WAS ($5,500)
QB Taysom Hill

vs. ATL ($4,800)
RB Alvin Kamara

vs. ATL ($9,200)
RB Dalvin Cook

vs. DAL ($9,000)
RB Adrian Peterson

at CAR ($4,000) - if D'Andre Swift (concussion) is out
WR Davante Adams

at IND ($8,600) - if he plays
WR Julio Jones

at NO ($7,500)
WR Diontae Johnson

at JAX ($5,900)
WR Michael Pittman

vs. GB ($4,500)
TE Mark Andrews

vs. TEN ($4,900)
TE T.J. Hockenson

at CAR ($4,400)
TE Dallas Goedert

at CLE ($3,800) - if Zach Ertz (ankle) is out again
TE Logan Thomas

vs. CIN ($3,300)
D/ST Minnesota Vikings

vs. DAL ($3,000)
D/ST Cincinnati Bengals

at WAS ($2,300)
Passing-Game Stacks
Stacks are the centerpiece of any tournament lineup, seeking to take advantage of positive correlations between players. It rarely makes sense to use a quarterback without one or two of his pass catchers, even if the player in question scores a decent portion of his fantasy points with his legs. Ideally, a stack also includes a pass catcher from the other side of the contest, hoping to take advantage of a tight game where both teams are still chucking the ball around late in the fourth quarter. (Implied team totals are listed in parentheses.)
New York Jets (18.25) at Los Angeles Chargers (27.75)
Pace Outlook
Overall Pace: Jets - 9th (26.36 seconds per play), Chargers - 10th (26.60)
Neutral-Situation Pace: Jets - 19th (30.55), Chargers - 4th (28.8)
The Jets have never been an uptempo team under Adam Gase, but they do throw a lot of incomplete passes, which stop the clock and lead to more snaps. The Chargers, on the other hand, seem to have more intent behind their top-10 pace rankings, with OC Shane Steichen putting an end to the slow style of play we saw throughout most of the Philip Rivers era.
Chargers
Justin Herbert ($6,800) has scored at least 19.7 DK points in every start, averaging 26.2 per game on the strength of his accurate deep ball and solid rushing contributions (4.8 carries for 22.0 yards and 0.38 TDs per game). The Chargers tried to lean on their rushing attack in last week's loss to Miami, but they've mostly been fine with letting Herbert do the heavy lifting, as he previously had three straight games with more than 40 pass attempts.
Keenan Allen ($7,400) has an aDOT of only 7.6 with Herbert as the starter, but his 29 percent target share means we still get a nice ceiling. Speaking of ceilings... Mike Williams ($5,100) is far less consistent than his running mate, but he has a 16.4 aDOT with Herbert at QB and saw eight targets 20-plus yards downfield over the past four games (catching four of them).
We've yet to see both Allen and Williams blow up in the same game, and while it figures to happen eventually, settling on one or the other probably makes more sense. Personally, I like the deep-ball upside with Williams, as a long TD pass (or two) would make it much easier for Herbert to have a ceiling game.
We also get RB Kalen Ballage ($5,600) and TE Hunter Henry ($4,600) as viable plays from this offense, with the former coming off a Week 10 outing where he got 18 carries and six targets on 73 percent of snaps. There's no guarantee Ballage dominates backfield work to the same extent again, but coach Anthony Lynn did say the former Dolphin should be the "primary back" moving forward (he presumably meant until Austin Ekeler (ankle) is able to play again).
Jets
With all due respect to Joe Flacco ($5,000), this side of the game is far less interesting for DFS purposes. It's easy enough to argue for an all-Chargers stack, but there are a couple bring-it-back plays worth considering, including Denzel Mims ($3,300). The rookie wideout played at least 78 percent of snaps in three straight games before a Week 10 bye, seeing 18 targets in the process.
Production and targets obviously aren't the same thing, but in this case the price is low enough that the cost-benefit analysis checks out alright. Jamison Crowder ($6,100) and Breshad Perriman ($4,300) are the other pass catchers, with the Jets set to have all three of Crowder, Mims and Perriman available for just the second time this season.
The first time it happened was Week 9, when Perriman blew up for 5-101-2 on seven targets. Crowder added another TD but got only two targets, and Mims caught four passes for 62 yards on a team-high eight targets. It's only a one-game sample, but that does make me pretty nervous about the price tag on Crowder, who previously got double-digit targets in each of his four games this season.
However, It does appear Crowder will have the best matchup from an individual standpoint, as Chargers slot corner Chris Harris (foot) is expected to miss at least one more game. Tevaughn Campbell has been filling in for Harris, while perimeter cornerbacks Casey Hayward and Michael Davis have been two bright spots for a Chargers defense that's mostly been a huge disappointment. The team does have Joey Bosa (concussion) returning from a two-game absence this week, so the pass rush should at least be in much better shape.
Favorite Stack: QB Herbert + WR Williams + WR Mims
Patriots (25.25) at Texans (23.75)
Pace Outlook
Overall Pace: Patriots - 20th (27.85), Texans - 11th (26.60)
Neutral-Situation Pace: Patriots - 21st (30.58), Texans - 8th (29.40)
The Patriots haven't been a friendly team for game stacks, as they lead the league in run-play rate (52.4 percent) and either struggle to move the ball or tend to chew up a ton of clock (rather than scoring TDs in a hurry with big plays). However, their run-heavy approach could prove more explosive this week, as the Texans are bottom five in pretty much any run-defense statistic you can come up with, including dead last in opponent YPC (5.3).
Patriots
Rushing stats account for more than half of Cam Newton's ($6,200) fantasy production this year, but we do have a viable stacking partner after Jakob Meyers ($4,900) just put up a fourth straight game with double-digit fantasy points. He's seen 37 targets in that stretch, making him the clear choice for any Newton stacks.
Damien Harris ($5,700) is a solid play in season-long leagues this week, but even in a good matchup, the price feels a little too high for a guy with two targets and one touchdown in six games.
Texans
This side is a bit more interesting, as the Patriots defense is far removed from what we saw last season, yet Deshaun Watson ($6,500) carries his lowest price tag since a Week 4 trip to Pittsburgh. He's a solid play for both cash games and tournaments, and we shouldn't forget that last week's 14-point dud in Cleveland was at least partially a product of ugly weather.
If you've made it this far, you already know how i feel about Cooks, whose target volume relative to price remains highly appealing. However, Will Fuller ($6,200) is the better player and has been more of a big-play threat in recent weeks, so he's also a strong choice for any Watson lineup.
The tight end committee isn't worth messing around with, but Duke Johnson ($5,400) and Randall Cobb ($3,600) are viable plays. Houston running backs simply haven't scored many fantasy points this year, but Johnson did play 95 percent of snaps last week with David Johnson (concussion - IR) inactive for the first time this season.
Favorite Stack: QB Watson + RB Johnson + WR Cooks + WR Meyers
Other Stacks to Consider
QB Lamar Jackson + RB Derrick Henry + TE Mark Andrews
QB Cam Newton + WR Jakobi Meyers + WR Brandin Cooks
QB Carson Wentz + WR Jalen Reagor + WR Jarvis Landry + TE Dallas Goedert
QB Joe Burrow + RB Giovani Bernard + WR Tyler Boyd + WR Terry McLaurin
QB Ben Roethlisberger + RB James Robinson + WR Chase Claypool + WR Diontae Johnson
QB Jameis Winston + RB Alvin Kamara + WR Michael Thomas + TE Hayden Hurst
QB Taysom Hill + RB Alvin Kamara + TE Hayden Hurst
QB Matt Ryan + RB Alvin Kamara + WR Julio Jones (or Calvin Ridley, if he plays) + TE Hayden Hurst
QB Andy Dalton + RB Dalvin Cook + WR Amari Cooper + WR Adam Thielen + WR Michael Gallup
RB-Defense Pairing
We can pair a running back with his team's defense to double our bet on favorable game script in certain matchups. Just keep in mind that the scoring correlations aren't nearly as strong as those between quarterbacks and pass catchers, so it isn't worth forcing into a lineup unless the prices for each individual commodity make sense. We also need to account for specialized backfield roles, e.g., using Jonathan Taylor rather than Nyheim Hines with the Colts defense.
Bernard has played 76, 64 and 68 percent of snaps in three games with Joe Mixon (foot) inactive, averaging 12 carries, 5.3 targets, 73.7 total yards and 1.0 TD per game. The 29-year-old isn't likely to see 20-plus carries, but he did get a season-high 15 in the one game the Bengals have won (Week 8 vs. TEN) since Mixon hurt his foot. A solid day from the Cincinnati defense would help Bernard's chances to reach 20 DK points for a third time in the past four games.
Honorable Mention: RB Adrian Peterson ($4,000) + Lions D/ST ($2,700) at CAR; RB Kalen Ballage ($5,600) + D/ST Chargers ($4,000) vs. NYJ
High-Priced Hero
Cook has actually handled larger workloads since he returned from a groin injury, averaging 27.3 carries and 3.0 targets while playing 85.3 percent of snaps before the fourth quarter (a blowout dropped his snap share to 66 percent in Week 9. It is possible the Vikings get another easy win and turn to Alexander Mattison late in the second half, but that likely would be a scenario where Cook had already piled up a bunch of yards and at least one touchdown.
Honorable Mentions: RB Miles Sanders, PHI at CLE ($6,900); WR Michael Thomas, NO vs. ATL ($7,300)
Fading the Field
Every week we see at least one or two players carrying high ownership without the backing of a top point-per-dollar projection. Recency bias is often to blame, but in some cases it even makes sense to fade a player with a strong projection, particularly when there are good alternatives at the same position and price range.
You're obviously happy to be starting Smith-Schuster in any season-long or dynasty lineup this week, but the combination of price and shallow average target depth (6.0) isn't ideal for DFS tournaments, even in a matchup with Jacksonville. The talented slot man still hasn't reached 100 yards or 25 DK points in a game this season, while teammates Chase Claypool ($6,100) and Diontae Johnson ($5,900) have displayed higher ceilings.
Other Fades: Mike Davis, DET vs. CAR ($6,800)
The SMASH Spot
Volume may be king, but we still need to account for efficiency, pinpointing situations that are likely to lead to impressive production in terms of YPA, YPC or YPT.
With Nick Boyle (knee) out for the rest of this season, the Ravens could end up using Andrews in a three-down role. The team hadn't even been carrying another tight end on its roster, and the guys on the practice squad (Xavier Grimble, Luke Willson, Sean Culkin) are all journeyman blocking specialists. Following last week's season-high nine targets, Andrews offers blow-up potential playing at home against a Titans defense ranked 25th in DVOA against the pass (20.6%) and 21st in DK points allowed to tight ends.
Honorable Mention: WR Diontae Johnson

vs. JAX ($5,900)
The Bargain Bin
QB Joe Burrow

at WAS ($5,500)
QB Andy Dalton

at MIN ($5,300)
QB Taysom Hill

vs. ATL ($4,800)
RB Salvon Ahmed

at DEN ($4,800)
RB La'Mical Perine

at LAC ($4,400)
WR Michael Pittman

vs. GB ($4,500)
WR Jalen Reagor

vs. PHI ($4,300)
WR Michael Gallup

at MIN ($3,700)
TE Austin Hooper

vs. PHI ($3,900)
TE Dallas Goedert

at CLE ($3,800)
TE Logan Thomas

vs. CIN ($3,300)
D/ST Cincinnati Bengals

at WAS ($2,300)
Injury Situations
The "Sunday Scramble" doesn't need to be stressful. We can plan our response ahead of time for various scenarios that could emerge once inactive lists are released.
Bridgewater (knee) isn't expected to play, but as of Friday morning the Panthers hadn't announced a replacement starter. The options are XFL superstar P.J. Walker ($4,800) or 2019 third-round pick Will Grier ($4,600). The former could be an interesting tournament choice, paired with either Robby Anderson ($6,100) or DJ Moore ($5,600).
We might also see Carolina run the ball more if Bridgewater is inactive, but Mike Davis ($6,800) played only 52 percent of snaps last week, ceding some backfield work to Rodney Smith (four touches, 19% of snaps) and Curtis Samuel (three carries). A Walker-Peterson-Moore stack is the one thing that might interest me here, and only that because both teams are so lousy on defense. This Kitty Bowl™ could be declawed by key injuries on both sides.
Golladay missed the past two games with a hip injury, and Stafford is now dealing with a ligament tear in his throwing hand. As if that weren't bad enough, Swift entered the concussion protocol Thursday, with the timing making him a long shot to play this Sunday. My Lions exposure likely will be limited to Adrian Peterson ($4,000) and T.J. Hockenson ($4,200), as neither requires downfield passes to succeed. Chase Daniel ($4,900) is the backup QB, but he doesn't offer the rushing upside we could get with Walker on the other side of this game.
I'll be avoiding the Denver offense altogether in this matchup, but Lock's injury is at least worth mentioning if you're interested in Jerry Jeudy ($5,300), KJ Hamler ($3,600) or Noah Fant ($3,600). Slot coverage has been the relative weakness for this Miami defense, so we can make a case for Hamler after his back-to-back games with 10 targets.
Giovani Bernard ($5,400) was already discussed above, but we should probably at least mention that Mixon hadn't officially been ruled out as of Friday morning. His absence from Thursday's practice hints at a fourth consecutive missed game.
Adams costs $8,600 and has a tricky matchup this week, but his usage is unparalleled among wide receivers, and he'll be playing in a dome after dealing with two wind-impacted games in the past three weeks. I can't really tell if his ankle injury is significant or just something minor that's being used as an excuse for mid-week rest, so it'll be key to see what coaches and beat reporters say after Friday's practice. Adams will be a strong play for both cash games and tournaments if he suits up and isn't expected to be limited.
Dallas Goedert ($3,800) failed to capitalize on a three-down role the past two weeks, but I'll happily take another crack at it if Ertz is confirmed to be out again. It isn't quite clear if the veteran tight end's Wednesday return to practice means he has a shot to play this week, as it's also possible the Eagles are simply prepping him for Week 12/13. Ertz went on IR after the Week 6 loss to Baltimore.
Weather Watch
Everything looks clean this week besides Cleveland, where the forecast calls for steady rain and a temperatures in the 40s. Fortunately, the wind is supposed to stay around 10 miles per hour, so conditions shouldn't be nearly as bad for passing as what we saw Weeks 8 and 10 in Cleveland. As of Friday morning, I'm not downgrading any players in the Eagles-Browns game.
The Toilet Bowl
I'm now running a weekly DraftKings contest where the goal is to have the LOWEST point total rather than the highest.
There's no way to make a paid contest of this sort on DK, but I can promise that the winner each week will get a shoutout in the following week's tournament guide. And if anyone manages to win the contest in two different weeks this season, I'll make a $50 donation to the charity of their choice (or to their venmo account).
The Winner of our Week 10 Toilet Bowl was DK user Grandslam10, who put together a lineup that scored only 67.96 points without any zeroes. The winning lineup had plenty of chalk (Jake Luton, Boston Scott, DJ Chark), but it also included a few contrarian picks, namely Emmanuel Sanders and Tim Patrick. If you're interested in the art of the Toilet Bowl, this is the lineup you should study: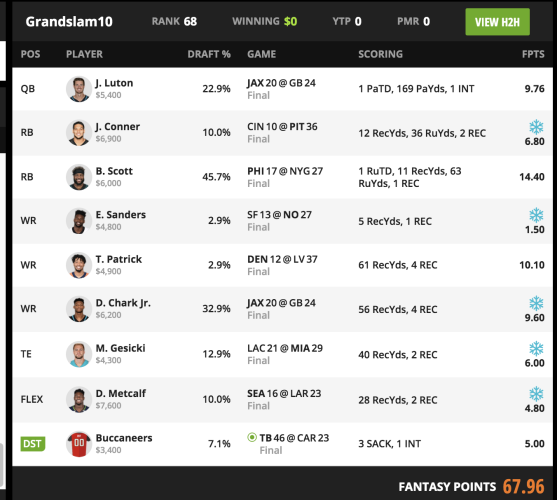 Here are the rules:
All lineups must use at least $49,500 of the salary cap.
No using players from the New York Jets, including the D/ST. Automatic DQ for a violation.
Any player with zero points automatically adds 3x of their salary to your point total. So you can put an injured player who costs $7,500 in your lineup, but then we're adding 22.5 points to your final score. The same goes for players who aren't injured but nonetheless finish with zero points. However, negative scores are allowed — in fact, they're encouraged — free of any penalty.
OK, here's the link: https://www.draftkings.com/draft/contest/96834330
Good Luck!
The author(s) of this article may play in daily fantasy contests including – but not limited to – games that they have provided recommendations or advice on in this article. In the course of playing in these games using their personal accounts, it's possible that they will use players in their lineups or other strategies that differ from the recommendations they have provided above. The recommendations in this article do not necessarily reflect the views of RotoWire. Jerry Donabedian plays in daily fantasy contests using the following accounts: FanDuel: jd0505, DraftKings: jd0505.