This article is part of our DraftKings NFL series.
The main DFS slate includes 12 games this week, but Ravens-Steelers game could get pushed back to Monday or Tuesday, or perhaps even to the mythical Week 18. For our purposes, we'll focus on the other 11 games, though I will say Diontae Johnson ($6,200) is likely to land in at least one of my lineups if the Steelers end up playing.
As always, I'm happy to discuss strategy in the comments below, or on twitter (@JerryDonabedian).
Note: All prices listed come from DraftKings, but most of the logic can be applied to other sites across the DFS industry. Discussion is limited to players from the "main slate" of games kicking off at 1:00, 4:05 and 4:25 p.m. ET on Sunday. The strategy below is meant for large-field tournaments, where payouts typically are limited to ~20 percent of lineups, with the vast majority concentrated at the very top.
The Games
| | | | | |
| --- | --- | --- | --- | --- |
| Over/Under | Road Team | Road Implied Total | Home Team | Home Implied Total |
| 56 | Kansas City Chiefs | 29.5 | Tampa Bay Buccaneers | 26.5 |
| 54 | Las Vegas Raiders | 28.5 | Atlanta Falcons | 25.5 |
| 53 | Los Angeles Chargers | 24 | Buffalo Bills | 29 |
| 51.5 | Tennessee Titans | 24.25 | Indianapolis Colts | 27.25 |
| 51 | Minnesota Vikings | 27.25 | Carolina Panthers | 23.75 |
| 49.5 | Cleveland Browns | 27.75 | Jacksonville Jaguars | 21.75 |
| 49 | Arizona Cardinals | 25 | New England Patriots | 24 |
| 45 | Los Angeles Rams | 25.75 | San Francisco 49ers | 19.25 |
| 44 | New York Giants | 25 | Cincinnati Bengals | 19 |
| 44 | Miami Dolphins | 25.5 | New York Jets | 18.5 |
| 43.5 | New Orleans Saints | 24.75 | Denver Broncos | 18.75 |
(Bold for over/unders of 52+ and implied totals of 26+)
Point-Per-Dollar Value
These are the players with the best projections relative to their DK salaries — good plays both for cash games and large-field tournaments. While we don't want our tourney lineups to look like cash-game lineups top to bottom, there's nothing wrong with using a few "chalk" picks. These players, along with a couple passing-game stacks, tend to form the core that remains fairly consistent throughout my lineups.
It's been a month now since Robinson put together a huge fantasy stat line, but he's still managed double-digit PPR points in every single game, averaging 18.4 on DraftKings this season. He's done it on a team that's scored only 20.2 points per game, so we don't need to worry too much about a 21.75 implied total, as that's actually not bad by Jacksonville standards.
Speaking of Duval standards... There's a case to be made for reducing Robinson's workload over the final month and a half of an ugly rebuilding season, but the people in charge of those decisions could use a few wins down the stretch to either help them keep their current coaching jobs or improve their résumés for the next gig. We should see plenty of Robinson this weekend, facing a Cleveland defense with no Myles Garrett (reserve/COVID-19).
Even in a suboptimal matchup, $5,700 just seems too cheap for a guy averaging 7.5 targets, 1.9 carries and 17.2 DK points per game. Woods backs it up with his 2017-19 production, and he just had his two best fantasy performances of the season within the Rams' past three games.
Other Cash-Game Options
QB Patrick Mahomes

at TB ($8,000)
QB Josh Allen

vs. LAC ($7,600)
QB Matt Ryan

vs. LV ($5,900)
RB Dalvin Cook

vs. CAR ($9,500)
RB Nick Chubb

at JAX ($7,100)
RB Salvon Ahmed

at NYJ ($5,100) - if he plays, and Myles Gaskins (knee) doesn't
RB Samaje Perine

vs. NYG ($4,000) - if Giovani Bernard (concussion) is out
WR Keenan Allen

at BUF ($8,000)
WR Tyreek Hill

at TB ($7,800)
WR Julio Jones

vs. LV ($6,500) - if he plays
WR Justin Jefferson

vs. CAR ($6,300) - if Adam Thielen (reserve/COVID/19 is out)
WR Gabriel Davis

vs. LAC ($3,000)
TE Travis Kelce

at TB ($7,000)
TE Austin Hooper

at JAX ($3,800)
D/ST Minnesota Vikings

vs. CAR ($2,300)
Passing-Game Stacks
Stacks are the centerpiece of any tournament lineup, seeking to take advantage of positive correlations between players. It rarely makes sense to use a quarterback without one or two of his pass catchers, even if the player in question scores a decent portion of his fantasy points with his legs. Ideally, a stack also includes a pass catcher from the other side of the contest, hoping to take advantage of a tight game where both teams are still chucking the ball around late in the fourth quarter. (Implied team totals are listed in parentheses.
Chargers (24) at Bills (29)
Pace Outlook
Overall Pace: Chargers - 11th (26.68), Bills - 22th (27.96)
Neutral-Situation Pace: Chargers - 4th (28.72), Bills - 9th (29.43)
Both teams are Top 10 in neutral-situation pace, and the Bills are sixth in neutral-situation pass rate (60%). The Chargers have toyed with pass-heavy gameplans, including last week when Justin Herbert had 15 pass attempts on 19 plays through the first two drives. The Bills also like to come out firing, with Allen averaging 36.4 pass attempts and 7.2 rushes per game.
Chargers
The Buffalo defense isn't what it was last season, but it's at least seen a general upward trend throughout the year, and appears to have 10 of 11 starters healthy after a bye week. Justin Herbert ($7,200) has scored 19.7 or more fantasy points in every start, but we have seen his passing efficiency drop off in road games against solid defenses (5.7 YPA in Week 10 at Miami, 6.5 YPA in Week 8 at Denver).
Keenan Allen ($8,000) plays about half his snaps in the slot, which means he could avoid CB Tre'Davious White if the Bills only shadow Allen on the perimeter (or don't shadow him at all). White didn't shadow DeAndre Hopkins in the Bills' most recent game, though White was one of the guys who got posterized on the famous hail mary.
Mike Williams ($5,000) and Hunter Henry ($4,800) are also reasonable options, with the former looking like a better play given his advantage in DK scoring average (11.8 to 10.3) and ceiling. Henry sees passes every week, but he still hasn't reached 15 PPR points in a game this year.
Last but not least, Austin Ekeler ($6,100) can work in Justin Herbert stacks or other lineups, if he's able to return this week.
Bills
Josh Allen ($7,600) and Stefon Diggs ($7,600) have been a prolific duo all year, and we should see Cole Beasley ($5,500) and Gabriel Davis ($3,000) both getting lots of snaps this week with John Brown (knee) already ruled out. Brown missed two other games this season, Week 5 (at TEN) and Week 7 (at NYJ).
Allen scored only 18.3 and 20.4 DK points in those two games, though his struggles mostly involved turnovers or the red zone, rather than an inability to sustain drives. Diggs got 28 targets between the two contests, with Beasley seeing 18 and Davis another 12.
The Allen-Diggs-Davis combo should be popular, but Beasley is also a solid choice, and you can even make an argument for using all three WRs in the same Allen stack, given how little we've seen from the team's running backs and tight ends this year. The Bills have sent a league-high 75.2 percent of their targets to wide receivers, 3.7 percentage points higher than any other team (Arizona - 71.5).
Chargers CB Chris Harris (foot) could return from IR this week, but fellow CB Casey Hayward (groin) missed practice Wednesday and Thursday, as did pass rusher Melvin Ingram (knee). Hayward hasn't played up to his reputation this year, but it's still probably good for Diggs if the veteran corner doesn't play.
Best Stack: QB Allen + WR Diggs + WR Davis + WR Williams
Las Vegas Raiders (28.5) at Atlanta Falcons (25.5)
Pace Outlook
Overall Pace: Raiders - 29th (29.04), Falcons - 8th (26.18)
Neutral-Situation Pace: Raiders - 23rd (31.36), Falcons - 8th (29.36)
The Raiders are a slow-paced team that loves to run the ball, but they still end up in plenty of shootouts, as their offense is simply far better than their defense. The Falcons know a thing or two about that, though they usually rely on the passing game even when they aren't behind.
Raiders
Derek Carr ($5,700) doesn't run much, nor does he throw a lot of deep passes, so he's typically someone to avoid in DFS tournaments. However, his matchup is perfect this week, playing indoors with a 28.5 implied total against a Falcons defense that's given up a league-high 28.8 DK points per game to quarterbacks. Teddy Bridgewater, Kirk Cousins and Drew Lock are some other QBs I don't often use in tournaments, yet each of them put up 300-plus passing yards and multiple TDs in a game against Atlanta this year.
Darren Waller ($6,000) is the only consistent source of targets in the Vegas offense, while Nelson Agholor ($4,900) seems to have the best rapport with Carr among the wideouts. Over the past five games, Agholor has caught five of seven targets traveling 20-plus yards downfield, while Henry Ruggs ($4,300) has gone 0-for-5 in that range, per PFF. That said, Agholor has averaged only 4.7 targets in his seven starts, including three games in a row with fewer than five in Weeks 8-10.
Carr has reached 20 DK points five times this season, with Agholor going for 44 or more yards and a TD in four of those games. Waller averaged 7.8 catches for 75.8 yards and 0.8 TDs on 10.0 targets across those five games, while Josh Jacobs ($7,200) reached 15 DK points in just one of them. In other words, I won't be using a Carr-Jacobs-Agholor stack.
Falcons
Matt Ryan ($5,900) was brutal last week, but it's still a little surprising to see him priced below 6k for a home game against a bad defense. He's completing 65.7 percent of his passes for 7.7 YPA this year, and he still has plenty of TD upside when Todd Gurley isn't vulturing.
The decision on Atlanta pass catchers largely depends on injuries, with Julio Jones (hamstring) and Hayden Hurst (ankle) both looking uncertain for Sunday. Jones at $6,500 is a great value if he plays, while Calvin Ridley ($7,100) is the obvious choice in the event of a Jones absence. Christian Blake ($3,000) replaced Jones last week, but it was Olamide Zaccheaus ($3,800) who handled that same task earlier this year. I'll just stay away from both, and maybe look to Russell Gage ($4,800) if I start to feel adventurous enough to venture outside the Ridley/Jones/Hurst group.
Best Stack: QB Ryan + WR Ridley + TE Waller
Other Stacks to Consider
QB Baker Mayfield + RB James Robinson + WR Jarvis Landry + TE Austin Hooper
QB Patrick Mahomes + WR Tyreek Hill + WR Chris Godwin + TE Travis Kelce
QB Derek Carr + WR Nelson Agholor + WR Calvin Ridley + TE Darren Waller
QB Justin Herbert + WR Keenan Allen + WR Mike Williams + WR Gabriel Davis
QB Daniel Jones + RB Wayne Gallman + WR Darius Slayton
RB-Defense Pairing
We can pair a running back with his team's defense to double our bet on favorable game script in certain matchups. Just keep in mind that the scoring correlations aren't nearly as strong as those between quarterbacks and pass catchers, so it isn't worth forcing into a lineup unless the prices for each individual commodity make sense. We also need to account for specialized backfield roles, e.g., using Jonathan Taylor rather than Nyheim Hines with the Colts defense.
RB Dalvin Cook ($9,500) + Vikings D/ST ($2,300) vs. CAR
The Vikings defense took a big step back last week, but it's otherwise been pretty solid for the past month, and the low price helps offset the cost burden of Cook, who is working on four straight games with at least 24 touches and 110 total yards. While it might eventually make sense to ease up on Cook's workload, the Vikings will continue to lean on him heavily for as long as they have some slim chance at a wild-card spot.
Honorable Mention: RB Samaje Perine ($4,000) + Bengals D/ST ($2,500) vs. NYG; RB James Robinson ($6,300) + Jaguars D/ST ($2,000) vs. CLE
High-Priced Hero
The Allen-Diggs stack may be chalk this week, but we'll also have Mahomes-Hill and Herbert-Allen getting plenty of run as far as high-priced QB/WR combos go. Diggs makes sense even in lineups that don't use the Bills' quarterback, facing a banged-up Chargers defense in what could turn into a pass-happy shootout.
Honorable Mentions: RB Dalvin Cook, MIN vs. CAR ($9,500); WR Keenan Allen, LAC at BUF ($8,000); RB Nick Chubb, CLE at JAX ($7,100)
Fading the Field
Every week we see at least one or two players carrying high ownership without the backing of a top point-per-dollar projection. Recency bias is often to blame, but in some cases it even makes sense to fade a player with a strong projection, particularly when there are good alternatives at the same position and price range.
The Falcons have given up a lot of pass-catching production to running backs, per usual, but they've also limited opposing RBs to 3.6 YPC and three rushing TDs, ranking 10th in run-defense DVOA. That's not to say Jacobs will have a bad game, but it's the Vegas passing attack that has a relative advantage here.
Other Fades: WR Tyreek Hill, KC at TB ($7,800)
The SMASH Spot
Volume may be king, but we still need to account for efficiency, pinpointing situations that are likely to lead to impressive production in terms of YPA, YPC or YPT.
Back in October, Hooper had three straight games with double-digit PPR points and six or more targets, showing why the Browns had paid him big money this past offseason. Then he had an appendectomy, and when he returned to the lineup the Browns were in a stretch of games played in bad weather that limited passing. With those concerns out of his way, Hooper should see at least a handful of targets against one of the worst pass defenses in the league. The Jags have been especially bad at covering tight ends, giving up 8.8 YPT (30th) and a league-high eight touchdowns.
Honorable Mention: RB Wayne Gallman, NYG at CIN ($5,000); Calvin Ridley, ATL vs. LV ($7,100)
The Bargain Bin
QB Derek Carr

at ATL ($5,700)
QB Baker Mayfield

at JAX ($5,30)
RB Nyheim Hines

vs. TEN ($4,600)
RB James White

vs. ARZ ($4,500)
WR Keelan Cole

vs. CLE ($3,600)
WR KJ Hamler

vs. NO ($3,500)
WR Denzel Mims

vs. MIA ($3,500)
WR Gabriel Davis

vs. LAC ($3,000)
TE Jordan Reed

at LAR ($3,600)
D/ST Vikings

vs. CAR ($2,300)
D/ST Broncos

vs. NO ($2,200)
D/ST Jaguars

vs. CLE ($2,000)
Injury Situations
The "Sunday Scramble" doesn't need to be stressful. We can plan our response ahead of time for various scenarios that could emerge once inactive lists are released.
It's possible Ekeler is eased back into action, but he was never a guy who made his living with huge snap counts. Instead, he's highly efficient with his touches, and draws targets on a huge percentage of his routes. The $6,100 price tag makes him an intriguing tournament play if he returns this week, especially for lineups that stacks the Chargers-Bills game.
With Bernard in the concussion protocol, Samaje Perine ($4,000) could be looking at a three-down role. This offense won't look pretty without Joe Burrow (knee), but Perine's combination of price and workload upside would be tempting.
Given the matchup and the likelihood of Miami RBs scoring at least one touchdown, I'll be interested in Ahmed or Gaskin if only one of them is able to play. It would be messier if both end up playing, which doesn't seem likely anyway.
Gurley missed practice Wednesday and Thursday, listed by the Falcons with a knee injury. It may be maintenance rather than a serious issue, but we'll keep a close eye on the situation nonetheless. Brian Hill ($4,000) becomes arguably the top value play of the week if Gurley can't go, as Hill left Ito Smith and Qadree Ollison in the dust back in September. It's been Hill dominating back work for two months now.
I was interested in Chark at $5,200 against a Browns defense with no Myles Garrett (reserve/COVID-19) or Denzel Ward (calf). But now it isn't clear if Chark (ribs) will play, nor is it clear Shenault will return from his hamstring injury. Mike Glennon can't possibly be worse than Jake Luton, so we can make an argument for Keelan Cole ($3,600) and Chris Conley ($3,000) if Chark and Shenault miss this game.
If Thielen isn't activated from the reserve/COVID-19 list, Justin Jefferson ($6,300) will be a popular play in both cash games and tournaments (rightfully so). Olabisi Johnson ($3,000) would be most likely to take over Thielen's starting job, but he's seen only 11 targets this year. Rudolph the Red-Zone Reindeer ($2,800) could work if you're looking for a dirt-cheap tight end, especially if Irv Smith (groin) is also out or limited.
Calvin Ridley ($7,100) is the obvious play, but TE Jaeden Graham ($2,500) would also be an option - especially for Raiders/Falcons stacks - if if Hurst is out.
Weather Watch
As of Friday morning, none of the Sunday forecasts looks especially interesting. It could rain in Jacksonville, but that won't necessarily hurt the offenses even if there's significant precipitation, as there's no expectation of cold weather or strong winds.
The Toilet Bowl
I'm now running a weekly DraftKings contest where the goal is to have the LOWEST point total rather than the highest.
There's no way to make a paid contest of this sort on DK, but I can promise that the winner each week will get a shoutout in the following week's tournament guide. And if anyone manages to win the contest in two different weeks this season, I'll make a $50 donation to the charity of their choice (or to their venmo account).
Draftkings username spottedowl81 was the winner of the Week 11 Toilet Bowl, scoring just 61.10 points while using $49,600 of the budget. A Wentz+Fulgham stack helped Mr. Owl soar to victory without looking back, though he did get a bit of help from the Julio Jones injury.
Meanwhile, my own team actually scored the sixth-most points, with 128.46 being just 1.64 less than my worst GPP lineup. Having narrowly avoided that potential embarrassment, I'll need to regroup and reassess for Week 12.
Anyway, enough about me. Here's what the winning lineup from spottedowl81 looked like: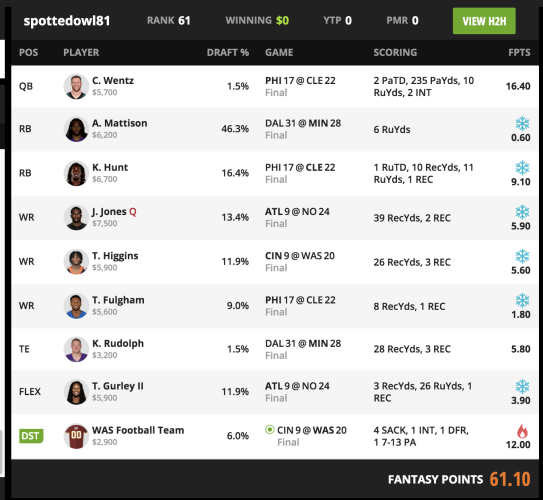 And here are the rules:
All lineups must use at least $49,500 of the salary cap.
No using players from the New York Jets, including the D/ST. Automatic DQ for a violation.
Any player with zero points automatically adds 3x of their salary to your point total. So you can put an injured player who costs $7,500 in your lineup, but then we're adding 22.5 points to your final score. The same goes for players who aren't injured but nonetheless finish with zero points. However, negative scores are allowed — in fact, they're encouraged — free of any penalty.
OK, here's the link: https://www.draftkings.com/draft/contest/97403600
Good Luck!
The author(s) of this article may play in daily fantasy contests including – but not limited to – games that they have provided recommendations or advice on in this article. In the course of playing in these games using their personal accounts, it's possible that they will use players in their lineups or other strategies that differ from the recommendations they have provided above. The recommendations in this article do not necessarily reflect the views of RotoWire. Jerry Donabedian plays in daily fantasy contests using the following accounts: FanDuel: jd0505, DraftKings: jd0505.