This article is part of our MLB Observations series.
I took part in the season's first Main Event draft, a 15-team format with a $1,200 buy-in and a $100K grand prize. I drafted from the seventh spot.
Here are the results: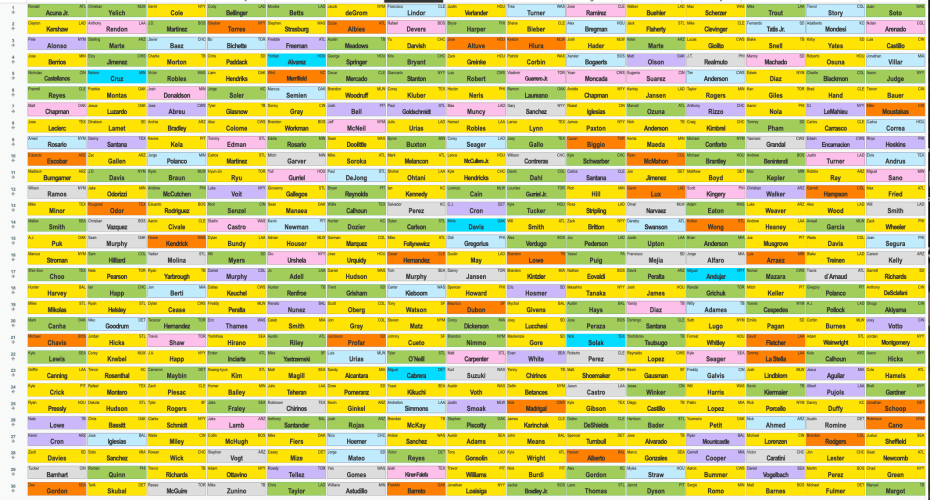 To enlarge image, click here.
1.7 Francisco Lindor – I was hoping for Jacob deGrom, but he went one pick ahead of me, and rather than drop into the Justin Verlander/Walker Buehler tier, I took Lindor for his power/steals floor.
2.9 Rafael Devers – As I expected, none of the pitchers through Clevinger were available, so I passed again. I was hoping for Clayton Kershaw in Round 3, but preferred a four-category monster like Devers who is in his early prime.
3.7 Yu Darvish – Kershaw was gone, so I took the next highest pitcher on my board. Darvish was a monster over the season's last four months, and he'll get an easy schedule against Central Division opponents in both leagues.
4.9 Kris Bryant – I considered Chris Paddack and Charlie Morton, but something didn't sit right. I also considered Victor Robles, but I already had a share in Beat Chris Liss 1, and fourth round seemed early. Instead, I went with the steady-Eddie in the 15-team format. Bryant should play virtually every day and give me positional flexibility too.
5.7 Giancarlo Stanton – He has to be the favorite to lead the majors in homers now that he's healthy again.
6.9 Corey Kluber – I needed another pitcher, and it was either him or Sonny Gray. I gambled on the two-time Cy Young winner.
7.7 Paul Goldschmidt – I missed on Gray by two picks and went with Goldschmidt who is only one year removed from being a superstar, possibly due to a bum elbow that has since healed. Closers were flying off the board, and I considered Raisel Iglesias, but seventh round seemed early.
8.9 Julio Urias – I missed Lance Lynn by two picks, and Iglesias was long gone, so I went with an upside pitcher who could get the full workload over the short season.
9.7 Byron Buxton – I was really playing chicken with closers now, as Keone Kela and Sean Doolittle were both gone, but Buxton could go 20-30, and his defense will keep him in the lineup so long as he's healthy.
10.9 Mark Melancon – Closer was a wasteland, but at least I made it to Round 10 without paying for one. I think he'll hold the job, but only a handful of closers are sure things anyway.
11.7 Shohei Ohtani – It was him or David Dahl, and I rolled the dice. I have no idea how much I'll get out of him, but he's got top-10 stuff and can also DH for me.
12.9 Ian Kennedy – Not remotely a sure thing, but I needed a second closer, and he was the best one left.
13.7 Salvador Perez – Honestly, I didn't realize he had the corona virus, though he's apparently asymptomatic and just has to test negative to re-join the team. But I would have waited had I realized it.
14.9 Dylan Carlson – I was set to take Khris Davis, but he went one pick before me, so I gambled on the prospect.
15.7 Mike Foltynewicz – I missed Dylan Bundy by three picks, so settled for Folty, filling out my pitching depth.
16.9 Cesar Hernandez – I needed a second baseman, and he was named the Indians leadoff man this afternoon.
17.7 Tom Murphy – There were plenty of useful pitchers still around, but I needed another impact bat. Murphy is a pretty good hitting catcher and the biggest difference-maker left on my board.
18.9 Carter Kieboom – He qualifies at middle infield, but he'll soon by third-base and corner eligible. He's a top prospect with a job in a good park and lineup.
19.7 Tony Watson – My closers were very shaky, so I wanted to add another possibility.
20.9 Steven Matz – Matz is good at home, and he gets strikeouts. He's good enough to start most weeks in the 15-team.
21.7 Johnny Cueto – He's always been crafty enough to exceed his peripherals, and his home park is ideal. We'll see if he has anything left, but his velocity was up at the end of last year.
22.9 Tyler O'Neill – A power hitter with elite sprint speed who's also the favorite to win a starting job and aided by the availability of the NL DH.
23.7 Miguel Cabrera – Is a second Triple Crown in store?
24.9 Yusei Kikuchi – He was hyped up heading into last year and flopped badly, but all the offseason talk about him has been positive.
25.7 Andrelton Simmons – Playing time might be at a premium with the odd roster rules, and Simmons will be a fixture due to his defense.
26.9 Brendan McKay – I was set to take Stephen Piscotty, but he went one pick ahead of me. McKay isn't in camp yet for some reason, but he's a prospect that should get an extended shot if he's healthy.
27.7 Anibal Sanchez – He's basically just an innings eater on a good team, and he should get a few wins.
28.9 Victor Reyes – He has a chance to start for the Tigers, and he steals bases.
29.7 Isiah Kiner-Falefa – If Perez misses any time due to COVID, I've got my catcher who might actually start at third base for the Rangers.
30.9 Franklin Barreto – He's hitting well early in summer camp and could win a starting job.
Roster By Position:
OF Kris Bryant/Giancarlo Stanton/Byron Buxton/Dylan Carlson/Tyler O'Neill
SP Yu Darvish/Corey Kluber/Julio Urias/Shohei Ohtani/Mike Foltynewicz/Steven Matz
RP Mark Melancon/Ian Kennedy/Tony Watson
Bench Hitters: Victor Reyes/Isiah Kiner-Falefa/Franklin Barreto
Bench Pitchers: Johnny Cueto/Yusei Kikuchi/Brendan McKay/Anibal Sanchez