This article is part of our MLB Observations series.
Last night, I did my fourth Beat Chris Liss league for the NFBC, though the first three, done in March, did not count. Let's hope this one does.
It's a $250 buy-in with a $25K grand prize, a reduction from the $350 one with the $125K prize from March, but there are obviously a lot fewer teams in the overall, i.e., it's a lot easier to win.
The draft was a bit surreal – I'm pretty deep into NFL prep, and given the small sample, odd schedule, NL DH and different MLB roster rules, I frankly didn't do much new prep, but relied on my knowledge from before the season. That meant before I picked I was double-checking that my guys were (a) planning to play; and (b) didn't get COVID in the past week.
I drafted from the three-spot. Here are the results: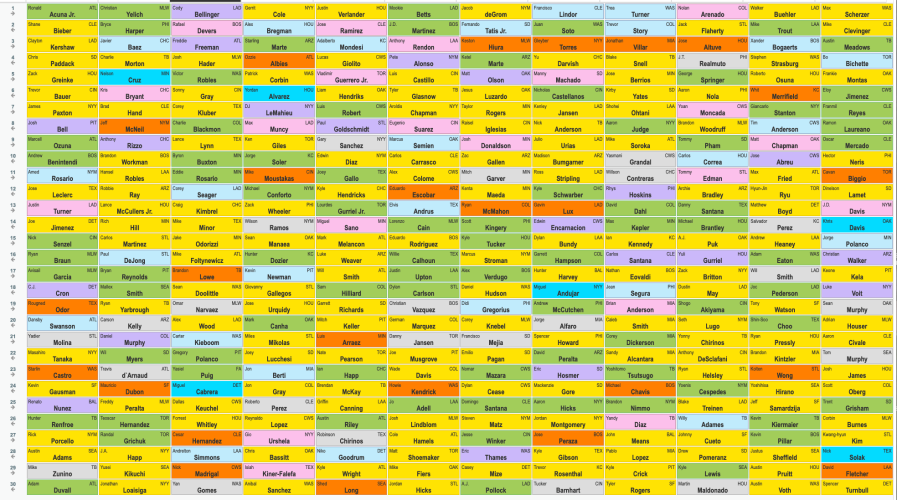 To enlarge the image, click here.
1.3 Cody Bellinger – I was set to take Jacob deGrom here, because I think pitching is probably more stable over the small sample, but the ADP and mocks I had looked at showed pitchers like Mike Clevinger and occasionally Jack Flaherty falling to where I picked in Round 2, Clayton Kershaw in Round 3 and Yu Darvish in Round 4. So I went hitter at an oddly scarce position this year (1B).
2.10 Rafael Devers – None of the second-round pitchers I valued made it back, so I took the best-rounded hitter my board. No problem, I'd get Kershaw in Round 3 and Darvish in Round 4.
3.3 Freddie Freeman – Kershaw went at the turn, so I took a hitter that dropped nearly a full round because of COVID. My gamble is he's had it long enough that he'll be okay for the start of the year, but who really knows? I also liked getting the top-two first baseman, thinning the pool for everyone else.
4.10 Josh Hader – Darvish went mid-fourth, so I went with my top closer, who should get me extra strikeouts relative to other closers.
5.3 Victor Robles – I needed starting pitching, but I also wanted at least one top speed guy – power and batting average will fluctuate during the 60-game sample, but you can't really get lucky with stolen bases because only a few players contribute significantly there.
6.10 Sonny Gray – I wanted two of him, Trevor Bauer and Corey Kluber on this turn. I love the Central Division players' schedules, and don't like Bauer's walks, so I went Gray first.
7.3 Corey Kluber – The parks in the west other than Coors Field are all pitcher-friendly, and Texas could also be a pitcher's park this year. Kluber's a gamble, but one with big upside.
8.10 Charlie Blackmon – I needed more pitching, but I couldn't pass on Blackmon who's a third round pick normally. He tested positive on June 23rd, so I'm assuming he'll get over it relatively soon.
9.3 Lance Lynn – I love the Texas pitchers this year, and Lynn was good last year when it was a hitter's park.
10.10 Byron Buxton – He's healthy now, and there's top-25 upside if he stays that way.
11.3 Eddie Rosario – The Twins have a great schedule, and Rosario is a steady-Eddie at this point in the draft.
12.10 Corey Seager – My first middle infielder. Seager can hit and is still in the prime of his career. Hopefully, he can stay upright for the shorter season.
13.3 Craig Kimbrel – Everyone but me hates him, but based on what? A tiny sample from last year where he started the season late. His contract gives him the job, and he's healthy now.
14.10 Mike Minor – Another Texas pitcher who was good even when it was a hitter's park.
15.3 Jake Odorizzi – Wins are a category, the Twins have an easy schedule, and Odorizzi found something with his pitch mix last year.
16.10 Mike Foltynewicz – He was good when healthy a couple years ago, and he's healthy now. My rotation has nice depth even if there's no clear front-line guy.
17.3 Brandon Lowe – The second baseman with the biggest bat left on the board.
18.10 Sean Doolittle – It sounds like he'll play, and if so, getting the likely closer on one of the league's better teams seemed like a good deal at this price.
19.3 Omar Narvaez – I needed a catcher, and he's one.
20.10 Alex Wood – He was great a few years ago, and it looks like he has a rotation spot.
21.3 Carter Kieboom – I was targeting Dansby Swanson here, but he went at the turn, so I pushed up my last upside middle infielder. He was a top prospect, and he has the third-base job, though he struggled in his cup of coffee last year.
22.10 Gregory Polanco – The summer training reports are good on him, and if he's finally back, he's a power/speed guy for cheap.
23.3 Yasiel Puig – One of my favorites, and he won't cost me a fourth-round pick this year. If he signs with the Orioles, the opposing pitching will be tough, but the park will be great.
24.10 Miguel Cabrera – Buxton, Puig and Cabrera? This is just unfair to the other drafters. Seriously, though, Cabrera is healthier than he has been in years, the short season should help him and you have to get your guys in these rounds.
25.3 Dallas Keuchel – Another Central Division pitcher and one who was pretty good last year in Atlanta.
26.10 Forrest Whitley – I got this from reading James Anderson's rookie article wherein he writes:
Whitley is not on the 40-man roster and has not been mentioned (yet) as a rotation option early in the season — Austin Pruitt and Framber Valdez would theoretically be the fill-ins if Urquidy and Josh James aren't ready. However, he's also the most talented pitching prospect in the game, and whenever it all clicks, he will be a monster, so I'm not taking anything off the table.
27.3 Cesar Hernandez – He'll play every day, and there's even a chance he leads off. I needed a solid middle infielder in case Kieboom or Lowe doesn't pan out.
28.10 Andrelton Simmons – I wanted a second MI, since I skimped on the position. I love Simmons with the wacky rosters because his defense will keep him in the lineup every day, something that might not be the case for other players at this stage of the draft.
29.3 Nick Madrigal – I got snaked on Yusei Kikuchi by one pick, so I went with upside. I suppose if I really wanted Kikuchi I should have taken him in Round 28.
30.10 Yan Gomes – I can't believe I got snaked on my second catcher, Isiah Kiner-Falefah, so I took Gomes who's ostensibly the starter in a good lineup. I don't want to spend much on catchers, who seem pretty random year to year, even in a longer season.
Roster By Position:
2B Brandon Lowe
SS Corey Seager
OF Victor Robles/Charlie Blackmon/Byron Buxton/Eddie Rosario/Gregory Polanco
UT Yasiel Puig
SP Sonny Gray/Corey Kluber/Lance Lynn/Mike Minor/Jake Odorizzi/Mike Foltynewicz
RP Josh Hader/Craig Kimbrel/Sean Doolittle
Bench hitters: Miguel Cabrera/Cesar Hernandez/Andrelton Simmons/Nick Madrigal
Bench pitchers: Alex Wood/Dallas Keuchel/Forrest Whitley