This article is part of our Rounding Third series.
Traditionally the two earliest fantasy baseball industry drafts are the FSGA and LABR Mixed Draft league drafts. We've flip-flopped the order, as there was no live FSGA conference, so LABR had first dibs this year on Tuesday night. It's a 15-team 5x5 league with the normal scoring and position requirements. Trading is allowed, and we can stash injured players on the IL. One other difference in LABR from the NFBC and ToutWars is how we FAAB players - there's only $100 in our FAAB budget (as opposed to $1,000 in the other two contests - so there's less leeway to get granular), you have to activate the player when you FAAB them, there's no $0 bids, and unlike ToutWars, you can't trade any of your FAAB budget. So when you run out, you're out of the free agent market. Too many times I've been left with too little to bid for the last month to six weeks, a critical failing. One final difference, and it's pretty small yet apparent, is that a player must have played 10 games to qualify at a position, instead of seven (NFBC) or five (ToutWars).
I drew the eighth spot in the draft, exactly the same as last season. Here's the draft grid from the draft tonight: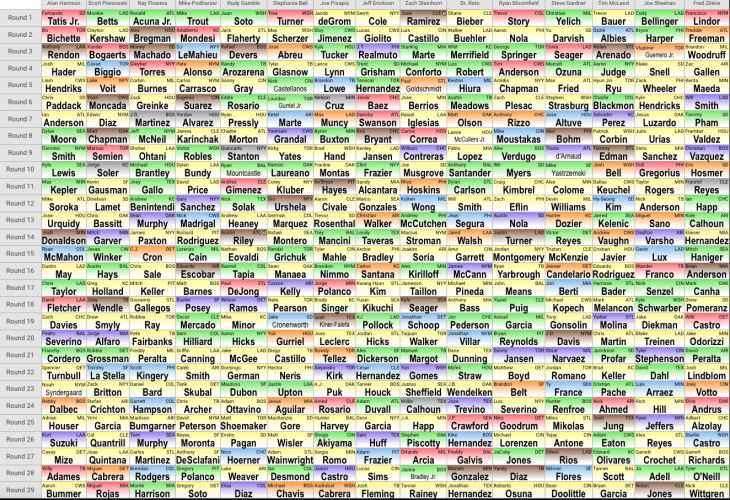 Last season was a pretty mediocre year for me, and my performance in LABR matched that - eighth place with 90.5, 22 points behind champion Fred Zinkie. It's small consolation that the standings were bunched at the top and I was competitive for all but the last 10 days or so. I had an imbalanced team, notching 56 hitting points and only 34.5 pitching points. My ace (Jack Flaherty) wasn't really an ace, my second starter (Luis Severino) never pitched - we drafted in February, my first reliever was (Emilio Pagan) was traded the day after the draft and never closed, my second closer was Sean Doolittle, etc... Some of those were the result of bad luck, others were structural errors or player-evaluation mistakes. But that lack of pitching, along with the FAAB rules, weighed heavily on my process this year. Waiting on closers and relying on FAAB or trades didn't work, and I didn't have enough starting pitching anyhow. I aimed to address that shortcoming this year.
Here's my team:
1.8 - Gerrit Cole: I've mentioned in a few places this week that there's a clear top-8 for me, so 8th is a really nice place to land in the first round. I had a pretty good idea that one of Cole/deGrom/Trout/Turner would be available to me, and I'm pretty happy that it was Cole. Even though there's no overall contest like the NFBC, my preferred build is to get an ace or two early, and then load up on hitters in the ensuing rounds. If you have two studs that will pile on the innings and K's, it allows for some creativity with the rest of the pitching staff.
2.8 (23) - Lucas Giolito: So I went for Pocket Aces (h/t https://twitter.com/batflipcrazy) here and in one of my NFBC Draft Champions Leagues, and I'm really liking the roster-build that goes with it. If Zach Steinhorn had taken Giolito instead of Luis Castillo, however, I would have instead taken a hitter in this spot - either Bo Bichette (pick 30) or Manny Machado (pick 33!).
3.8 (38) - J.T. Realmuto: This will be a critical decision for my squad - there's a lot of good hitters I could have taken instead of Realmuto, and part of me regrets not going with one of them instead. I still think Realmuto is the clear top catcher, though, and I like that he landed back in Philly.
4.8 (53) - Trent Grisham: Grisham was one of six players to have double-digits in homers and steals last season, and the hard-hit rate (41.8%) plus barrel rate (11.1%) support the power. The 12.3 BB% also supports the stolen base potential. I was looking for multiple power/speed combo guys after starting off with no power. I thought there was a chance either Randy Arozarena or Cavan Biggio would make it back to me - they didn't even make it out of the round.
5.8 (68) - Teoscar Hernandez: Another power/speed combo guy, another batting average risk. I want parts of the Blue Jays lineup, so I'm happy to take the risk that the batting average hurts me here.
6.8 (83) - Javier Baez: This was the point that I fully steered into not worrying about batting average. I'm betting on the career over two bad months, at least in terms of the exit velocity decline. There's not much to excuse the poor plate discipline, however.
7.8 (98) - Dansby Swanson: Swanson traded some contact for power in 2020, with positive results. I'm skeptical that he hits .274 again, but I do see another 20-10 season coming forward.
8.8 (113) - Kris Bryant: It's Bryant's walk year, he's fully healthy and has a lot to prove. I think this was my favorite pick of the draft.
9.8 (128) - Kenley Jansen: Jansen was superb in the regular season, and while the playoffs are a concern, he still falls solidly in my second tier of closers. He still limits hard contact (82.7 mph average exit velocity), improved his K% (32.4) and xB (.190). He was the last closer my second tier, and ninth overall.
10. (143) - Clint Frazier: Not everyone buys into Frazier's 2020 season, and I can see it, as it was only 131 at-bats. But he was the Yankees' third-best hitter last year, still resides in a great ballpark and in a great lineup. This was a bit of a consolation pick, however - Mike Yastrzemski, Wil Myers and Anthony Santander were all targets that went with three of the four picks ahead of me. I still like Frazier, but given his ADP in the 180's could have gotten him a round later.
11. (158) - Sandy Alcantara: On the other hand, I was straight-up pumped to get Alcantara. He keeps getting stronger every season, adding velocity to his fastball while lowering his walks. I think I like him more than teammates Pablo Lopez and Sixto Sanchez. Moreover, this is the point in drafts where I have a hard time finding pitchers I like, so getting one here was important.
12. (173) - Marco Gonzales: I'll let my in-draft tweet stand here:
13. (188) - Christian Walker: Some of Walker's turned into doubles last season, which is a concern. I was questioned why I didn't take C.J. Cron here instead. While Walker has a steadier hand on an everyday job, it's a good question.
14. (203) - Leody Taveras: I'm not punting batting average, but I'm not sweating it either. Meanwhile, I think this is a reasonable price to try to address speed - it won't kill me if Taveras doesn't make it, but a 10-20 season is a reasonable expectation.
15. (218) - Archie Bradley: I have Bradley as the Phillies closer over Hector Neris, but realize that it's a job battle rather than a certainty. If there's anything we've learned over Bradley's career, it's that he's not a lock for the job. He's the last of my Tier 3 closers, and the last to get drafted tonight.
16. (233) - Carlos Santana: Santana had an under-the-radar good season in 2019, and an under-the-radar bad season last year. I'm willing to bet he has one more good power year left, albeit in KC rather than in Cleveland.
17. (248) - Kwang Hyun Kim: Even assuming that Kim gives back some of his ratios, as he almost certainly will with a .217 BABIP, 86.6% strand rate and Central Division schedule (though the third factor informs the first two), he still should have better than average ratios on a good team. At the very least I'll use all of his home starts and a lot of his other in-division starts.
18. (263) - Yusei Kikuchi: He's pretty much the opposite of Kim - risky ratios at the tradeoff of more K's. The ballpark helps, the progress he made with his cutter helps, and the Mariners are on the cusp of becoming a lot more competitive.
19. (278) - AJ Pollock: Pollock dropped nearly 90 slots below his ADP from the last three weeks. Is that a function of the spillover effect from the Justin Turner signing, in conjunction with the projected lack of DH in the NL?
20. (293) - Jordan Hicks: I expect Hicks to be the Cardinals' primary closer - eventually. It may take a month. I'm willing to wait.
21. (308) - Alex Dickerson: Dickerson stayed healthy for a full (truncated) season, and earned himself a regular playing time gig. Hopefully he can also handle a deadened ball.
22. (323) - Cesar Hernandez: This is the type of player you can still get when you wait on 2B. I'm ok with that exchange, especially if Hernandez runs again.
23. (338) - Tanner Houck: Houck's fastball/slider combo was brilliant in three starts at the end of the season; a big key will be whether his splitter becomes a viable third offering.
24. (353) - Adam Duvall: Duvall's contract floor with the Marlins is essentially two-years, $10 million, so he's going to get regular playing time. There's no speed here, just cheap power.
25. (368) - Deivi Garcia: Garcia might not finish the season in the Yankees' rotation, but he'll get his chance to make his case early on, and I think the upside is worth at least a streaming pick.
26. (383) - Sam Huff: If you wait on a second catcher, you're not going to get a perfect package. Give me the guy that has great power, even if his playing time isn't concerned. There's always the next Martin Maldonado that one can add as a free agent if it doesn't work out.
27. (398) - Adam Frazier: I wanted another 2B-eligible player given that I waited to take Hernandez.
28. (413) - Lucas Sims: Sims will start off behind Amir Garrett in the Reds' closer battle, due to his sore elbow. But ... his skills are definitely closer-worthy, and I can stash him if he begins the season on the IL. I wouldn't do the same most likely in the NFBC series of drafts due to the lack of IL slots.
29. (428) - Josh Fleming - The Rays' signings of Rich Hill and Collin McHugh put Fleming's role into question, but I like the control (5.6 BB%) and ground ball rate (63.5%). If he gets a rotation spot or better yet a primary reliever role, in front of the Rays' superb defense, that becomes pretty valuable.
My team by position:
C - Realmuto, Huff
1B/3B/CR - Walker, Bryant, Santana
2B/SS/MI - C. Hernandez, Baez, Swanson
OF - Grisham, T. Hernandez, C. Frazier, Taveras, Pollock
UT - A. Dickerson
Bench Bats - Duvall, A. Frazier
SP - Cole, Giolito, Alcantara, Gonzales, Kim, Kikuchi
RP - Jansen, Bradley, Hicks
Bench Arms - Houck, D. Garcia, Sims, Fleming
The top players remaining in my queue were Renato Nunez, Maikel Franco, and Merrill Kelly. Nunez is a little surprising that he went undrafted - he's going to be the Tigers' starting first baseman, and probably will hit in the middle of their order.