This article is part of our DraftKings NFL series.
As always, I'm happy to discuss strategy in the comments below, or on twitter (@JerryDonabedian).
Note: All prices listed come from DraftKings, but most of the logic can be applied to other sites across the DFS industry. Discussion is limited to players from the "main slate" of games kicking off at 1:00, 4:05 and 4:25 p.m. ET on Sunday. The strategy below is meant for large-field tournaments, where payouts typically are limited to ~20 percent of lineups, with the vast majority concentrated at the very top.
The Games
| | | | | |
| --- | --- | --- | --- | --- |
| Over/Under | Road Team | Road Implied Total | Home Team | Home Implied Total |
| 53.5 | Cleveland Browns | 24 | Tennessee Titans | 29.5 |
| 51.5 | Jacksonville Jaguars | 20.5 | Minnesota Vikings | 31 |
| 51 | Indianapolis Colts | 27.25 | Houston Texans | 23.75 |
| 48 | Los Angeles Rams | 25.5 | Arizona Cardinals | 22.5 |
| 48 | Philadelphia Eagles | 19.5 | Green Bay Packers | 28.5 |
| 47 | Las Vegas Raiders | 28.25 | New York Jets | 18.75 |
| 47 | New York Giants | 18.5 | Seattle Seahawks | 28.5 |
| 47 | New England Patriots | 24 | Los Angeles Chargers | 23 |
| 45.5 | New Orleans Saints | 24.25 | Atlanta Falcons | 21.25 |
| 45 | Detroit Lions | 21 | Chicago Bears | 24 |
| 42.5 | Cincinnati Bengals | 15.5 | Miami Dolphins | 27 |
(Bold for over/unders of 50+ and implied totals of 25+)
Point-Per-Dollar Value
These are the players with the best projections relative to their DK salaries — good plays both for cash games and large-field tournaments. While we don't want our tourney lineups to look like cash-game lineups top to bottom, there's nothing wrong with using a few "chalk" picks. These players, along with a couple passing-game stacks, tend to form the core that remains fairly consistent throughout my lineups.
Cooks tailed off a bit the last few weeks, but with Will Fuller (suspension), Randall Cobb (toe) and Kenny Stills (waiver) all removed from Houston's pass-catching picture, the 27-year-old should see a ton of targets from here on out. Even in a tough matchup, Cooks has a good chance to outperform his DK price tag, likely seeing a steady mix of short, intermediate and deep passes from Deshaun Watson.
Woods, much like Cooks, has been a frequent flier in this section, providing WR2 production at a WR3 price. With the Rams increasingly relying on their passing game as the season has progressed, Woods saw 27 targets and three carries the past two weeks, lifting him up to 17.0 DK points per game for the year. Teammate Cooper Kupp ($6,100) has been a bit less productive, but he's also a solid play with his price being the second-cheapest we've seen for him this year.
Other Cash-Game Options
QB Aaron Rodgers

vs. PHI ($6,800)
QB Jared Goff

at ARZ ($5,800)
QB Mitchell Trubisky

vs. DET ($5,400)
RB Dalvin Cook

vs. JAX ($9,500)
RB James Robinson

at MIN ($7,300)
RB Austin Ekeler

vs. NE ($7,100)
RB David Montgomery

vs. DET ($5,500)
WR Davante Adams

vs. PHI ($9,000)
WR Allen Robinson

vs. DET ($6,700)
WR Corey Davis

vs. CLE ($5,100)
TE Robert Tonyan

vs. PHI ($3,700)
D/ST Seattle Seahawks

vs. NYG ($3,300)
D/ST New York Jets

vs. LV ($2,100)
Passing-Game Stacks
Stacks are the centerpiece of any tournament lineup, seeking to take advantage of positive correlations between players. It rarely makes sense to use a quarterback without one or two of his pass catchers, even if the player in question scores a decent portion of his fantasy points with his legs. Ideally, a stack also includes a pass catcher from the other side of the contest, hoping to take advantage of a tight game where both teams are still chucking the ball around late in the fourth quarter. (Implied team totals are listed in parentheses.
Rams (25.5) at Cardinals (22.5)
Pace Outlook
Overall Pace: Rams - 16th (27.2 seconds per play), Cardinals - 2nd (25.4)
Neutral-Situation Pace: Rams - 6th (29.3), Cardinals - 1st (26.7)
The Rams have relied on their defense this season, ranking fourth in points allowed (19.5 per game) and only 10th in points scored (23.9). They haven't been a great team for game stacks, but there is some hidden upside, as they've thrown more passes over the past month, and they still don't waste much time between plays unless they're sitting on a lead.
Rams
We already mentioned Woods and Kupp, a duo that accounts for 47.4 percent of Jared Goff's targets and 47.8 percent of his passing yards. Goff was a disaster against the 49ers last week, but he's now priced at only $5,800 for his matchup with a Cardinals defense that's allowed the third-most fantasy points to quarterbacks.
Josh Reynolds ($4,200) can also work in a game stack, though he hasn't gone any higher than 17.4 DK points this season, despite seeing a lot of his targets downfield. The rotations at RB and TE are best avoided for fantasy purposes, as it's been a while since we saw a big game from Tyler Higbee, Gerald Everett or any of the running backs.
Cardinals
This side of the game is significantly less interesting, though Kyler Murray ($7,600) always offers upside to score 30-plus points, even against an excellent defense. It does appear Larry Fitzgerald could miss another game on the COVID-19 list, potentially leaving dirt-cheap Andy Isabella ($3,200) as the No. 3 receiver. Isabella saw six targets last week, running routes on 64 percent of Murray's dropbacks.
Best Stack: QB Goff + WR Woods + WR Kupp
Browns (24) at Titans (29.5)
Pace Outlook
Overall Pace: Browns - 26th (28.7), Titans - 9th (26.3)
Neutral-Situation Pace: Browns - 20th (30.7), Titans - 4th (28.6)
Both teams love to run the ball, but Tennessee also likes to go up-tempo, and neither team has shown much on defense. While NFL games with two run-heavy teams don't typically produce shootouts, it's easy enough to see why this might be the exception. The betting odds certainly support that notion, with 53 being the largest over/under of Week 13.
Browns
Baker Mayfield ($5,300) is really cheap, and also facing a bad defense, but he's been a complete zero for fantasy purposes this year, reaching 20 points on just one occasion. The rest of the Cleveland passing game is also pretty dicey, with Jarvis Landry ($6,200) quickly going from underpriced to overpriced after last week's explosion, while Austin Hooper ($3,800) is suddenly ceding more routes to Harrison Bryant ($2,500).
Nick Chubb ($7,700) is awfully expensive for a running back who doesn't catch many passes and isn't named Derrick Henry, but the combination of talent and matchup creates plenty of upside. The Titans have allowed the seventh-most DK points to running backs, and they rank 17th in run-defense DVOA (-7.2%).
Titans
It's a bit tricky to figure out the Titans this week, with A.J. Brown ($7,600) and Jonnu Smith ($4,100) missing practice due to injuries. Both seem overpriced, but their absences would make Corey Davis ($5,100) and Anthony Firsker ($2,500) two of the better values on the slate.
Of course, Ryan Tannehill ($6,200) loses some appeal if Brown and/or Smith can't play, so it's hard to sort this one out when so much remains up in the air. Derrick Henry ($9,200) is the safe bet for production, and coach Mike Vrabel even said he'd like to get his lead back more work in the passing game.
Best Stack: QB Tannehill + RB Henry + RB Chubb + WR Davis
Other Stacks to Consider
QB Aaron Rodgers + WR Davate Adams + TE Dallas Goedert + TE Robert Tonyan
QB Kirk Cousins + RB James Robinson + WR Justin Jefferson + TE Kyle Rudolph
QB Derek Carr + WR Henry Ruggs + WR Jamison Crowder + TE Darren Waller
QB Cam Newton + RB Austin Ekeler + WR Jakobi Meyers
QB Mitchell Trubisky + WR Allen Robinson + WR Darnell Mooney
RB-Defense Pairing
We can pair a running back with his team's defense to double our bet on favorable game script in certain matchups. Just keep in mind that the scoring correlations aren't nearly as strong as those between quarterbacks and pass catchers, so it isn't worth forcing into a lineup unless the prices for each individual commodity make sense. We also need to account for specialized backfield roles, e.g., using Jonathan Taylor rather than Nyheim Hines with the Colts defense.
RB Chris Carson ($6,300) + D/ST Seattle Seahawks ($3,300) vs. NYG
I discussed Carson in my matchups article earlier this week, noting that the Seahawks eased him into action in his first game back from a foot injury, but then hinted at heavier usage in the coming weeks. Now we see Carlos Hyde missing practice with a toe injury, while the other side of the game has Giants QB Daniel Jones (hamstring) looking doubtful. The Seahawks were a shootout machine earlier this season, but in recent weeks they've run the ball more often and played better defense.
Honorable Mention: RB David Montgomery ($5,500) + Bears D/ST ($3,100) vs. DET
High-Priced Hero
Ekeler didn't even need a TD to put up 23.9 points in his triumphant return, getting 16 targets and 14 carries while playing 71 percent of snaps in last week's loss to the Bills. He's still priced at the same level from the start of this season when Tyrod Taylor was the Chargers' quarterback, but the Justin Herbert era should make Ekeler a high-end RB1 moving forward.
Honorable Mentions: RB Dalvin Cook, MIN vs. JAX ($9,500); WR Davante Adams, GB vs. PHI ($9,000)
Fading the Field
Every week we see at least one or two players carrying high ownership without the backing of a top point-per-dollar projection. Recency bias is often to blame, but in some cases it even makes sense to fade a player with a strong projection, particularly when there are good alternatives at the same position and price range.
We all know the ceiling Jones can reach with his red-zone usage and big-play ability, but it's now been a full two months since he actually turned in a huge fantasy performance. He's been sharing a lot of backfield work with Jamaal Williams, and the Packers are more likely to find success through their passing game against an Eagles defense that ranks 10th in opponent YPC (4.1) and 11th in run-defense DVOA (-18.4%). Look for Rodgers and Adams to lead the way even if this game does turn into a blowout.
Other Fades: DK Metcalf, SEA vs. NYG ($8,200)
The SMASH Spot
Volume may be king, but we still need to account for efficiency, pinpointing situations that are likely to lead to impressive production in terms of YPA, YPC or YPT.
Mooney is 17th in the league with 937 air yards, consistently getting downfield looks in an offense that struggles to complete those passes. However, he'll have better odds to connect on a deep ball this week, facing a Lions defense that was last seen being stuffed into a locker by juiced-up Will Fuller. The Bears' rookie wideout may not get any help from PEDs, but he did play at least 81 percent of offensive snaps in each of the past five games, averaging 7.0 targets in that stretch.
Honorable Mention: WR Justin Jefferson, MIN vs. JAX ($6,900)
The Bargain Bin
QB Jared Goff

at ARZ ($5,800)
QB Derek Carr

at NYJ ($5,800)
QB Cam Newton

at LAC ($5,800)
QB Mitchell Trubisky

vs. DET ($5,400)
RB Cam Akers

at ARZ ($4,500)
RB Frank Gore

vs. LV ($4,400)
WR Josh Reynolds

at ARZ ($4,200)
WR Denzel Mims

vs. LV ($4,100)
WR Breshad Perriman

vs. LV ($3,900)
WR Keelan Cole

at MIN ($3,800)
WR Keke Coutee

at IND ($3,500)
WR Darnell Mooney

vs. DET ($3,400)
TE Jordan Akins

vs. IND ($2,900)
TE Anthony Firkser

vs. CLE ($2,500)
D/ST New York Jets

vs. LV ($2,100)
Injury Situations
The "Sunday Scramble" doesn't need to be stressful. We can plan our response ahead of time for various scenarios that could emerge once inactive lists are released.
Ryan Fitzpatrick ($6,000) is a decent tournament play if he gets another start, and his presence also puts DeVante Parker ($6,400) and Mike Gesicki ($4,200) on the map as usable pieces. I'll avoid the Dolphins entirely if Tua returns to the starting role this week, as the offense has been slow-paced and ultra-conservative with the rookie under center.
This is probably the biggest injury of the week for DFS purposes, as Devontae Booker ($5,500) could be looking at 20 carries against a bad defense if Jacobs doesn't play. Treat Booker as a low-end RB1 in season-long leagues and an excellent value in DFS if Jacobs is out.
This was discussed above, with Davis and Firkser being nice values if Brown/Smith can't go.
I really liked Agholor as a season-long streamer this week, but now it turns out he's dealing with an ankle injury. Henry Ruggs ($4,500) should be the team's top perimeter target if Agholor can't play against the lowly Jets.
With Chark and Conley out last week, the Jags had Keelan Cole ($3,800), Laviska Shenault ($3,600) and Collin Johnson ($3,300) on the field for nearly every snap. Johnson was the one who came through with a big game, but Cole is the safest bet to be involved. This could get messy if Chark and/or Conley plays, as the Jags might then decide to rotate four or five receivers.
With Smith (groin) likely out another week, Kyle Rudolph ($3,400) gets an uptick in snaps and routes. Just remember that last week's big game for Rudolph came with Adam Thielen out of the lineup. Smith may not be back this week, but target-hogging Thielen is.
Dallas Goedert ($4,300) is coming off back-to-back standout performances, but he'll be hard to trust if Ertz returns from his ankle injury this week. Richard Rodgers is also playing pretty well, so it'll be interesting to see how the Eagles handle snaps and routes at tight end. You could still make a case for Goedert even if Ertz plays, but you could also make a case for Ertz at just $3,900. I won't be the one taking a shot on Ertz, FWIW.
Weather Watch
This looks like a clean week for weather, with no forecasts involving significant precipitation or winds above 15 miles per hour. It'll be a little chilly in Chicago, Green Bay and New York, but that's more of an issue for kickers than offensive players, as temperatures aren't expected to drop below the high-20s for any of those games.
The Toilet Bowl
I'm now running a weekly DraftKings contest where the goal is to have the LOWEST point total rather than the highest.
There's no way to make a paid contest of this sort on DK, but I can promise that the winner each week will get a shoutout in the following week's tournament guide. And if anyone manages to win the contest in two different weeks this season, I'll make a $50 donation to the charity of their choice (or to their venmo account).
Our Week 12 winner was DraftKings user har0ld, whose point total of 61.18 adjusted to 76.48 after a penalty for Jerry Jeudy's goose egg. There were a ton of low scores last week, but most of those lineups — including my own — were penalized for having multiple players with zero points. After the DQ and penalty adjustments, Mr. Har0ld came out on top/bottom. Here's the winning lineup: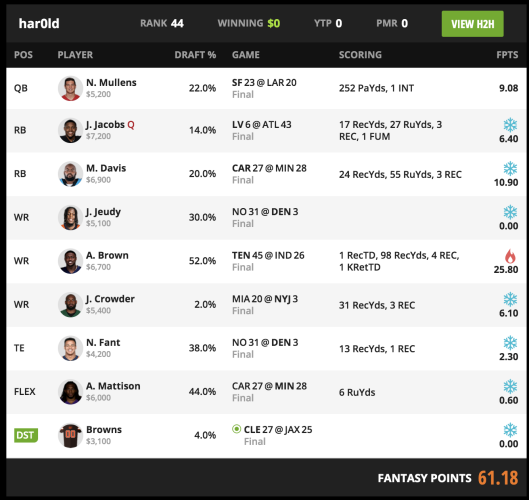 And here are the rules:
All lineups must use at least $49,500 of the salary cap.
No using players from the New York Jets, including the D/ST. Automatic DQ for a violation.
Any player with zero points automatically adds 3x of their salary to your point total. So you can put an injured player who costs $7,500 in your lineup, but then we're adding 22.5 points to your final score. The same goes for players who aren't injured but nonetheless finish with zero points. However, negative scores are allowed — in fact, they're encouraged — free of any penalty.
OK, here's the link for Week 13: https://www.draftkings.com/draft/contest/97884976
Good Luck!
The author(s) of this article may play in daily fantasy contests including – but not limited to – games that they have provided recommendations or advice on in this article. In the course of playing in these games using their personal accounts, it's possible that they will use players in their lineups or other strategies that differ from the recommendations they have provided above. The recommendations in this article do not necessarily reflect the views of RotoWire. Jerry Donabedian plays in daily fantasy contests using the following accounts: FanDuel: jd0505, DraftKings: jd0505.