As the 2021 WNBA season approaches, this article will attempt to give an overarching view of some of the year to come in the WNBA. After a unique 2020 campaign, we have another one on tap due to the Summer Olympics interruption in July, cutting the season from 34 to 32 games. This also means there will likely be players coming and going at various times to participate for their respective countries. Regardless, it should be another fun season ahead!
Odds
Championship odds: Found Here with history of betting lines for each site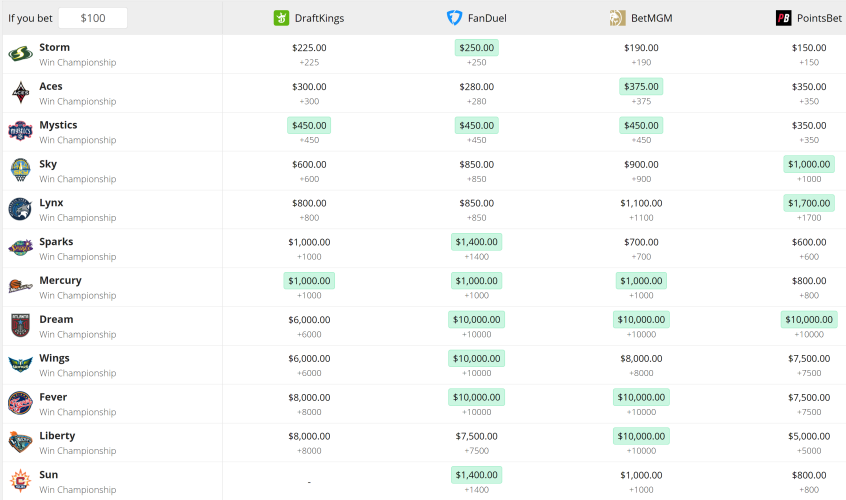 Unsurprisingly, the Las Vegas Aces and Seattle Storm -- last year's WNBA Finals participants -- are the two favorites to bring home the championship again this season. Seattle holds a slight betting edge on all four of the sites RotoWire tracks, but the Aces and Washington Mystics aren't far behind. There is a significant gap between that trio and the rest of the field.
MVP Odds (Courtesy of DraftKings)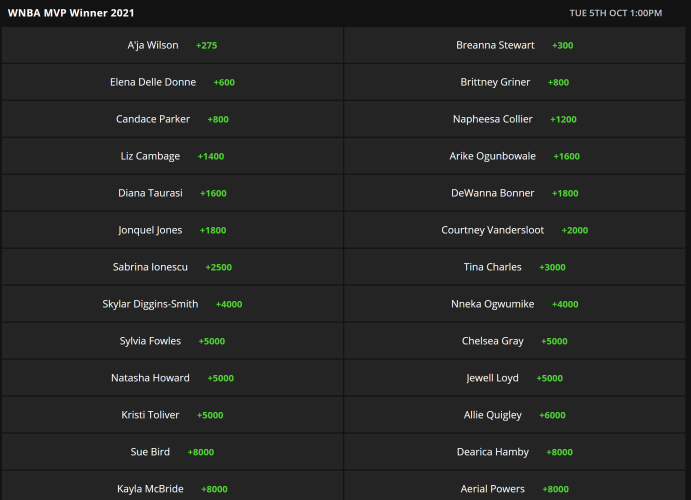 Much like the Championship Odds above, A'ja Wilson -- last year's MVP -- is the favorite to take home that hardware again in 2021. Breanna Stewart is a close second, while Elena Delle Donne, Brittney Griner and Candace Parker are all among the group checking in at better than 10:1 odds. There could be some decent plays in here if Napheesa Collier (+1200) can carry the Lynx to a strong season or if Liz Cambage (+1400) outshines Wilson for a loaded Aces squad. Among the longshots, Tina Charles (+3000) may be going overlooked after sitting out last season and toiling for years with the Liberty prior. She put up sizable numbers on a yearly basis with the Liberty and could draw consideration if she can replicate them now that she's on a contending team in the nation's capital.
New Addition
The Commissioner's Cup will feature the winners of the Eastern and Western Conferences in the first half of the season playing a championship game for a $500,000 prize pool.
Team Previews
Note: Depth Charts may have changed with cuts after this is posted.
Atlanta Dream
Depth Chart
EARLY/FULL-SEASON ABSENTEES
Tiffany Hayes (League COVID-19 protocols)
The Dream will have the majority of their roster available to open the 2021 season and should heavily feature 2020 breakout rookie Chennedy Carter again. Carter made her mark early and often -- minus a six-game stretch of absences due to injury -- finishing off the season averaging 17.4 points, 3.4 assists and 2.3 rebounds per game. Those averages would all jump higher if you exclude her three minutes of action prior to suffering an injury against the Sun and just 17 minutes played in her first game back. Courtney Williams posted a career-best campaign last year and figures to flank her in the backcourt, with Tiffany Hayes (when available), Odyssey Sims and rookie Aari McDonald, among others, factoring into the rotation in some capacity. Tianna Hawkins, Elizabeth Williams and Monique Billing seem the likely trio to see huge chunks of minutes in the frontcourt, though Cheyenne Parker should also see her fair share and Shekinna Stricklen can moonlight as a frontcourt contributor when the lineup goes small.
Chicago Sky
Depth Chart
EARLY/FULL-SEASON ABSENTEES
Shyla Heal (In league COVID-19 Protocols)
Maria Conde (Personal)
Leonie Fiebich (Personal)
The Sky made a huge splash this offseason by landing hometown hero Candace Parker to the mix, giving the Sky a legitimate chance to make some noise during 2021. Parker joins Courtney Vandersloot and Allie Quigley as a trio of star veterans to lead the team, while Azura Stevens showed some promise during her first season in the Windy City prior to a season-ending knee injury. She's not quite back to 100 percent and is slated to begin the season on a minutes limit. That could mean extra minutes for the likes of Diamond DeShields, Ruthy Hebard and Astou Ndour. Another noteworthy roster move on the horizon involves Stefanie Dolson, who will leave the Sky following the first game of the season to prepare for the 3x3 team at the Summer Olympics. That should also open minutes in the team's frontcourt and could allow the Sky to add another player. Behind the two mainstays in Vandersloot and Quigley. Kahleah Copper returns following an impressive 2020 season and rookie first-round pick Shyla Heal could prove to be a factor as well.
Connecticut Sun
Depth Chart
EARLY/FULL-SEASON ABSENTEES
Jasmine Thomas (overseas)
Alyssa Thomas (Achilles)
With Jasmine Thomas set to be unavailable to open the season and Briann January potentially in line for a limited role, Natisha Hiedeman and Kaila Charles could see extra minutes in the opener. Once both Thomas and January are in place, however, those two should head the team's backcourt. Unfortunately, the Sun will be down a major contributor up front in Alyssa Thomas, who will miss most or all of the 2021 season after tearing her Achilles in January. The team still signed her to a multi-year deal, so she should be back in the mix next season. Despite her absence, Connecticut still boasts DeWanna Bonner and Brionna Jones from last year's frontcourt and regains the services of star center Jonquel Jones. That trio should form a formidable frontcourt for the club, though the depth beyond them is a bit questionable.
Dallas Wings
Depth Chart
EARLY/FULL-SEASON ABSENTEES
Satou Sabally (Overseas)
Awak Kuier (Visa issues)
Imani McGee-Stafford (Personal)
Arike Ogunbowale has emerged as a star backcourt player for the Wings, who continued to infuse the roster with young talent by adding Satou Sabally to the frontcourt last season and another pair in Charli Collier and Awak Kuier with the first two picks of the 2021 WNBA Draft. Collier should be an immediate impact down low for Dallas, but Kuier is still having issues with her visa and will thus miss some time to open her rookie campaign. Allisha Gray re-signed with the Wings this offseason and Moriah Jefferson appears to be healthy again after dealing with injuries since her rookie season. Marina Mabrey really shined down the stretch for the Wings last season, averaging 13.6 points, 4.1 rebounds, 3.2 assists and 1.5 steals over the last 12 games. That quad of backcourt players should give the Wings some significant depth. That depth could come in handy early with Kuier and Sabally, who is still playing in Europe, unavailable. Kayla Thornton will likely play a big chunk of minutes out of the gate as a result. Isabelle Harrison should also see some minutes in the frontcourt but may see a reduction in favor of Collier.
Indiana Fever
Depth Chart
EARLY/FULL-SEASON ABSENTEES
Julie Allemand (EuroWomen and Olympics)
Florencia Chagas (Overseas)
Temi Fagbenle (Unsigned)
The real standout from camp worth noting here is Victoria Vivians, who has been robbed of a couple of chances to break out in the last two seasons due to injury. She put up 15 and 12 in the Fever's two preseason contests and could wind up being a gem for the club if she can stay healthy. The team also added a solid piece to the frontcourt this offseason in Jantel Lavender, who should spell Teaira McCowan at center and could play alongside her a good amount as well. Jessica Breland and Lauren Cox, when available, should also provide some minutes to round out the consistent contributors in the frontcourt. The backcourt is led by Danielle Robinson, Kelsey Mitchell and Tiffany Mitchell, who should handle most of the backcourt minutes for the Fever. However, rookie fourth-overall pick Kysre Gondrezick 11th overall pick Aaliyah Wilson could also carve out roles once they get into the swing of things. Gondrezick appeared in her first preseason game this week and supplied two points and three assists over 16 minutes versus the Sky, while Wilson is working her way back from an injury.
Las Vegas Aces
Depth Charts
EARLY/FULL-SEASON ABSENTEES
Angel McCoughtry (torn ACL - OFS)
Iliana Rupert (Overseas)
As highlighted in the Odds section above, the Aces are one of the favorites to take home the championship trophy for the 2021 season. Unfortunately, the club suffered a big hit in its lone preseason contest, losing Angel McCoughtry for the year to a torn ACL. Even after the loss, the Aces still have one of the best frontcourts in the league featuring last year's MVP in A'ja Wilson and a near winner in Liz Cambage. Her absence will likely open plenty of minutes for the likes of Dearica Hamby and Jackie Young among the frontcourt participants. Jackie Young can also work as a backcourt player and serve as a starting guard for the Aces alongside Chelsea Gray, though Kelsey plum may also be a challenger for a starting spot. Riquna Williams seems likely to factor in consistently as one of the primary bench players along with Hamby, who thrived as the sixth woman last year. Emma Cannon could be next in line for some bench minutes but the Aces will likely keep the rotation at the primary seven or so as much as possible while mixing in the remaining bodies as possible. It also wouldn't be surprising to see the team add an extra player or two following cuts.
Los Angeles Sparks
Depth Chart
EARLY/FULL-SEASON ABSENTEES
Maria Vadeeva (overseas)
Gabby Williams (overseas)
The Sparks lost a major piece this offseason, losing former WNBA MVP Candace Parker to her hometown Sky. They did make an addition of their own to help cover the opening, acquiring Amanda Zahui B via free agency to move into the team's starting center spot after coming into her own over the last two seasons with the Libery. While she's not on the same level as Parker, Zahui B does give the Sparks a nightly double-double threat down low to add to Nneka Ogwumike and sister Chiney Ogwumike. Bria Holmes, Jasmine Walker and Nia Coffey are also candidates to supply some minutes off the bench. The backcourt is headed by a pair of new faces in Erica Wheeler and Kristi Toliver. Wheeler joined the team this offseason after spending the last four years with the Fever and Toliver signed with the Sparks prior to 2020 before opting out of the season. The pair, Te'a Cooper and Brittney Sykes figure to comprise the primary contributors, though Arella Guirantes, who was selected 22nd overall, appears to have made the roster and could become a factor at some point. The team also made a couple of interesting moves ahead of the roster cut deadline, trading Sydney Wiese to the Mystics while converting Seimone Augustus to a coaching role.
Minnesota Lynx
Depth Chart
EARLY/FULL-SEASON ABSENTEES
Rennia Davis (injury)
Napheesa Collier? (Overseas)
Kayla McBride? (Overseas)
Maya Moore (Personal)
The Lynx are another club that can throw their hat in the ring for the best frontcourt in the league. Napheesa Collier has moved into MVP conversation following a dominant 2020 season, during which she racked up 16.1 points and 9.0 boards per game. She and Sylvia Fowles -- who struggled with calf issues last season -- provide a dominant front line for the Lynx, while Damiris Dantas also sticks around following a budding 2020 campaign and Natalie Achonwa enters the fold after her time with the Fever. Jessica Shepard also rejoins the mix after missing 2020 with an ACL injury. Shepard is slightly intriguing as well, posting 4.8 points, 5.7 rebounds and 2.5 assists over 18.7 minutes per game as a rookie back in 2019. The backcourt is where things get a little shaky for Minnesota. Damiris Dantas and Crystal Dangerfield exceeded expectations as a rookie and should be locked into a starting role alongside Kayla McBride, but there are some question marks behind the pair. Look for Aerial Powers, a solid offseason addition from the Mystics, to spend some time in the backcourt this season, while Bridget Carleton and Rachel Banham round things out along with rookie Rennia Davis, who will have to get back up to speed once she recovers from a stress fracture in her left foot.
New York Liberty
Depth Chart
EARLY/FULL-SEASON ABSENTEES
Leaonna Odom (Achilles)
Kiah Stokes (Overseas/League Protocol)
Natasha Howard (Overseas/League Protocol)
Rebecca Allen (Overseas/League Protocol)
Han Xu (Overseas/Olympics)
Nayo Raincock-Ekunwe (Overseas/Olympics)
Asia Durr (Personal)
Jocelyn Willoughby (Achilles)
Marine Johannes (Overseas)
As displayed by the laundry list of names above, the Liberty will have a challenging, to say the least, start ahead due to holes all over the roster. Natasha Howard, Rebecca Allen, Leaonna Odom and Kiah Stokes should all rejoin the team at some point, but the other five players will all sit out the entirety of 2021. Without the group available early, look for Kylee Shook and Michela Onyenwere to play big minutes to give the Liberty some length. When they return, Howard and Stokes should take two of the starting frontcourt spots for New York. Odom also showed some flashes of promise last season and should have a role and Allen also held a bench role in 2019. The backcourt is the area that will have the most depth to open the campaign and it will be led by star point guard Sabrina Ionescu, who posted a huge 33 points, seven rebounds and seven assists in the game before going down with a season-ending injury. Look for her to take as many minutes as she can handle in 2021 as the future of the team. Sami Whitcomb and Betnijah Laney should also be candidates to see starts. Layshia Clarendon should see consistent minutes coming off of a career-best year and Jazmine Jones showed some promise down the stretch last year, averaging 12.6 points, 4.6 boards, 2.4 assists and 1.7 steals over 23.3 minutes in her last 14 games played.
Phoenix Mercury
Depth Chart
EARLY/FULL-SEASON ABSENTEES
Bria Hartley (Knee)
Kia Vaughn (Overseas/League Protocol)
The Mercury haven't completely escaped the early-season absences, but they are in decent shape and have some star power leading the way. Diana Taurasi and Skylar Diggins-Smith will once again comprise the starting backcourt, while Brittney Griner is again set to headling the team's frontcourt group. The Mercury picked up both Kia Nurse and Megan Walker in a multi-team deal this offseason, and Nurse seems bound for a starting spot along with Brianna Turner. Bria Hartley should be a factor once her knee rounds into form, while Sophie Cunningham, Alanna Smith and Kia Vaughn (when available) figure to be the first three off of the bench to open the campaign. There isn't a ton of turnover with the Mercury roster, so there could be some chemistry here for a team that has a lot of experience playing together.
Seattle Storm
Depth Chart
EARLY/FULL-SEASON ABSENTEES
Epiphanny Prince (Overseas/League Protocol)
Mercedes Russell (Overseas/League Protocol)
Losing Alysha Clark and Natasha Howard certainly won't go unnoticed, but the Storm still have plenty of firepower in their own right, evidenced by the team remaining the favorite to take home the title again next season. Sue Bird, Jewell Loyd and Jordin Canada make up an impressive backcourt trio that has plenty of experience playing together. That group should lead the way in the minutes department among the backcourt options, though offseason additions Kennedy Burke and Katie Lou Samuleson along with Epiphanny Prince (when available) could have roles. Second-leading MVP candidate Breanna Stewart headlines a frontcourt that will see a number of new faces getting playing time following the big-name departures. Candice Dupree is one of those faces, inking a deal with the Storm in February after spending the last four seasons in Indiana. She should be a consistent presence in the starting group, having played and started all but three games over the last four seasons. Eziyoda Magbegor and are the two candidates to hold the final starting spot, though Mercedes Russell will also join the mix again at some point.
Washington Mystics
Depth Chart
EARLY/FULL-SEASON ABSENTEES
Elena Delle Donne (Back)
Myisha Hines-Allen (Overseas/League Protocol)
Alysha Clark (Foot)
Klara Lundquist (Overseas)
After seeing their roster hit the hardest by COVID-19 opt-outs a season ago, the Mystics look to be in much better shape heading into the 2021 season. Unfortunately, the team is still going to be shorthanded out of the gate. Elena Delle Donne is working her way back from a back issue and Myish Hines-Allen hasn't made her way back to the Mystics yet. That will leave the team with a thin backcourt early, but it does pick up a huge addition in 2020 op-tout Tina Charles. Charles should anchor the center position for the Mystics this season and, paired with Delle Donne, gives the Mystics a pair of former MVPs to turn to and their own case for best frontcourt in the league. Leilani Mitchell, Ariel Atkins and Kiara Leslie give the Mystics a solid seven deep rotation, and the addition of Sydney Wiese through cuts strengthens it a bit more. Stella Johnson, Shavonte Zellous, Erica McCall and Theresa Plaisance are all around to fill in as needed as well.