This article is part of our Rounding Third series.
Tim Schuler and I paired together twice this week to compete in the NFBC Main Event. The Main Event leagues are 15-team, 5x5 snake draft leagues with an overall contest. The entry fee is $1,700 per team, and you are allowed to enter multiple teams. First place in the league is $7,000, second place is $3,400 and third is $1,700. The big money is in the overall contest - $150,000 to the overall winner, $40,000 to second place, and payouts down to the top 20 overall. Thus, there's a big incentive to play for the overall contest, and not to use "punting" categories that would hurt your ability to score well in the overall.
We have a deal with the folks from the NFBC to promote their contest, and part of that deal is one entry for me into their Main Event. But Tim and I enjoy the contest so much and believe in our abilities, so we bought in with a second entry.
We had two very different drafts, naturally different due to our disparate draft slots. On Thursday night, we got our 14th preference, which the 14th slot out of 15 teams. Contrast that to Saturday's team, where we drew the sixth slot with our third preference. I far prefer being in the middle of the draft, less prone to swings and more able to scoop up what I perceive to be bargains. I wrote about that concept some with my TGFBI write-up a couple of weeks ago, when I drafted from the second slot.
Let's start with the Thursday night draft - first, the full board: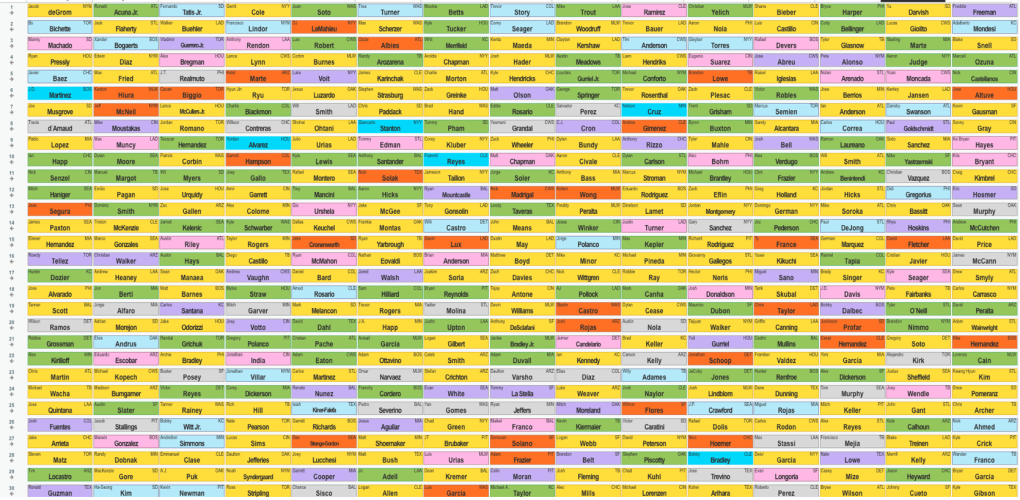 Click here to see the enlarged image.
One aspect about this draft position is that typically I looked at these picks in tandem. There are two picks in between each turn, and thus it can be a little helpful to know if the team on the wheel has filled one of our preferences, giving us the chance to fill that preference with the latter of the two picks. The most obvious spot is at catcher - very few teams are going to take three catchers, and a team that takes an early catcher rarely takes a second one in quick succession. But that can also apply to categories, too - a team with two early speed guys, or two early closers, etc ... can allow you to wait at least one pick for you to fill that category at times.
With that in mind, our ideal early build was to go with one power-speed hitter and one elite starter with our first two picks, and pocket aces (two starting pitchers) as our secondary options. We didn't want to go with Freddie Freeman (lack of speed, coming off of a career year) with our first pick, and I'm not especially high on Cody Bellinger due to his shoulder and his batting average concerns. In a perfect world, our map had either Trevor Story or Christian Yelich at the 14-spot (both had on occasion made it to and past the 14-spot in other Main Events) and then either Yu Darvish or Lucas Giolito with the second pick. It took all of eight picks to realize that the first scenario was unlikely to happen, with Trevor Story going at 1.8. Yelich went at 1.11, and even Bryce Harper went at 1.13, prompting us to go with Yu Darvish and take Scenario 2, Pocket Aces. When Giolito was still there at 17, off we went!
3.44 Starling Marte
4.47 Aaron Judge
Because we started with two SPs, it was imperative that we got some speed with at least one of the two picks, and it would have been better to get two such players. Perhaps it would have been more advisable to go with Austin Meadows instead of Judge, but ... I don't think so. Judge has that monster ceiling, one I've chased frequently this draft season. I didn't really consider Liam Hendriks there, especially having taken two starters to begin the draft.
5.74 Yoan Moncada
6.77 Kenley Jansen
Moncada looks great this spring and has even stolen a base, plus he's been hitting fourth and fifth in the order frequently. Getting stolen bases from a CR spot was important given that we were starting behind in the category. Jansen was a tough call, but closers flew off the board early - Ryan Pressly was taken by Jeff Zimmerman and Tanner Bell at a new minimum pick at 4.60, as the fifth closer of the fourth round. Our debate was to take a foundational closer now and wait on CL2, or take two later. We went with Kenley (over Trevor Rosenthal), passing up Cavan Biggio as our likely pivot.
7.104 Dansby Swanson
8.107 Paul Goldschmidt
I have a whole lot of Dansby in my life this year and I'm unapologetic about that. He's good, he runs, and he's considerably better than the next tier of shortstops. Goldschmidt was an agnostic pick - I like the average and the possibility of a power resurgence, and Tim really liked him here for the price. There wasn't anyone else that I was insistent on getting instead, so we went with the value-pick option in Goldschmidt.
9.134 Sixto Sanchez
10.137 Mike Yastrzemski
Sanchez was absolutely a target - we needed a solid third starter, and those were running in short supply. There's a small chance he misses one start as he works on building his innings up. Yaz helps some in all five categories, which makes rate highly with my projections. We looked at Alec Bohm, Dylan Carlson and Matt Chapman here - all three went shortly after our pick.
11.164 Christian Vazquez
12.167 Didi Gregorius
I regretted this turn. The catchers in this tier got pushed down (Sean Murphy 13.15, Gary Sanchez 14.5, and James McCann at 16.1), and moreover the second closer run went off in earnest after this. I don't regret not taking Craig Kimbrel (11.165 - 11.15), but then Jordan Hicks, Greg Holland, Amir Garrett, Emilio Pagan, Alex Colome and Jake McGee all went off the board. Moreover, a lot of our favorite starting pitcher targets went in that bunch. Vazquez and Gregorius are fine players, but the opportunity cost for taking them was really high.
13.194 Chris Bassitt
14.197 Rhys Hoskins
I tweeted this on Thursday night - "Zac Gallen fell to 183 in this league, a new Max pick for the Main Event." That fact no longer was true by Saturday. Anyhow, when starting pitching and closers get pushed up, something has to fall. Rhys Hoskins was something, or at least someone.
15.224 David Fletcher
16.227 Cristian Javier
Fletcher might be a regret - at least the timing of taking him. I really like the batting average, batting order (he should score a ton at the front of that Angels lineup) and positional flexibility. We might have been better off double-tapping SP's here with Javier and Yusei Kikuchi. Some context here - we had Jake Cronenworth and Gavin Lux queued up this round, only to see them go by the boards.
17.254 Kyle Seager
18.257 Peter Fairbanks
When we drafted Seager, I didn't realize we were setting a new Main Event "min" pick, but it turns out we were, at least until Saturday. I just see a solid hitter in an (eventually) improving lineup who even runs a little. Fairbanks is my favorite to lead the Rays in saves, you might prefer Diego Castillo - I think that they'll both get saves. Castillo went two rounds earlier. The news that Nick Anderson would be out until at least July broke right before the draft, so it was up to us to set the market on both Rays relievers.
19.284 Tyler O'Neill
20.287 Brandon Nimmo
I tweeted - "I debated Nimmo vs. Alex Dickerson, but already had Yaz, decided against two Giants." Moreover, I have Nimmo in a lot of leagues ... including the next one (spoiler alert!). O'Neill is locked into a starting spot with the Cardinals, and we took him on his power/speed combo upside, though we fully acknowledge the batting average risk.
21.314 Gregory Soto
22.317 Alejandro Kirk
We now have 1.75 closers, maybe. Kirk was a target, fueled in part by his big spring and in part due to Rob Silver's advocacy in his behalf.
23.344 Justus Sheffield
24.347 Joey Wendle
I love Wendle's three positions, allows us to take an extra pitcher in reserves. Let's hope there's enough worth taking!
25.374 John Gant
26.377 Kole Calhoun
Calhoun slipped due to his injury, too far say us!
27.404 Blake Treinen
28.407 Merrill Kelly
Treinen was just there to back up Kenley Jansen for us - it'll be difficult to carry Treinen all season long, but ideally we won't need to.
29.434 Jason Heyward
30.437 Johnny Cueto
Lots of young upside to finish the draft! I like that Cueto will have the Giants' second start against a Kelenic-less Mariners squad.
Here's the team by position:
C - Christian Vazquez, Alejandro Kirk
1B/3B/CR - Paul Goldschmidt, Yoan Moncada, Rhys Hoskins
2B/SS/MI - David Fletcher, Dansby Swanson, Didi Gregorius
OF - Starling Marte, Aaron Judge, Mike Yastrzemski, Tyler O'Neill, Brandon Nimmo
U - Kyle Seager
SP - Yu Darvish, Lucas Giolito, Sixto Sanchez, Chris Bassitt, Cristian Javier, Justus Sheffield
RP - Kenley Jansen, Pete Fairbanks, Gregory Soto
Bench - Joey Wendle, Kole Calhoun, Jason Heyward; John Gant, Blake Treinen, Merrill Kelly, Johnny Cueto.
Main Event II, Saturday, March 27:
First, here's the full draft grid.
Click here to see the enlarged image.
As a reminder, we drafted from the sixth slot. In my mind, there's a pretty clear top-six, though the order of those six is less clear - Jacob deGrom, Ronald Acuña, Juan Soto, Mookie Betts, Fernando Tatis Jr. and Gerrit Cole. We would be happy starting out with any of them, and my team build would follow accordingly depending on who we get at the sixth spot, with a wider range of alternatives on the comeback. In our case, we were left with Cole, so once again our Main Event starts with a pitcher.
Thirteen of the 15 teams in this draft were live in Las Vegas. Tim and I were on one of the only two teams drafting online, which I think helped us focus our thoughts, plus it was nice to have the breaks after each block of 10 picks. I stayed off Twitter during this draft, jumping in only at the breaks to tweet out groups of 10 picks. With us being in the middle of the draft, I wanted to avoid getting caught down a rabbit hole. Aside from a periodic check for breaking news (which actually happened a little bit with the Reds' lack-of-closer announcement and an update on Kyle Lewis's knee), I did a good job of staying off. I'm going to structure my review of this draft similarly, at 10 picks at a time.
Rounds 1-10:
1.6 Gerrit Cole
2.25 Bo Bichette
3.36 Jack Flaherty
4.55 Pete Alonso
5.66 Nolan Arenado
6.85 Cavan Biggio
7.96 Trent Grisham
8.115 Kevin Gausman
9.126 Yordan Alvarez
10.145 Charlie Blackmon
After beginning the draft with Cole, we wanted the starting pitching to be pushed up, in the hope of getting a better hitter pushed back to us. That happened, at least in comparison to Thursday night's draft - 11 pitchers were gone in this one by pick 25, compared to nine on Thursday. We would have had a hard time passing on Max Scherzer, who was there Thursday. But instead we went with Bichette over Cody Bellinger and Kyle Tucker. The surprise was Flaherty - at pick 36 it wasn't quite the latest that he went in the Main (at least once he went 39th), but it was pretty close, especially for a draft that pushed up pitching so much. Even still, we spent a good chunk of time debating whether to go with him or with either Vlad Guerrero Jr. or Rafael Devers - who of course went with the next two picks. Ultimately we took the value in Flaherty, thinking that our preferred other SP2 targets would not come back to us. We were right in that perception - it helps to get a good preview of the pitching dynamic with Tyler Glasnow and Corbin Burnes going 32nd and 33rd respectively.
With two pitchers in the top three, it was time to get to work on the hitting. My first selection of Pete Alonso came over Austin Meadows in the fourth - I opted for the pure power option here, thinking there was a chance that Meadows would make it back. Narrator: "He didn't make it back." Of course, that was silly - neither Alonso nor Meadows even made it to pick 55 in my other Main Event. Nolan Arenado was another consideration there, so he was an easy call at pick 66, even with the team change and lack of speed.
That lack of speed influenced our next two picks. With only Bichette as a potential SB threat so far, it was imperative for us to get to some speed. We debated going with either Cavan Biggio or Trent Grisham with the sixth round slot, but for the second time in a row, we got both players we were considering. Grisham is risky because of his spring training hamstring injury and typically I wouldn't draft him that early, but most other credible speed sources in that tier (Teoscar Hernandez, Byron Buxton, Victor Robles) and even Andres Gimenez was pushed up to 90. Choosing Grisham came at a cost of the last two closers in the second tier in Kenley Jansen and Ryan Pressly, who dropped all the way to pick 110.
With those closers gone, we needed to get our third starter instead, as those were starting to dry up rapidly. We went with Kevin Gausman over Zack Greinke, under the theory that he'd get more strikeouts and have an edge as an NL starter in what has typically been an elite pitcher's park, though it wasn't that way last season. The last two picks of the first 10 rounds were pure value picks - I can't recall Yordan Alvarez ever going at 126, nor Charlie Blackmon at 145. I like both players, too, but they always seem to go 20 picks ahead of where I want them, except for here. Had one of Will Smith (the Braves' closer, not the Dodgers' catcher, though he's good too), Amir Garrett or Jordan Romano made it back to us, we would have had a difficult call on our hands. As it stood, we *still* agonized over the pick, thinking it would cost us Jordan Hicks, which it certainly did two picks later. Still, value is value and rarely presents itself like that in the Main, and I'm happy we took it.
Next 10 - Rounds 11-20:
11.156 Jake McGee
12.175 Emilio Pagan
13.186 Christian Walker
14.205 Marco Gonzales
15.216 Tony Gonsolin
16.235 Andrew McCutchen
17.246 Brandon Nimmo
18.265 Josh Rojas
19.276 Alex Dickerson
20.295 Buster Posey
At the break we knew we had to focus on our closer strategy, and thus loaded Jake McGee, James Karinchak, Emilio Pagan, Greg Holland and Rafael Montero in our queue. Even though there's value in "going ugly" as "possession is 9/10th of the law," as Chris Liss likes to say, I couldn't force Montero or Holland over Pagan. I also know that I've said "Never Kapler" before, yet here we were taking Jake McGee in the 11th! That's what a Main Event will do for/to you. Still, I'm comfortable with the strategy if not the results, though I'd feel a lot better if we landed one of our third targets like Peter Fairbanks, Gregory Soto or Ian Kennedy. All went later on Thursday, but we had our chances and filled other needs - with players that I really like, no less, so the show must go on.
Christian Walker, Andrew McCutchen and Alex Dickerson are staples of mine this season, but, at least on the NFBC platform, Brandon Nimmo is my most frequently drafted player, with him on five of my nine rosters there. Nimmo is batting leadoff in an improved Mets lineup that was already strong, hits for some power and has a little speed. He's going to score 85+ runs and could score over 100 runs.
I insisted we take Tony Gonsolin with our 15th round pick. Even if he doesn't begin the season in the rotation, I still think he gets plenty of starts and a good number of innings as a reliever, perhaps working in tandem with David Price. I extolled the virtues of Gonsolin in an article that went up on RotoWire on Saturday. Gonsolin came at a cost - Leody Taveras would have been a nice fit to give us stolen bases, where we're a little light, along with a handful of other options. But I sincerely think Gonsolin is going to be a league-winning type of player.
Josh Rojas was also a target, but as much as I love the pick, it cost us more in draft capital than the Gonsolin reach, even though fewer picks transpired before our next pick. All three of Nick Wittgren, Tanner Scott and Alejandro Kirk were in our queue and went. We didn't set the minimum on Rojas, but we were on the early side - I bet we might have still landed him in the 19th. After losing out on Kirk, we decided to wait another round on a catcher, and it only cost us one other catcher, which was nice.
Last 10 - Rounds 21-30:
21.306 Jake Odorizzi
22.325 David Price
23.336 Jonathan India
24.355 Yan Gomes
25.366 Griffin Canning
26.385 Stefan Crichton
27.396 David Peterson
28.415 Nate Pearson
29.426 MacKenzie Gore
30.445 Niko Goodrum
I haven't ended up with Odorizzi or Price often this year - in fact, I think both are first-time drafts this season. But I like Odorizzi's landing place in Houston, even if I can't use him in Week 1. Price pairs well with Gonsolin, though like Odorizzi, he won't start in the half-week of Week 1 - but that means he avoids Coors Field and gets two starts in Week 2.
India was a target pick - sometimes when prospects turn on the light, they advance quicker than we expect. He had an amazing spring training, following rave reviews last summer in the Reds' alternate training site. I made a point of putting him in the queue a few rounds prior to this round, just to make sure I didn't forget him. All too often in an online draft, it's easy to get caught up looking at the online queue rather than your rankings, and then someone else snags your endgame guy. Make sure to do your due diligence on the back-end of the draft ahead of time.
I'm fading Joakim Soria in all my drafts, so we might as well have Crichton, especially when his manager Torey Lovullo suggests that they'll use a committee instead of naming Soria as the closer. It's not that Crichton has been brilliant this spring, only that Soria has been just that awful.
These endgame pitchers are going to require patience, and I'm not sure I have it in the case of Pearson and Gore - we'll see what I do with the first FAAB-run Sunday night, as I'm light on starts for the first four days of the season.
Here's the team by position:
C - Buster Posey, Yan Gomes
1B/3B/CR - Pete Alonso, Nolan Arenado, Christian Walker
2B/SS/MI - Cavan Biggio, Bo Bichette, Josh Rojas
OF - Trent Grisham, Charlie Blackmon, Andrew McCutchen, Brandon Nimmo, Alex Dickerson
DH - Yordan Alvarez
SP - Gerrit Cole, Jack Flaherty, Kevin Gausman, Marco Gonzales, Tony Gonsolin, Jake Odorizzi, David Price
RP - Jake McGee, Emilio Pagan
Reserves - Jonathan India, Niko Goodrum; Griffin Canning, Stefan Crichton, David Peterson, Nate Pearson, MacKenzie Gore.
I think that the Saturday team is stronger, with the obvious caveat that it's light on saves and a little light on speed. Both are correctible through free agency, saves more so than speed, and every team is typically light on a category or two coming out of the draft. Hopefully seeing these team-builds helps you with your draft!